Despite Messi, La Liga title will have to wait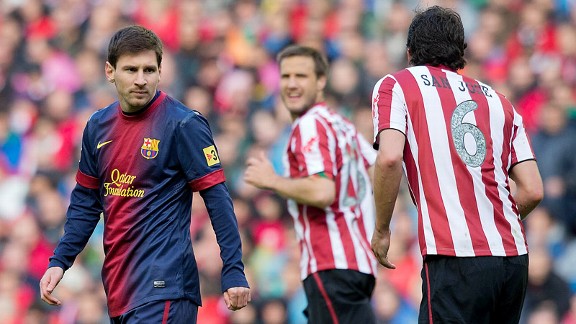 Gonzalo Arroyo Moreno/Getty ImagesLionel Messi scored and assisted another goal after entering in the 60th minute but couldn't smile afterward as Athletic equalised late to delay Barcelona's title celebration.
Barcelona achieved another point in their quest for the domestic title after drawing 2-2 on Saturday against Athletic Bilbao at the San Mames in Matchday 33 of La Liga. Lionel Messi and Alexis Sanchez scored for the Blaugrana, who enjoyed 58 percent possession, created 15 scoring chances and attempted 12 shots, six on target and one to the post.

This has certainly been one of the most difficult weeks in recent Barcelona history. Unfortunately for them, a huge number of football fans and even the Catalan media have taken the team's worst defeat at the European level since 1997 to criticise players ferociously, as if all the glory they have so consistently brought to Catalunya in recent years had been instantly erased from their memories after 90 minutes of football.

- Liga: Real win derby, Barca denied

Many transfer rumours and stories of internal conflict have been splashed all over the papers since, creating a dangerously negative atmosphere around players, coaches and board members. Personally, I was eagerly awaiting the chance for the team to regain some momentum by taking its first chance to clinch the La Liga title in its final visit to La Catedral in Bilbao.

Tito Vilanova opted to start with a team full of regulars, making only four changes to the team that was so painfully outplayed by Bayern Munich in the Champions League semifinals. While I expected players such as Marc Bartra, Cristian Tello or Martin Montoya to be given more playing time in their journey toward improvement, the coach had other ideas and preferred to give the youngsters yet another evening off.

I doubt how Vilanova's decision to use key players such as Gerard Pique or Jordi Alba for the full 90 minutes despite their undeniable physical and mental fatigue at this stage of the season could possibly help when the club hosts the German champions Wednesday.

Athletic started electrically, using all the positive energy from their devoted home crowd to play Barcelona at their own game, trying to keep possession when possible and, most important, creating a couple of clear goal-scoring chances as a result.

After their impressive initial effort, Bilbao found it progressively harder to close Barcelona down. The Alex Song-Xavi-Thiago partnership in midfield stepped up and managed to regain control of the game at times, but it was the hosts that opened the score sheet in the 27th minute after an embarrassing lack of defensive communication and collective focus.

Once again, the Blaugrana allowed their rivals to take the lead, making life harder due to a lack of concentration.

The match remained fairly even until Lionel Messi came on in the 60th minute. The Argentine forward made an instant impression, giving his side an obvious morale boost and producing the team's most meaningful goal-scoring chance within his first minute, scoring the first after a genius individual effort and providing Alexis for Barcelona's second shortly after.

The way in which Leo weaved in and out of the Bilbao back line, dropped back to receive and provide from midfield when required and attracted the ball changed the direction of the game. The fact Barcelona were losing when Messi substituted Xavi and were winning a mere 10 minutes later speaks for itself.

The Catalans took their foot off the accelerator in the dying minutes and allowed a late equaliser in the 90th minute. It certainly didn't take a genius to predict how it happened: The Barcelona central defenders were unable to clear yet another average cross due to their lack of height and focus. Same weaknesses exploited ruthlessly once again.

A disappointing ending, which means that the Liga title celebration will have to wait at least one more week. While the 85 points earned and 101 goals scored in the league are impressive, the 35 goals conceded in 33 games and, most important, overall impression of defensive chaos are points to be addressed and improved on as a matter of urgency.

Next up, Bayern Munich. Clinching the domestic league title this weekend would have given the players an extra level of confidence and encouragement, but it wasn't to be. The 4-0 defeat in Germany won't help either, but despite the adversity ahead, that tie will not be lost until the final whistle.

Player Ratings (0-10; 10=best)

Victor Valdes (5) – Beaten twice, largely unnoticed.

Dani Alves (5) – As usual, the Brazilian brought the best and worst of both worlds. Left huge gaps behind when pushing forward, ultimately allowing Bilbao's first. Made amends by providing a great cross, which lead to Barcelona's second.

Gerard Pique (3) – Not closing either Aritz Aduriz or Fernando Llorente quick enough, more focused on defending his zone of influence than marking his man or organising the back line. Far too weak in the air.

Eric Abidal (6) – Solid. Substituted at halftime by Adriano, which could be an indication of the Frenchman starting against Bayern at the Camp Nou. The team has clearly missed his defensive presence all season. Great to have him back, a true inspiration.

Jordi Alba (6) – Springing forward continuously from the left back position, determined to track back to help defensively as well.

Alex Song (7) – Started his fifth consecutive Liga match, deputising for the injured Sergio Busquets. Provided defensive backup for the more creative midfielders around him, supporting them with quick passes when possible.

Xavi Hernandez (6) – Eager to get involved and add some extra speed to the Catalans' attacking game, although he wasn't always as successful as he would have wished.

Thiago Alcantara (5) – Given yet another chance to prove himself in midfield. Contributed well, but I felt he slowed the ball flow at times by taking one too many touches.

Cesc Fabregas (4) – Unable to create much danger as a false striker despite his effort to rotate and remain mobile. Dropped into midfield once Messi came on, getting more involved in the buildup process. Still, generally below par.

Alexis Sanchez (7) – Committed, aggressive, asking constant questions of his marker. Threw many forward runs, always trying to impose a higher tempo. Hit the post early on then went on to score Barcelona's second after a brave header from Messi. A visible improvement on previous performances.

Pedro Rodriguez (4) – A largely uneventful display. Stretched the pitch from the wings but was rarely involved. A forgetful showing from a player who at this stage in his career should be adding much more.

Substitutes: Adriano (4), Andres Iniesta (5), Lionel Messi (9) Man of the Match.

Have your say

What did you think of Barcelona's performance versus Athletic Bilbao?

Who was your Man of the Match? What are your player ratings?

I welcome and appreciate all respectful feedback.

For more news and opinion notes on Barcelona, follow Francesc Tomas @BarcablogESPN and on Facebook; 33,000 Cules have already joined.