Cesc fires Barcelona closer to Liga title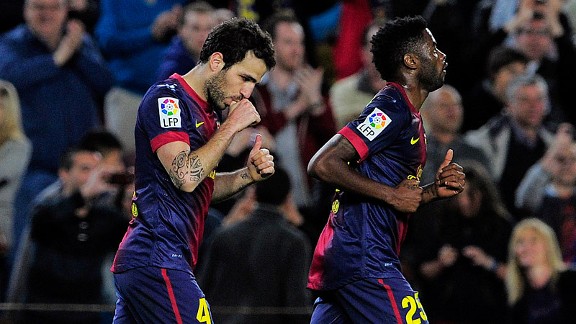 Josep Lago/AFP/Getty ImagesCesc Fabregas' late strike pushed a flat Barcelona past Levante.
Barcelona achieved a valuable 1-0 win against Levante at the Camp Nou in Matchday 32 of La Liga. Cesc Fabregas scored the goal for the Blaugrana, who enjoyed 78 percent of possession, created 18 goalscoring chances and attempted 13 shots, nine of them on target. This result helps the Catalan side maintain their 13 point lead at the top of the table over Real Madrid.

- Barcelona slips past Levante

With the decisive Champions League semifinal against on-form Bayern Munich only three days away, Tito Vilanova was right to reserve key players such as Gerard Pique, Sergio Busquets, Jordi Alba and the recovering Lionel Messi. The inspirational coach opted for a more experimental lineup, full of youngsters who are hungry for success and players who, for whatever reason, haven't managed to secure a regular spot in his ideal eleven.

The visitors had never won a match at the Camp Nou in their 103 year history and needed the points desperately in order to achieve qualification for European football next season. However, they approached the match against Barcelona in an ultra-defensive manner, defending deep into their own defensive third and hoping to score via eventual counterattacks or isolated set pieces which, fortunately for the Blaugrana, never actually happened.

Such unsurprising decisions resulted in the hosts fighting to open a brick wall once again. If we add to the fact that the players' thoughts were partially placed on the upcoming clash at the Allianz Arena well before the game kicked off, the result was obvious. A largely uneventful match at times which, to be honest, was one of the least enjoyable to watch in the club's recent history.

Barcelona had absolute control of the game from beginning to end. Unfortunately, the ball didn't always flow as quickly as Cules would have wished for, making it slightly easier for Levante to defend by relying on their over-populated and committed back line. Having said that, the Blaugrana did manage to break through fairly regularly, and had their forwards' finishing been more accurate, the game would have been unbalanced in their favour earlier in the game.

With the game inevitably heading for an insipid draw, Fabregas finally managed to find a way past the Levante goalkeeper with a well-placed strike after a courageous effort by late substitute Alexis Sanchez from the right wing. Better late than never.

It definitely was an unexciting match but it resulted in a well-deserved victory nonetheless. These valuable three points take the Catalans so desperately close to claiming the domestic league title that the players can almost touch the trophy: A Blaugrana win at San Mames next week, combined with a Real defeat against Atletico in the Madrid derby would see the club crowned La Liga champions for the 22nd time.

Mission almost accomplished!

Player Ratings (0-10; 10=best)

Victor Valdes (6) -- One of his most comfortable games at Barcelona; hardly tested.

Dani Alves (6) -- Generous effort; constantly bombarding down the right flank and defending well when needed, which wasn't too often.

Adriano (6) -- Chosen as a starting central defender once again, a decision which surprised me considering the recent progress made by La Masia graduate Marc Bartra. Either way, a considerably relaxing game against an unchallenging rival.

Eric Abidal (7) -- Started a game after 14 months of desperately fighting adversity, to the delight of Cules and opponents alike. Considering the fact he's just finding his way back into the team, I felt he performed really well: 90 minutes played, 17 balls recovered, no fouls committed.

Martin Montoya (6) -- Performed well both defensively and when required to contribute in attack.

Alex Song (7) -- Looked unbeatable as a holding midfielder, often stopping potential threats before they were actually built. Another solid, professional display. Looking more adapted to the Barcelona style by the minute.

Andres Iniesta (7) -- Man of the Match -- Posed the most unpredictable threat to the Levante defenders thanks to his constant mobility, rotation across the Catalans' attacking third and ability to quickly combine with his talented teammates.

Cesc Fabregas (7) -- Despite looking out of position for longer periods of the game, managed to prove doubters wrong with an 83rd-minute winner. A relentless display of courage and perseverance which was rightfully rewarded.

Thiago Alcantara (6) -- One of the most focused players on the pitch, desperately fighting to earn some playing time in the upcoming European semifinals. Performed well within the Barcelona attacking system but, like the rest of his teammates, was always able to inject the necessary speed to the game.

David Villa (4) -- Missed a penalty after an unimpressive effort from the spot during the first half and, frankly, didn't necessarily recover after that. Let's hope he can pick himself up and regain his goal-scoring spark, as his lethal instinct would certainly be welcome against Bayern.

Cristian Tello (6) -- As usual, the rival defenders had no answer for his blistering pace but his crossing and finishing wasn't as accurate as he would have wished for.

Substitutes: Xavi Hernandez (6), Pedro Rodriguez (6), Alexis Sanchez (7)

Have your say

What did you think of Barcelona's performance vs. Levante?

Who was your Man of the Match? What are your player ratings?

I welcome and appreciate all respectful feedback.

For more news and opinion notes on Barcelona, follow Francesc Tomas at @BarcablogESPN and Facebook; 33,000 Cules have already joined.