Barca's season doesn't depend on UCL glory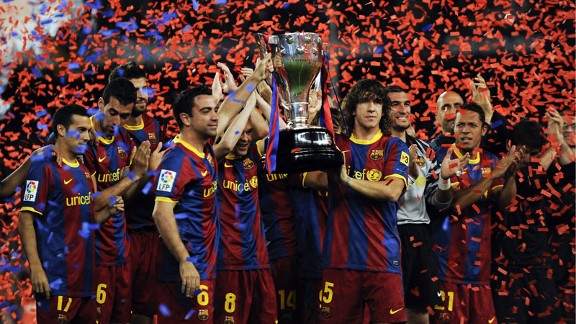 GettyImagesBarcelona players lifted the La Liga trophy in 2011
With Barcelona only nine points away from lifting the domestic Liga title, the Madrid-based press, and even some Cules, seem determined to undervalue the team's efforts by not giving this potential achievement its true value.

Looking back at last season for just a moment, we can all surely remember an exultant Jose Mourinho singing the praises of his league-winning team, built thanks to both his undeniable managerial talent and yet another enormous influx of millions of euros from his club's permissive president, Florentino Perez.

- Del Bosque wants UCL Clasico

In fairness, the way in which Los Blancos used their devoted press to ensure their celebrations were broadcast all around the world, then repeated over and over, was remarkable. Having said that, the fact that the same media outlets are now downplaying the importance of the very same competition just 12 months on is puzzling, to say the least.

Last July, Real Madrid had finally defeated the best Barcelona team in history and, in their eyes, also forced Pep Guardiola away from the Camp Nou. Sure, the legendary Blaugrana tactician had grown increasingly tired of playing constant mind-games with his Portuguese counterpart via the media, but Pep's decision to step down was mostly due to his inability to continue with his incredibly tough, self-inflicted long hours on the job on a daily basis.

Either way, the explosive manner in which Los Blancos celebrated their league title back then inexplicably contrasts with the apparent lack of enthusiasm shown by a significant portion of the Blaugrana community just one year on, despite being incredibly close to claiming the very same trophy.

Ladies and gentlemen: If Barcelona manage to win La Liga, it would be a remarkable success which shouldn't be taken for granted, despite the comfortable distance to the closest competitor. In fact, winning the title with such an advantage should be celebrated even more emphatically.

While I can obviously understand that the race toward the Spanish league was much more exciting last term due to the fierce competition between the top two teams, lifting this season's trophy must be given the same importance regardless of the fact that Real Madrid dropped out earlier than expected, due to their own mistakes and shocking lack of desire to keep their domestic crown.

It is undeniable that the prospect of lifting the club's fifth Champions League trophy at Wembley would be a mind-blowing finale, but the season would still be considered a success even if the Blaugranas failed to win at European level. The Catalans have dominated the domestic league from beginning to end, despite the difficulty of the task in hand.

Over the last 12 months, the Barcelona squad have lost the best coach in the club's history, suffered while witnessing two key members battling with cancer, missed many key players due to a variety of injuries but, unless major disaster strikes unexpectedly, will still manage to finish comfortably ahead of the supposedly unbeatable Real Madrid.

Liga revolution needed

Regular readers may remember this previous article, where I expressed my disagreement with the unfair way in which Spanish authorities distribute the income from TV rights, favouring richer clubs in such an outrageous way that weaker teams have very little chance to compete at the same level.

Unfortunately, and while some minor steps have been taken to solve the problem, the allocation of funds hasn't improved much since my argument was originally published.

I personally feel those in charge must act quickly in order to ensure the competition continues to be appealing to the millions of fans who continue to invest their hard-earned cash in following the Spanish league on a weekly basis.

The fact European teams such as Manchester United (15), Bayern Munich (20) or Paris Saint Germain (11) are also leading their domestic leagues with an ample margin shows an interesting similarity across the top European competitions this season, but that can't hide the obvious truth: La Liga must reinvent itself by sharing income more equally in order to remain current, attractive and, most importantly, competitive.

Have your say

I welcome and appreciate all respectful feedback.

For more news and opinion notes on Barcelona, follow Francesc Tomas at @BarcablogESPN and Facebook; 33,000 Cules have already joined.