Next La Masia generation take Barca closer to Liga title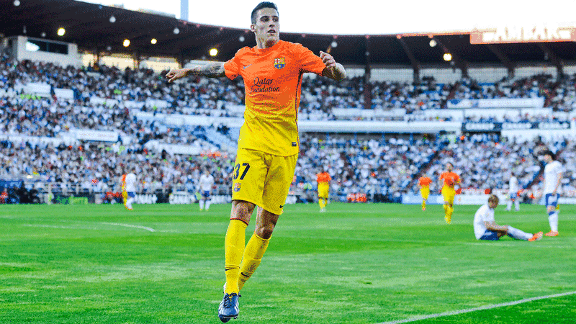 GettyImagesCristian Tello bagged a brace as Barcelona breezed past Real Zaragoza
Barcelona achieved a comfortable 3-0 win over Zaragoza at the Romareda Sunday in Matchday 31 of La Liga. Thiago Alcantara and Cristian Tello (brace) scored for the Blaugrana, who enjoyed 65 percent of possession, created 11 goalscoring chances and attempted 10 shots, six on target and one to the crossbar.

With the first leg of the crucial Champions League semifinal clash against Bayern Munich only 10 days away, Tito Vilanova rightfully decided to rest most of his key players and fielded a team of promising youngsters with players who still need to prove their worth in order to keep their place in the squad next season.

- La Liga: Barca breeze, Atletico rout Granada

As usual, Barcelona worked as a unit to ensure the ball flowed well across the pitch, with their talented midfielders building direct transitions into attack when needed. But the truth was that Barcelona didn't necessarily need to hit fifth gear to unbalance the game. It was more of a gradual effort to impose their superiority against a rival who seemed to throw the towel shortly after Thiago brilliantly scored the first for Barcelona.

Unfortunately, and has been the norm most of the season, Barcelona midfielders failed to drop back into defence at times, stretching the team far too much and dangerously allowing gaps for the opposition. Sure, the Zaragoza forwards were unable to make use of such advantage, but the Blaugrana back line must be much more solid when facing more 'dangerous' rivals. Improvement certainly needed, once again.

Ultimately, the Catalans proved too much for Zaragoza to handle, especially thanks to those players such as Tello, Thiago or Alexis Sanchez, who were especially eager to make an impression, take risks and make things happen.

Zaragoza were never able to properly threaten the Blaugranas' make-shift defence or take advantage of these possible weaknesses and are now at serious risk of being relegated, not having celebrated a victory in front of their home fans since November.

The hosts will certainly find it hard to maintain their place within the first tier of Spanish football unless their level of performance picks up a matter of urgency.

A Barcelona team full of promising youngsters grabbed the three points and the third clean sheet in the last 13 matches with convincing, consistent football, leaving the club only three wins away from claiming the domestic league table.

It was refreshing to see that the next generation of La Masia graduates is ready to gradually take centre-stage or step in to take responsibility if needed in the near future.

It is undeniable that the core of this Blaugrana squad is increasingly tired at this stage of the season but, regardless of what may have happened earlier in the year, the most important matches are still to come and having the chance to rest key players and still win is a luxury that may prove invaluable.

Player Ratings (0-10; 10=best)

Victor Valdes (6) – Didn't have that much to do but responded well when needed; only forced into making two saves.

Dani Alves (6) – Generous effort, making an impact at both ends of the pitch. I would love to see his crossing improve in quality in the upcoming crucial games, though.

Adriano (6) – Played as a central defender once again and, to be honest, performed fairly well and always had the upper hand.

Marc Bartra (6) – Another full match for the Under-21 Spanish international centre-back. As long as his confidence continues to grow, he should challenge for a starting spot next to Gerard Pique in the Champions League semifinals.

Martin Montoya (6) – A professional performance once again. I just love how he makes his defensive duties seem so simple and doesn't over-complicate his game when pushing forward.

Alex Song (6) – Solid display behind the more creative midfielders, linking well with those around him. Becoming more confident by the minute; seems to have fully adapted to the Barcelona system at last.

Xavi Hernandez (7) – Controlled the game from start to finish by distributing the ball across the park with ease. Another intelligent effort from one of the best playmakers in football history.

Thiago Alcantara (8) – Continued to grow into the great player he will certainly become in the not-too-distant future: Mobile, eager to get involved and explosive when needed. Scored the first with an impressive run, assisted Tello for the team's second.

Cristian Tello (9) – Man of the Match - Superb performance, scoring a double thanks to his unrivaled speed and desire to find the rival's net from the wings. Personally, I feel he has already done enough to be considered for a spot in the upcoming Champions League matches. Tello is more than just a prospect for the future: he is a real threat whenever given the chance.

Cesc Fabregas (4) – Largely unnoticed in what was a clear contrast with last week's tremendous hat-trick show. As it happened last year, seems to be unable to keep the required level of performance in the later stages of the season. Let's hope he re-discovers his spark soon, as Barcelona could certainly do with a player of his calibre and experience at the highest level.

Alexis Sanchez (7) – Lively and committed, always provided his teammates with a sharp attacking option from the wings. Assisted Thiago for the team's first. Unlucky to hit crossbar with a mind-blowing chipped shot, but it was great to see him taking risks and adding new touches to his attacking game.

Substitutes: Eric Abidal (6), Sergi Roberto (6), David Villa (6)

Have your say

What did you think of Barcelona's performance vs. Zaragoza?

Who was your Man of the Match? What are your player ratings?

I welcome and appreciate all respectful feedback.

For more news and opinion notes on Barcelona, follow Francesc Tomas at @BarcablogESPN and Facebook; 33,000 Cules have already joined.