No Messi, no problem: Abidal, Fabregas and Sanchez star vs. Mallorca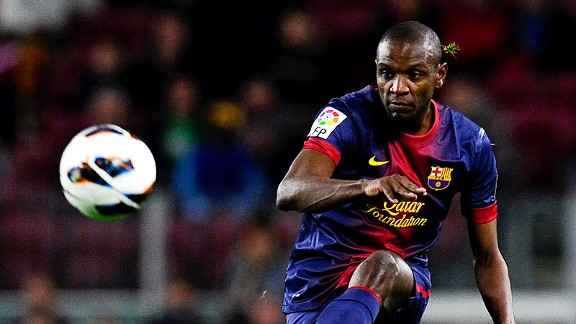 David Ramos/Getty ImagesBarcelona's Eric Abidal returned to action for the first time in over a year since his liver transplant.
Barcelona achieved a fantastic 5-0 win against Mallorca at the Camp Nou in Matchday 30 of La Liga. Cesc Fabregas (hat-trick) and Alexis Sanchez (brace) scored the goals for the Blaugrana, who enjoyed 72 percent of possession, created 22 goal-scoring chances and attempted 18 shots, nine of them on target.

Let's face it: This was a potentially dangerous match as, understandably, the prospect of maintaining the very comfortable lead at the top of La Liga for yet another week could simply not compare to the excitement of fighting for qualification for the Champions League semifinals in a few days' time.

- Fabregas hat trick leads Barca
- Abidal returns for Barcelona

In his return to the Camp Nou technical area, Tito Vilanova chose to reserve key men such as David Villa, Sergio Busquets and Xavi Hernandez for the decisive upcoming clash against Paris Saint-Germain and chose a starting eleven full of players who haven't managed to earn as much time on the field as they would have liked to so far this season.

The absence of quadruple Ballon d'Or winner Lionel Messi due to the hamstring injury he picked up at the Parc des Princes in midweek definitely left a potentially difficult gap to fill but, fortunately, the Cesc-Alexis duo stepped up with one of the best partnership performances that Cules have witnessed in recent times. The pair seemed to always find each other thanks to accurate returns, superb mutual services, fabulous individual touches and lethal finishing in front of goal.

While the fact that Mallorca is currently the team with the weakest defensive record in the entire Spanish league can't be overlooked, seeing how Barcelona could achieve such a placid victory without the club's best ever goal-scorer is reassuring and shows the remarkable depth of a squad full of World Cup winners and internationally recognised stars.

There were plenty of first-time passes, runs between the lines, combination play and, above all, it was clear that players were fully focused on finishing the job in hand without hesitation, evidenced by the Catalans' 4-0 at halftime.

Having said all of the above, my favourite moment of the night didn't actually have that much to do with the game itself. A massive 406 days after his last competitive appearance, the legendary Eric Abidal finally returned to professional football in front of the adoring Catalan crowd, who were delighted to gift their hero with an emotional standing ovation when he jumped on the pitch on the 69th minute.

Words simply can't explain my admiration for what the relentless Frenchman has achieved. Despite being faced with a daunting amount of terrible news in recent years, Abidal never stopped being optimistic and has, perhaps unwillingly, become a role model for his teammates during his absence. Overcoming a liver transplant surgery is a huge achievement in itself, but being able to do so and then come back to play football at professional level shows an unprecedented level of commitment that is truly unheard of -- Welcome back, Abi!

The inconvenient match against Mallorca is finally over and fans can now focus on the upcoming battle against PSG in midweek. The main talking point will obviously be whether Vilanova should force Messi back into the team if he doesn't reach an optimum level of fitness. But, judging by the tremendous job by the Cesc-Alexis tandem tonight and the favourable 2-2 draw collected in the away leg, I feel La Pulga should only be included if the risk of a long-term injury is non-existent.

Player Ratings (0-10; 10=best)

Jose Manuel Pinto (6) -- Another comfortable game for the veteran goalkeeper. Never truly troubled by the Mallorca forwards.

Dani Alves (8) -- Continued his remarkable improvement of late with continuous overlaps from the right flank.

Gerard Pique (7) -- Always able to beat his mark and start the Blaugrana possessions from the back line. Joined attack with ease whenever possible and even came to close to scoring with an accurate header.

Marc Bartra (6) -- Very solid throughout the whole match, partnering well with the more experienced Pique in central defence.

Martin Montoya (6) -- Another confident performance from the La Masia graduate, keeping his attacking game nice and simple and solving his defending duties effectively.

Alex Song (7) -- Reliable. His powerful presence in midfield enabled him to provide the more attack-minded players with calm passes, defensive cover and support if needed.

Andres Iniesta (8) -- Conducted the Blaugrana orchestra with yet another classy performance, setting the pace of the game in the absence of Xavi. Assisted Fabregas for his third goal of the night.

Thiago Alcantara (6) -- Performed to a good level, always making himself available and contributing to the overall success of the team by distributing the ball quickly when needed.

Cesc Fabregas (10) -- Man of the Match -- A night to remember: The Catalan grabbed his first ever hat trick as a professional after 469 games by delivering the sort of performances that Cules have been eagerly awaiting since he returned home back in August 2011. He also had time to assist Sanchez twice. Used the space that normally belongs to Messi perfectly, showing that, when fully confident and focused, he is one of the best finishers in the squad.

Cristian Tello (7) -- Displayed his impressive pace once again, continuously beating his marker and often finding his teammates when crossing. Another step towards establishing himself within Vilanova's starting eleven whenever bigger matches come.

Alexis Sanchez (9) -- At last, an incredibly encouraging performance from one of the team's most hard-working members. Scored twice, assisted Fabregas twice. Let's hope the Chilean forward can build on his success in coming matches as, quite frankly, the team could certainly do with his goals in the upcoming crucial matches.

Substitutes: Eric Abidal (7), Jonathan Dos Santos (6), Gerard Deulofeu (6)

Have your say

What did you think of Barcelona's performance vs. Mallorca?

Who was your Man of the Match? What are your player ratings?

I welcome and appreciate all respectful feedback.

For more news and opinion notes on Barcelona, follow Francesc Tomas at @Barcablog_com and Facebook; 33,000 Cules have already joined.