Looking ahead: Barcelona 2014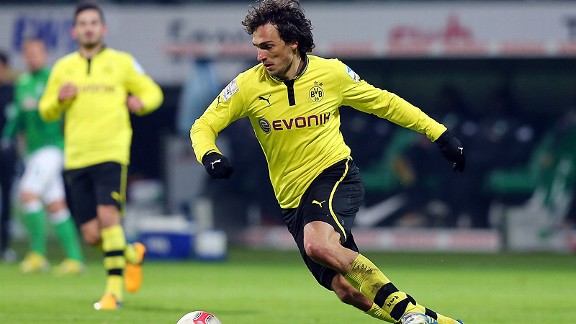 Martin Rose/Getty ImagesBorussia Dortmund defender Mats Hummels is the first choice of many Barcelona fans to shore up the team's back line for next season.
I must admit I was quite surprised by the feedback from readers to my previous post, where I highlighted the need for Barcelona to sign Neymar in order to freshen up the team's attack.

Apparently, there are many Cules out there who seem to prioritise the signing of another reliable central defender to that of a potentially world-class forward capable of taking some of the goal-scoring pressure off Lionel Messi and create spaces for others around him.

- Alves beckons Neymar to Europe again

I agree that the current Blaugrana squad definitely needs a stronger presence within the back line, but the need for improvement is also evident up front. If we analyse the results so far this season, the Catalans have only lost to Celtic, Real Sociedad, Milan and Real Madrid (three times). Not a bad record at all if we consider the club has already played 47 matches in all competitions and is currently leading La Liga with a 13 point advantage over Los Blancos and awaiting the Champions League quarterfinals against Paris Saint-Germain.

Personally, I feel all of those defeats were caused by the inability to break the opponents' defence when Messi was marked by up to four players at any given time, and to a lesser degree, the team's own defensive weakness when dealing with isolated, speedy counter-attacking efforts.

It must also be highlighted that if Barcelona have decided to invest heavily on Neymar (to the point that a 10 millon euro advanced payment was reportedly made back in 2011) it must be because the team can afford to do so. Luckily, all transfer decisions at the Camp Nou offices are put into action only after the coaches and sporting directors have all agreed that such an investment would improve the overall quality of the squad.

With players such as Alexis Sanchez, David Villa or Adriano attracting the interest of major clubs around Europe, it is also possible that the current transfer budget grows as a result of selling those players rather than pure, more traditional income.

The situation of due-to-return on-loan youngsters such as Isaac Cuenca, Bojan Krkic, Ibrahim Afellay or Andreu Fontas, as well as that of Jonathan Dos Santos or Marc Muniesa is complicated, to say the least. Considering the debatable impact they have made in their teams this season, I feel the Blaugrana must now look to make as much profit as possible from selling all of them to prospective clubs, perhaps including a buy-back clause just in case they end up exploding to their full potential elsewhere.

The prospect of Gerard Deulofeu, Sergi Roberto and Rafinha Alcantara joining the first team after excelling at Barcelona B is encouraging, but as was the case with the aforementioned La Masia graduates, it will be their degree of success when given the chance to play alongside players of the caliber of Messi, Andres Iniesta and Xavi that will determine their professional future.

On a more positive note, and based on their performances so far, I do believe Martin Montoya and Cristian Tello should remain at the Camp Nou next season. Both youngsters have impressed when allowed to show their worth and are fully capable of improving even more if given enough continuity at the highest level.

As for Marc Bartra, I believe the club should consider loaning him on a season-long basis and assess his progress closely from the distance; unfortunately for him, what Barcelona will need in the summer is an experienced, reliable defender who could instantly compete for a starting spot with the likes of Gerard Pique, Carles Puyol or Javier Mascherano.

While many candidates have been considered for the prospective vacancy at the centre of the Catalan defense (David Luiz, Inigo Martinez, Kompany, Garay or Marquinhos), my preferred option would be Mats Hummels. His charisma, presence, experience and ability to build play from the back would be a great addition to the current Barcelona squad.

Last, but certainly not least, I'd like to talk about the situation of Victor Valdes. The latest reports indicate that Tito Vilanova has made convincing him to stay one of his main priorities once he returns from New York.

Personally, I wouldn't bother. A player who doesn't want to wear the Blaugrana doesn't deserve to do so and should be allowed to leave as soon as his buyout clause (or a reasonable agreed transfer fee) is paid. Based on that point, Valdes must be sold this very summer as, otherwise, he could walk out for free at the end of his contract in June 2014. That way, the club use the transfer money obtained by his sale on finding a reliable replacement.

Sporting director Andoni Zubizarreta certainly has plenty of work to do in the coming weeks as, believe it or not, the season will be over in just three months.

The future of Barcelona lies on these key decisions -- No room for errors!

Have your say

I welcome and appreciate all respectful feedback.

For more news and opinion on Barcelona, follow Francesc Tomas @Barcablog_com and Facebook; 33,000 Cules have already joined.