Ray of light: The Messi-Villa connection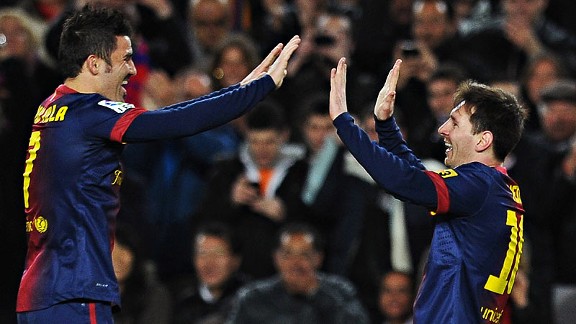 Lluis Gene/Getty ImagesBarcelona's David Villa, left, and Lionel Messi were unstoppable Sunday at the Camp Nou. Villa scored and assisted on Messi's two goals.
Barcelona achieved a convincing 3-1 win against Rayo Vallecano at the Camp Nou in Matchday 28 of La Liga Sunday. Lionel Messi (brace) and David Villa scored for the Blaugrana, who enjoyed 57 percent of possession, created 19 goal-scoring chances and attempted 17 shots, seven on target, three to the post. The Catalans maintained the 13-point lead at the top of the table over Real Madrid with 10 matches to go.

-- Match report: Barcelona 3-1 Rayo

The game started with Barcelona applying the high intensity and tempo which allowed the magical comeback against Milan from the initial whistle, while Los Vallecanos opted for an aggressive approach, with tackles flying around the park and pressing much higher than most Camp Nou visitors dare.

Unsurprisingly, the Blaugrana took advantage of the many spaces left behind their opponent's back-line and managed to unbalance the game as a result.

As the scoreline reflects, the Messi-Villa connection worked perfectly, with both players clearly on the same wavelength and constantly enhancing each other's game, always aware of how their coordinated movement would create mutual spaces.

It was a joy to watch, especially after both stars have been forced to listen to Madrid-based media continuously spreading unfounded rumours about them throughout the season.

All in all, a great team effort once again. Sure, in an ideal world it would have been great for Barcelona to keep the clean sheet for a third consecutive game. But the fact the team scored 88 goals and currently enjoys a plus-57 goal difference at the top of a league that has placed three teams in the Champions League quarterfinals speaks for itself.

At this moment, it truly feels that winning is slowly but surely becoming part of the club's routine once again after some rather forgetful performances in February. Cules seemed to agree, with the Camp Nou becoming a euphoric sea of Mexican waves and constant chanting.

Could the magical comeback against Milan be a turning point of the Blaugrana season? It's early to tell, but it definitely looks like it.

Another feel-good point is the imminent return of Tito Vilanova, currently scheduled for March 25. While interim manager, former scout -- and most important, loyal friend -- Jordi Roura has managed to keep some of the momentum going, the truth is that I personally can't wait to see the brains behind the current Barcelona take control once again.

If Vilanova returns as planned after cancer treatment in New York, Barcelona would have eight wins, two draws and three defeats in his absence, scoring 32 goals and conceding 16. While this record could obviously be better, it's not that terrible considering how bad it might have been on the pitch.

A heartfelt thank you must go Roura, who has kept the club afloat with his honesty and professionalism.

Player Ratings (0-10; 10=best)

Jose Manuel Pinto (7) – Solid. Managed to block a couple of long-distance efforts by Rayo forwards. He was beaten by Raul Tamudo, but there was nothing he could do to save the shot.

Adriano (6) – Started fairly well, but picked up an right hamstring injury which will sideline him for at least a month after just 23 minutes. I hope the courageous Brazilian can come back to support the team soon.

Gerard Pique (7) – Confident, strong, well-positioned throughout. Even managed to join attack on occasion.

Javier Mascherano (6) – A very comfortable game, never beaten or excessively challenged.

Jordi Alba (7) – Powerful display at both ends of the pitch. Constantly overlapping from the left wing if needed, then able to track back.

Sergio Busquets (7) – Another faultless performance: Accurate passing, quick movement on and off the ball, always involved.

Andres Iniesta (7) – As usual, showcased his unique football talent and was constantly determined to build the next Blaugrana attack as soon as the team recovered possession.

Cesc Fabregas (5) – Returned to the starting 11 after watching the second Milan clash from the bench. Worked hard, but seemed slightly unsettled at times, as if he had lost some confidence after seeing his playing time reduced recently. Hope to see him back to his best soon.

David Villa (9) – Scored the first Blaugrana goal with a gorgeous strike, then assisted Messi twice. El Guaje now has 14 goals in just 18 starts this season, which clearly shows that, given the chance, he can be counted on to add his name to the scoresheet.

Lionel Messi (9) – Man of the Match - Assisted Villa for Barcelona's opener, then went on to gift Cules with yet another double. Being picky, the truth is he could have even scored a couple more, but somehow managed to slip in the wrong moment or hit the post. Having said that, it's obvious the Argentinean can virtually do anything a striker needs to and excels on a regular basis: His tally is now at 55 goals this season, having scored in 18 consecutive La Liga matches.

Alexis Sanchez (6) – Determined to impress with his generous effort, continuous movement and high tempo. His finishing and crossing wasn't always perfect, but definitely made his markers work for their money.

Substitutes: Dani Alves (7), Thiago Alcantara (5)

Have your say

What did you think of Barcelona's performance vs. Rayo Vallecano? Who was your Man of the Match? What are your player ratings?

I welcome and appreciate all respectful feedback.

For more news and opinion notes on Barcelona, follow Francesc Tomas at @Barcablog_com and Facebook; 33,000 Cules have already joined.