Andres Iniesta, from La Masia to European glory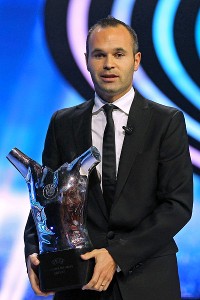 GettyImages / Valery Hache/AFP/Getty ImagesAndres Iniesta was named UEFA's best player in Europe at an awards ceremony in Monaco on Thursday.

At last! Andres Iniesta was awarded the 2012 UEFA Best Player award Thursday. As someone who has followed El Blanquito's career for many years, I couldn't be happier. It really was about time that our magical midfielder's individual talent was recognized.

El Blanquito achieved a rather surprising win with a total of 19 votes, ahead of runner-up Lionel Messi (17) and Cristiano Ronaldo (17). The jury of 53 journalists around the continent definitely valued Andres' commanding performance at the Euro 2012 championships as more important than the outrageous goal-scoring records by the other two candidates. A tough call, I must say, but one I'm incredibly pleased with.

Andres Iniesta: "It is a privilege to be in the final three next to Messi and Cristiano Ronaldo, they are unbelievable players. I am very happy to win this award. I would like to thank Leo and all my Barcelona and Spain teammates. This award would mean nothing without them."

I felt the very different reactions from Messi and Ronaldo were interesting to watch. While La Pulga immediately hugged the winner in a clear demonstration of respect and affection, Cristiano preferred to pull disapproving faces in the background. The Portuguese was clearly disappointed that another Blaugrana player grabbed an individual award ahead of him. After seeing how Barcelona congratulated Madrid on the pitch despite losing La Supercopa at the Bernabeu Wednesday, I was honestly expecting a bit better from CR7 -- but I guess that was foolish of me.

Anyway, back to the award winner.

Personally, I was privileged enough to witness Andresito's arrival at La Masia, as my cousin also played for the Barcelona Under-11s at the time, which, as you can imagine, we are very proud of in my family.

It was another ordinary autumn day, or so we all thought. My cousin had attended school, then got picked up by the Barcelona van in the El Valles area (which is the regular mode of transport for youngsters who don't live in La Masia, such as Cesc or Xavi, regularly used to access the Mini Estadi training area).

That one day was about to change FC Barcelona's history forever: There was a tiny, pale, very quiet new kid in the team. He timidly explained his name was Andresito and had just moved to Barcelona from Albacete. He didn't say much more, but he didn't need to. Once training began, we all saw that diminutive boy was destined for stardom.

Playing as a classic Barca 4 (meaning, the organizing midfielder who is positioned just in front of defense and distributes the ball forward), it felt like another talented Milla, Amor or Guardiola was on the way. We only saw him play a short 25 minutes, but it was obvious the boy was extraordinary.

Andresito's first big tournament with Barca came at the Brunete Futbol 7 Under-11s International in the Christmas break of 1996. There was great expectation to see what the youngster could produce for the Blaugrana after impressing with Albacete in the National version of the tournament, which was played a mere four months before then.

Our Barcelona Alevines faced the likes of Everton, Red Star Belgrade, Benfica and Real Madrid in the first round, qualifying second after a painful 1-3 defeat to Los Blancos in the last group match – which somehow affected our team's morale ahead of the knock-out phase the next day.

Despite young Andres having a starring role, giving many assists and scoring some crucial goals, the team was knocked out by Athletic Bilbao in the semis after a tight but disheartening penalty shootout – with Andresito calmly converting his, of course.

That Brunete tournament was the first of many top level competitions for the pale midfielder as a Blaugrana. The International Nike Premier Cup came a couple of years after. Again, Iniesta excelled. After leading the Barca U-15s to victory and scoring the winner in the final minute, he was chosen best player of the entire tournament. His skills kept reminding everyone who knew him of a better version of Pep Guardiola, who was captaining Barca's first team at the time and, perhaps not coincidentally, famously presented young Andres with his latest trophy.

It was only a matter of time until young Andres received a call to join the Spanish national team, where he connected with the electric Fernando Torres from Atletico de Madrid. What mighty duo that was! The pair went on to win the U-16s European Championships in 2001and had another taste of glory in the U-19s Euros one year after.

Andresito Iniesta's fame kept rising to unlimited heights when Van Gaal made him debut in the Champions League against Club Brugge in late 2002, at only 18 years of age. He shared the dressing room with experienced stars such as Frank De Boer, Luis Enrique, Overmars, Kluivert or Cocu but he didn't seem to care. Quiet during team talks, loud and confident on the ball.

The rest is now history: His commanding performance against Milan in the 2006 Champions League semis, his overtime screamer which defeated Hiddink's Chelsea in 2009, his 2010 World Cup final winner despite a terrible year full of injuries and personal trouble, including the loss of his close friend Dani Jarque. What a legend!

Pep Guardiola, speaking back in 1999: "People keep saying Xavi will retire me from professional football, but the truth is Andres Iniesta will surpass us both."

After 11 seasons, 412 appearances, 41 goals and 19 titles won for Barcelona, Andresito is now more commonly known as "Don" Andres Iniesta. His legendary World Cup winning goal back in 2010 and his 2 European championships surely helped him earn recognition but it's his calmness, his impeccable attitude on and off the pitch that has won the hearts of millions around the globe.

On a personal note though, Andres Iniesta will always be that young boy from Albacete who turned up for training one day, unaware he was going to light the Blaugrana sky with his unique touch of football magic. I feel fortunate enough to have witnessed his career from such an early stage and hope to do so for many years to come.

Andres Iniesta is a gift to football, a legendary symbol of what it means to be Blaugrana and living the dream from a very early age. Seeing him lift the 2012 UEFA Best Player award was an incredibly pleasant surprise - Cristiano Ronaldo's reaction, unfortunately, wasn't.

Have your say

What did you think my article?

Did Andres Iniesta do enough in 2012 to finish ahead of Lionel Messi and Cristiano Ronaldo?

Do you have any important points you would like to share with us?

I welcome and appreciate all respectful feedback.

Never miss an update: Follow on Facebook or Twitter.

Forca Barca!