Barcelona must improve after painful week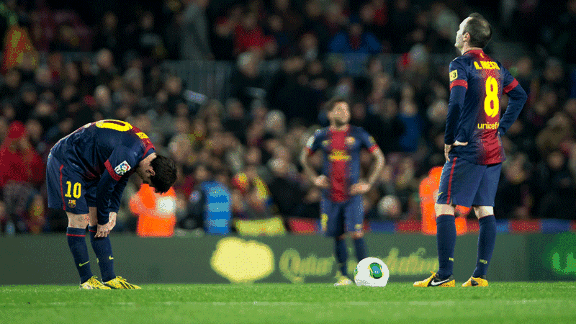 GettyImagesLionel Messi was once again out of sorts in Tuesday's Copa del Rey Clasico
To put it mildly: The last week has definitely not been as successful as Cules would have hoped for. It all started with a poor performance and terrible 2-0 result at the San Siro in the Champions League. After coming from behind to beat Sevilla at the Camp Nou over the weekend, the team was then knocked out of the Copa del Rey with a fully-deserved 1-3 defeat against Real Madrid in front of 99,000 disappointed fans.

Unfortunately, the Blaugranas are on a streak of 12 consecutive matches conceding at least one goal. The usual strength of the team's spirit seems to have vanished in the absence of inspirational leader Tito Vilanova. Key players are going through a mental block which is affecting their performances on the pitch. Attacking players aren't defending as hard when dispossessed, allowing rivals to counter-attack more freely. Midfielders are struggling to find spaces whenever rivals close the gaps between their back-line and approach games with an ultra-defensive formation.

Dani Alves spoke loud and clear after being eliminated from the Copa, and was not trying to find any excuses when he said: "At this level, if other teams compete well and we don't, then we get beaten." As for the return match against AC Milan, the Brazilian full-back added: "We have a lot to improve on if we want to qualify for the Champions League quarter-finals. We must compete better. We don't have a choice."

Rotations, rotations

Lionel Messi explained last week: "I am used to playing many matches per year and I feel better that way. My body is better prepared without rest from official competition".

Personally, I believe the coaching staff should ensure the Argentinean star (and other key players, for that matter) are at their peak whenever big matches come, whether they like to rest or not. While I understand that all players would like to play every second of football in every competition, it is ultimately up to the manager to liaise with doctors in order to take informed decisions to ensure key men are physically and mentally fit when the crucial stages come.

To rub more salt into the wound, the club confirmed that Messi was actually ill on Tuesday night and had to miss training on Wednesday as a result. While his commitment to help the team was obviously admirable, the coach should have given David Villa the striking position in the starting lineup and, if needed, then bring La Pulga in during the second half instead.

If we take a step back and analyse the squad as a whole, we can easily observe many valid players who haven't enjoyed as much playing time as their individual quality deserved. Martin Montoya, Alex Song, Cristian Tello or El Guaje should have been regularly included in the squad rotation from the start of the year.

Another point: Andres Iniesta should work his magic in midfield, not the wings. While his quality allows him to shine wherever he plays, the team needs two wide players who can provide those all important 18+ goals each per season – the amount of goals that Samuel Eto'o, Thierry Henry or a more inspired Pedro, to name a few, provided from those positions in previous seasons under the management of Pep Guardiola.

Please note this is not a criticism of Iniesta himself, as the Fuentealbilla playmaker has been outstanding all season. I'm simply stating the fact that the manager should consider him for those two creative midfield spots in front of Busquets/Song (in direct competition with Xavi, Cesc and Thiago), then regularly rotate the attacking line by picking three out of Messi, Villa, Pedro, Tello and Alexis.

Last, but certainly not least: Considering the 12 point lead over second-placed Atletico de Madrid (and 16 over Real) in La Liga, I feel Marc Bartra could have been given the confidence to grow as a central defender. In my opinion, Segunda Division top-goalscorer Gerard Deulofeu has also done enough to at least be considered for some playing time against so-called minor Spanish sides.

The double is still possible

Having said all of the above, the truth is that Barcelona have only lost five out 42 matches this season. Unfortunately though, those defeats meant waving the Copa del Rey and Spanish Supercopa goodbye and made progressing to the next stage of the Champions League an incredibly difficult (not impossible) task.

Andres Iniesta explained after being eliminated by Real Madrid: "In two isolated games against top-class teams, the team has not played well as a unit. When certain things go wrong, we suffer. The upcoming Milan game is a difficult one, the result is very much against us, but right now I'd still put my hand on the fire and say we'll win. We have to go and play like our lives depend on it. It's a question of pride, need and reality. We are capable of turning the game around".

The current situation is far from ideal but this group of players and coaches have given Cules so much over the years that all fans can do at this stage is show their support and hope that this terrible week can be used as a wake-up call to turn it around.

Time to trust.

Have your say

I welcome and appreciate all respectful feedback. Would you like to share any other important points with us?

For more news and opinion notes on Barcelona, follow Francesc Tomas at @Barcablog_com and Facebook -- 33,000 Cules have already joined.