Villa gives Barcelona a much-needed boost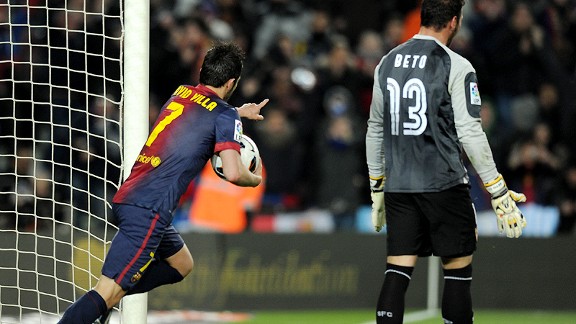 Lluis Gene/Getty ImagesDavid Villa came up big for Barcelona by scoring a goal in the comeback win over Sevilla.
Barcelona came back from behind to win 2-1 against Sevilla at the Camp Nou in Matchday 25 of La Liga. David Villa and Lionel Messi scored the goals for the Blaugrana, who enjoyed 66 percent of possession, created 17 goal-scoring chances and attempted 10 shots, three of them on target.

- Barcelona rallies to win

The Blaugrana were obviously still plagued by the sluggishness which caused their well-deserved loss against AC Milan in midweek during Saturday's first half despite the numerous changes introduced by Jordi Roura/Tito Vilanova in the starting lineup.

It was a case of "different names, same problem" for the Catalans who had to dig deep to eventually recover from the hurtful blow received at the San Siro. The alarming lack of ideas and inability to find any clear breaks in a rival defence which (no surprises here) decided to park the bus against Barcelona made Cules fear another negative result -- even more so after they conceded yet again when they were unable to clear a decent cross.

From then on, though, the hosts picked themselves up and, slowly but surely, their traditional pass-and-move approach started being more and more effective. Sure, the Blaugranas never really had total control of possession (which is why Xavi and Sergio Busquets had to come in during the second half), but the fact that they combined better in the final third and took a much higher number of dangerous shots than in midweek was certainly reassuring.

This victory can definitely not hide an increasingly worrying fact: The Blaugrana have allowed at least one goal in the last 11 matches. Coaches and players must address this point as a matter of urgency if they want to survive the three crucial clashes which can make or break the team's season in the near future: Real Madrid (Copa del Rey semifinal on Tuesday), Real Madrid (La Liga next Saturday) and AC Milan (Champions League last-16 round, 12th March).

Having said that, it was great to see Barcelona grabbing another three points despite facing a very difficult situation after former La Masia graduate Alberto Botia scored with that powerful header. Players could have easily given up and felt sorry for themselves (especially after the recent defeat at Milan) but, instead, they accepted the threat posed by the Andalucians and ended up succeeding thanks to their determination, self-belief and overall team quality.

This was certainly not the most brilliant victory the Camp Nou has ever witnessed, but given the disappointing latest result and difficult clashes ahead, it could definitely give these Barcelona players the morale boost they needed to continue to challenge for every trophy this season.

Player Ratings (0-10; 10=best)

Victor Valdes (6) -- Fairly solid throughout; unable to save the Botia's close-range header.

Dani Alves (8) -- As of late, was one of the most active Barcelona attacking players by continuously bombarding up and down the right wing. His brilliant cross allowed for Villa's decisive goal.

Martin Montoya (6) -- The La Masia graduate kept his defensive position fairly well and contributed calmly when needed.

Gerard Pique (5) -- A positive display overall, but should have used his defensive presence, experience and positioning to impede the Sevilla goal.

Javier Mascherano (6) -- Courageous as usual; always ready to step in to solve dangerous situations before they happened. Beaten in the air too easily in a couple of occasions, though.

Alex Song (6) -- Another decent performance for the Cameroonian international. His powerful nature allowed him to recover 13 balls and his improved passing ensured he only lost one. Still finding his way within the Blaugrana formation, but definitely on the right track.

Andres Iniesta (6) -- Always eager to get involved, but simply didn't look fresh enough to add that little bit extra that makes him stand out from the rest.

Thiago Alcantara (6) -- Another competent display of quality passing and tactical ability. Having said that, he was largely unable to break the well-organised Sevilla back line.

David Villa (8) -- Man of the Match -- To put it bluntly: I doubt Barcelona would have won this match without him. His innate ability to always be in the right place at the right time makes him indispensable. Sure, he doesn't defend as hard as Pedro or Alexis Sanchez, but considering his goal-scoring ability, he definitely makes up for it. If fit, Villa should definitely start in the difficult matches coming up in the next three weeks.

Lionel Messi (7) -- Similarly to Iniesta, the tiny Argentinean looked physically and mentally exhausted from the initial whistle. Despite that fact, he continued to fight by getting involved and creating opportunities for others. His finishing was below his incredibly high standards, but that didn't stop him from scoring the winner (38th league goal of the season) with a determined strike.

Alexis Sanchez (4) -- Unfortunately, this was yet another poor performance from the Chilean winger. The hard-working forward was unable to beat his marker or provide any significant source of danger. Substituted at halftime with a knock -- according to coach Jordi Roura, that is.

Substitutes:

Cristian Tello (8) -- Revolutionised the attack with his confidence to take on defenders and an improved ability to find team-mates with quick crosses. Assisted Messi for the winner after just 14 minutes on the pitch. The fact the Blaugrana have won every match (12) that the Catalan winger has played this season speaks for itself.

Xavi Hernandez (6), Sergio Busquets (6)

Have your say

What did you think of Barcelona's performance vs. Sevilla?

Who was your Man of the Match? What are your player ratings?

I welcome and appreciate all respectful feedback. 33,000 readers are already following @Barcablog_com and Facebook. Click to ensure you receive all Blaugrana updates!