Don't overreact: Barcelona can come back
After collecting one of the most painful defeats in recent times at the San Siro, Cules and other readers raised a number of points which, in their opinion, caused the disappointing 2-0 result using the ESPN Conversations gadget below -- which I always take the time to read before publishing my next piece and I'm incredibly thankful for.

As expected, fans were generally unhappy about the away leg's outcome and questioned many aspects, listed here in no particular order: The absence of David Villa in the starting eleven; the unproductive performances of Pedro Rodriguez and Alexis Sanchez from the wings; the way in which Xavi killed attacking momentum by taking too many touches; the lack of shooting from outside the penalty box; the inability to break rival teams whenever they park the bus; the absence of a taller reference striker who can head the team into the next round in the dying minutes of games; the poor effectiveness of Jordi Roura's substitutions and his inability to read the matches; Lionel Messi's lack of commitment to change crucial Champions League games... The list goes on but, mainly, these were the topics that generated the most discussion.

Let's try to analyse each point in more depth:

-- Villa didn't feature against AC Milan as the club's doctors decided that he should stay in Barcelona to recover from the renal colic he suffered last week. Having said that, El Guaje has already resumed full training with the squad and I hope to see him back in the starting lineup as soon as possible, as his proven ability to score from any position is priceless. If Barcelona are to be successful this season, the goalscoring threat he possesses from the wings must be utilised much more effectively by the coaching staff.

-- The roles that Pedro and Sanchez are asked to play in the team are much deeper than meets the eye. Anyone watching a couple of Barcelona games can see how they simply don't score as much as they did under Pep Guardiola and, as a result, they can become an easy target for ferocious criticism.

Let's not forget that both players' main mission is not to score prolifically but to open up spaces by running behind the opponents' back line, widen the pitch, provide Messi with quality through passes and try to recover the ball by applying the six seconds rule when dispossessed. In other words: Goals are obviously welcome, but their mission is much more complex than finding the net.

The key difference between the two wingers is that, while Pedro has picked up his form and managed to score more regularly since early January, the Chilean forward has totally lost his goal-scoring confidence and that aspect is affecting his performance as a whole.

While I would personally give Cristian Tello (and, gradually, Segunda Division top goal-scorer Gerard Deulofeu) a chance to prove their worth at first team level, let's not forget that it is ultimately up to the coach to decide who plays. From the moment a player is selected, the best thing fans can do is support whoever has been chosen.

-- Xavi is one of the key reasons why Barcelona are admired and respected around the world. His vision, ability to distribute and pace matches and leadership are unquestionable. Sure, the Catalan wasn't able to apply the required speed against Milan, but that was also the case with the rest of his midfield/attacking teammates.

One of the first messages newcomers learn at La Masia is "We win together, we lose together". Singling out the most capped player in Blaugrana history after losing only four out of 37 matches seems a bit excessive.

-- For a number of years now, I have felt that Barcelona would benefit from signing a taller striker who the coach could use as a Plan B in those occasions were the pass-and-move approach simply wasn't working.

Hristo Stoitchkov, Pep Guardiola and Ronald Koeman took most of the credit, but the truth is Johan Cruyff's Dream Team wouldn't have lifted the 1992 Champions League without the nine goals scored by Julio Salinas that season.

Frank Rijkaard won the 2006 European Cup thanks to the magic of Ronaldinho, the raw pace of Samuel Eto'o but also the massive part played by veteran substitute Henrik Larsson, who added a very valuable 19 goals in 58 matches as a Blaugrana.

That being said, Tito Vilanova insisted as soon as he took over as manager that there was simply no need for a Plan B but ensuring the Plan A remained current and developed as and when needed. Judging by the 112 goals scored in 40 games this season, Cules must simply trust that the poor attacking performance against the Rossoneri will not be repeated at the Camp Nou in the return leg.

-- Interim manager Jordi Roura has also enjoyed his fair share of criticism this week. Personally, I feel that he has in fact covered the absence of Vilanova pretty well, considering how traumatic the whole situation could have been. The bottom line here is that a team of Barcelona's calibre and pedigree don't necessarily need a manager on the sidelines telling what to do but just a leader who can transmit a sense of responsibility, reassurance and introduce minor variations when substituting players.

Given that Vilanova is in constant communication with Roura from New York via Whatsapp and Facetime, we must assume that any decisions taken by the interim manager have been previously agreed.

-- Last, but certainly not least, is the fact that many were pointing fingers at Messi. Yes, the 25-year-old guy who has already scored 301 times for the club and won four Ballon d'Ors in the process.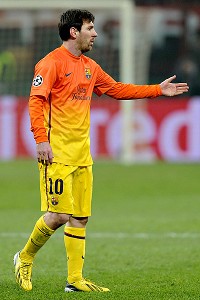 Claudio Villa/Getty ImagesEven four-time Ballon d'Or winner Lionel Messi received criticism following Barcelona's loss to Milan.
Honestly, if you feel La Pulga has anything to prove at this stage you probably have never seen him play or don't realise he is a human being who is perfectly entitled to having his ups and downs, as are the rest of us mortals. The Argentinean may or may not have had a great game, but his desire and total commitment was and continues to be unquestionable.

Full credit must be given to AC Milan for stopping the best player on Earth from getting more involved in the game. It is now up to his Blaugrana teammates, coaches and obviously the player himself to find a way to solve the three-man-marking-Messi puzzle.

Xavi explained after the game at the San Siro: "We weren't able to make use of the spaces down the wing. Perhaps we should have tried shooting more from outside the area. We needed to position ourselves better, to take more notice of the way their players were spread out and avoid fouls that could cause trouble to us in the air. We have to correct these mistakes and work out where we can cause damage to Milan. We knew it would be very difficult, but there are still 90 minutes to play at the Camp Nou and anything is possible. We can do it."

Barcelona may win or lose in the return leg but one thing is clear: This golden generation of players will definitely try their hardest to make Cules proud. Are the Blaugrana capable of overcoming a 2-0 deficit at the Camp Nou against AC Milan? Absolutely, but only when many of the above points have been addressed.

Have your say

I welcome and appreciate all respectful feedback. Would you like to share any other important points with us?

33,000 readers are already following @Barcablog_com and Facebook. Click to receive all Blaugrana updates.