Subdued Villa pay for slow start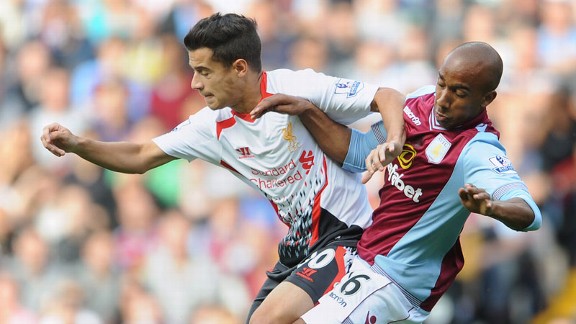 PA PhotosFabian Delph continued his impressive start to the season against Liverpool.
Villa have a remarkably poor home league record against Liverpool, having won just one of the previous 16 matches with the Reds. This latest reversal, Saturday evening's 1-0 defeat, confirmed the strange grip the Merseysiders have over Villa: Brendan Rodgers' team left Villa Park with three points and were never really required to exert themselves to claim victory.

It was a strange affair, truth be told. Liverpool, with a full week between their opening fixture of the 2013-14 campaign, against Stoke, and this game, were expected to have the fresher legs compared to Villa, facing a third game in seven days and still, perhaps, coming to terms with the turbulent climax to the midweek defeat at Chelsea. Certainly, tiredness could have been a factor in Villa's first half performance, which was sluggish and lazy; lazy not because players weren't working hard, but in the sense that sloppy mistakes were made on the ball, poor decisions taken. Whereas Liverpool kept the ball, and recycled possession, with Steven Gerrard and Philippe Coutinho, in particular, always aware of remaining in space and available for a pass, Villa were careless.

'Pace and grace,' is how Paul Lambert described his team's style this week but the high-tempo approach had no impact on Liverpool, and there was an impatience and urgency about Villa's play which was rushed and wasteful. On the other hand, Liverpool were content to wait for an opening without ever really looking threatening. The Reds' goal came from an innocuous pass from Jose Enrique, the left-back, who slid a cross-field pass into the edge of the Villa penalty area. Daniel Sturridge's run was undetected, and his footwork to skip past Brad Guzan, and then his finish, flicked in left-footed from a difficult angle, was exemplary. Villa may have one of the Premier League's outstanding strikers in Christian Benteke, Liverpool have another.

It was the third time in as many games that Villa had fallen behind. Sturridge's goal was on 20 minutes, and Guzan was never seriously tested beyond that. In the closing minutes of the first half, Benteke's control and persistence gave him the space needed to test Simon Mignolet from 18 yards, before Andreas Weimann fired over from a similar distance.

Stirred, Villa came into the contest more efficiently in the second half, and the balance of possession swung in almost the opposite direction compared to the first. It was Lambert's side who dominated with the ball, Rodgers' team who settled to contain. They did it very well. Villa struggled for any true penetration and invention. Gabby Agbonlahor should have better with a chance that he shanked wide, and Benteke, who was fairly well marshalled by Kolo Toure throughout, forced another good save from Mignolet late on with a drive to the near post that was pushed away. By that stage, Lambert had introduced one of his summer signings, Niclas Helenius, in an attempt to find an equaliser, and it was the Danish striker's headed flick on that opened up the chance for Benteke.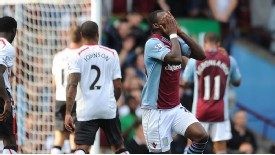 PA PhotosChristian Benteke reacts to a missed chance against Liverpool.
Despite defeat, Lambert insisted he saw Villa's first three games of the season as a positive. His team have faced three very difficult matches in a short space of time and now, because of a free weekend next week, due to the rescheduling of the Chelsea match, and then the international break, don't play again in the league until the visit of Newcastle United on September 14. Plenty of time and opportunity for Lambert to consider the shape of his squad and ponder the machinations of players and formation.

The feeling persists that Villa still need a midfield player who can dictate the ebb and flow of a game. Fabian Delph was Villa's best player against Liverpool, driving the team on, closing down, combative, energetic. Again, he plays at pace. What Villa need is a player who can produce something a little different. Lambert's big selection call was starting with Leandro Bacuna ahead of Karim El Ahmadi, and it was a tough debut for the Dutchman. He looked a bit lost, struggling to get onto the ball, although Lambert's decision would have been partly influenced by the need to negate the threat of Liverpool's Coutinho down the left, and Bacuna did this well. The Brazilian was quiet. As an attacking midfielder, Bacuna failed to show, apart from fizzing a fierce drive well wide on 30 minutes, but he actually looked comfortable when reverting to right-back late on. An athletic right-sided wide player, yes. A central midfield playmaker, probably not.

The same could be true of Aleksandar Tonev, the Bulgarian winger who again featured as a substitute. Tonev has searing pace and attacking intent, though flashed one long-range strike wildly wide and over-hit a right-wing cross from a promising position. It's early days and, indeed, he has yet to start a league game for Villa, but on this evidence he doesn't appear to have the composure for a central midfield role.

El Ahmadi has. His arrival as a substitute improved Villa, in that the Moroccan constantly looked for the simple pass, the short pass, any pass which would keep his team on the front foot, and he enabled Lambert's team to maintain the pressure on Liverpool. He's not really the playmaker Villa are missing, though had Lambert retained him from the start, the first half might not have been so one-sided. If El Ahmadi hadn't played at Arsenal and Chelsea, two games in five days, he may well have started.

On the whole, Lambert can be satisfied with what he has seen from his squad so far; three points to the good, when it was expected by many to be zero, four goals scored and four conceded, Villa competitive throughout. The Liverpool defeat highlighted the work still to be done, however, and Villa fans will be watching the countdown to the transfer deadline (September 2) with interest. Will that top class midfielder arrive?