Controversial defeat doesn't overshadow Villa progress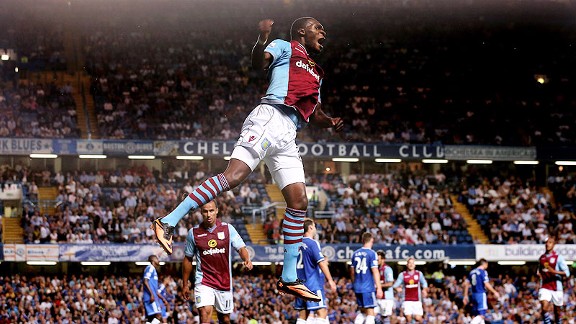 Scott Heavey/Getty ImagesChristian Benteke sent Villa fans soaring after his late first half equalizer.
A qualification in psychology would not have been required to read between the lines of Jose Mourinho's post-match comments in the wake of the pulsating encounter between Chelsea and Villa at Stamford Bridge which finished 2-1 to the hosts.

The master of the backhanded compliment, Mourinho commended Villa for a spirited performance which, he conceded, deserved a point instead of a 2-1 defeat, but at the same time more or less dismissed Paul Lambert's players as long-ball bandits who deployed the persistent tactic of goalkeeper Brad Guzan launching high and handsome to Christian Benteke. There was also a small snipe at Benteke suiting a certain style of play, and a mild rebuke for Lambert's demonstrative touchline behaviour. Not without an appreciation of self-deprecating humour, Mourinho compared Lambert to himself ten years ago.

- Macintosh: Mourinho attributes found in Lambert
- Worrall: Fortunate Chelsea claim controversial win

Coming quickly after Arsene Wenger's reported grumblings about Villa crossing the line between competitiveness and physical intimidation during last Saturday's 3-1 win at the Emirates, such comments don't portray Lambert's team in a flattering light. A group of rugged, tough-tackling bullies glancing towards the skies with every pass.

Should Villa's players and manager be offended? No. Quite the reverse. One of the galling aspects of Sir Alex Ferguson's reign at Manchester United was his enthusiasm at visiting Villa Park, practically dancing and hi-fiving his way to the stadium, from where his team would almost be guaranteed to depart with three points. No team wants to be the game all others look forward to. Far better to be seen as difficult opponents. Villa have certainly been that for both Arsenal and Chelsea during these early days of the 2013-14 campaign.

Respect might not be so forthcoming from opposing coaches but others, who are able to take a neutral view and not restricted by the tension of the post-match interview, must surely recognise the progress of Lambert's squad, and Villa's reputation as a fast-improving team is growing. Villa's opening two matches last season both ended in defeat, a lame non-event of a 1-0 loss at West Ham, and 3-1 shambles at home to Everton. This season's start, against two of the Premier League's biggest and best, a pair of Champions League-competing regulars, has been infinitely more encouraging.

Villa won't be competing with the likes of Arsenal and Chelsea come the end of season league table, but on this showing they can hold their own on the field.

At Stamford Bridge, Villa had to work tremendously hard, with Chelsea in control with the ball for the majority of the first half. Again, Villa's cause wasn't helped by conceding an early goal, and if this team is to develop into one which can once again challenge for a top six place, this is a weakness which must be resolved.

It was unfortunate that the final touch was off Antonio Luna, the Spanish left-back credited with an own goal after Eden Hazard's shot was pushed onto him by Guzan. But the way Villa were opened up by a neat pass from Oscar was all too easy -- the defence held a tight line, yet still the Brazilian managed to dissect three players to find Hazard, who had drifted off to find a couple of yards of space. That was five minutes in. Villa have to be alive to that.

Lambert had clearly set Villa up to contain, with his 4-3-3 tweaked to a more defensive 4-5-1, and the early goal ruined the game plan. It took Villa a while to get out of the initial mindset, and for a time, Chelsea dominated. Benteke, left alone as Villa's sole striker with Gabby Agbonlahor and Andreas Weimann tucking in as wingers, was loose in possession too often, his first touch betraying him and halting any promising break from the visitors.

Still, Villa held their shape well, and Lambert would have been pleased at the way his side regrouped after the setback. That was a real positive the Villa coach took away from Stamford Bridge with him. Others would be in the way that Jores Okore -- who was brought into the game just before half-time as a replacement for Ciaran Clark who required five stitches to a head wound -- quickly and smoothly adapted on his Premier League debut. The Dane looked confident and assured, and showed his pace on more than one occasion. Now he's in the team, he may take some shifting, especially as Ron Vlaar was moved from the right centre-back berth to the left to accommodate him.

Once Villa had the encouragement of a couple of sights of the Chelsea goal, their attacking side showed up. The goal was excellent: a rapid burst down the left flank by Agbonlahor, a cross cut back into the path of Benteke, who controlled with his right, stepped outside John Terry, and hammered it past Petr Cech. In the second half, Lambert sensed the chance of victory, and pushed Weimann and Agbonlahor further forward. Agbonlahor went close from distance, Weimann missed two very good chances. The Austrian, not yet in his best form, may find his starting place under threat from Aleksandar Tonev if Lambert chooses to shuffle his pack against Liverpool on Saturday.

Villa could have nicked it; Chelsea did. The circumstances of the winner were hugely controversial, for Branislav Ivanovic couldn't have done much more to earn a red card for what looked like a crude elbow on Benteke. The referee could not be excused for missing the incident; he was yards away and booked Ivanovic, so having penalised the Chelsea defender it was baffling he didn't consider it serious enough for dismissal. The same player scoring Chelsea's second was hard to take.

Lambert was fuming about that, and equally so after Terry handled the ball in the closing minutes. Mourinho didn't dispute the use of the hand, but pointed out Terry had been fouled. There was actually contact between the defender and Agbonlahor as they challenged to head Fabian Delph's cross, but no free-kick was given. For Terry to then thrust up a hand to hit the ball was inexplicable -- like a kid in the playground grabbing the ball when he thinks he's been fouled -- and really should have been punished.

It was a tense, tempestuous finish to the game, and Chelsea were relieved when the final whistle sounded. That was not a finish they had seen coming after going ahead five minutes in. Villa had pushed them close, and Mourinho knew it. Therein lies proof of progress for Lambert and his squad.

Villa's next challenge is against Liverpool on Saturday, a match which has sold out. The home crowd have every reason to feel confident about the outcome, for in the opening two games of the new season, Villa's players have laid down a marker. This team aren't in the mood to be easily beaten, it seems.