Villa's most disappointing signing? Discuss....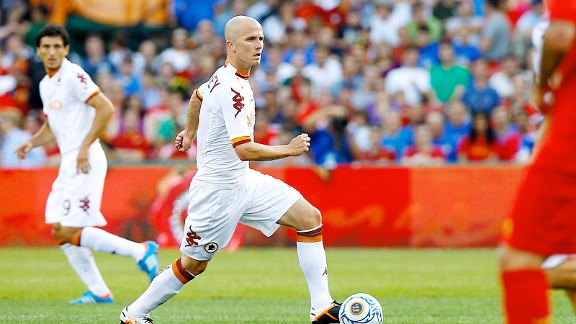 GettyImages / Jared Wickerham/Getty ImagesMichael Bradley: Passed on by Villa, now a regular for Roma.
My thoughts turned this week to Michael Bradley, the USA midfield player that Villa secured on loan a couple of seasons ago. A six-month deal with a permanent transfer agreed in principle for a player who had starred for his country in the World Cup the previous summer and was still in his early 20s. Bargain.

Except not. For whatever reason, Bradley barely played, the manager who signed him (Gerard Houllier) left at the end of the season and his replacement, Alex McLeish, decided against the deal. Based on what Villa had seen of Bradley in action, and given the financial juggling required of McLeish and his transfer budget, hardly a controversial decision.

As it was, the midfielder went to Chievo Verona, had a great debut season in Italy's Serie A, and was snapped up by Roma, for whom he is already a key player.

My point in all of this is that there are rarely any guarantees when signing a new player. Bradley didn't exactly impress in a Villa shirt; in hindsight, not taking him on looks an error of judgement but it may not have worked out well if he had signed.

Another, current example: Charles N'Zogbia. It's reasonable to assume at least a proportion of the transfer money McLeish saved on Bradley would have gone towards the £9.5 million used to persuade Wigan to sell N'Zogbia. There seemed nothing at all risky about signing this guy - a nailed-on, dead cert success if ever there was one.

N'Zogbia the fleet-footed winger who'd been winning games for Wigan on his own, beating entire defences, skipping past challenges, firing in spectacular goals from all angles; one season, reportedly, making the second most successful number of dribbles in the whole of European football - behind one Lionel Messi! Wow. W-ow!

And yet... while N'Zogbia hasn't blown out at Villa, he definitely hasn't been at his best since signing in August 2011. He's performed in fits and starts, and his last four league appearances have all been from the substitute's bench, none of them lasting more than 30 minutes. There's time yet for him to blossom, of course, but a disappointing signing, all things considered? I'd have to say yes.

Which got me thinking further. This isn't the first time I've been totally convinced Villa have signed someone special - and then been proven wrong. Other Villains have probably experienced the same thing, but here's my own rundown of the players I thought would be great for the club, only to deliver very much below the bar I set them...

Tony Cascarino
Because of Cascarino I learned the importance of actually watching a player before forming an opinion. At 11, 12 years old all I really knew of him was that his name kept cropping up as a prolific goalscorer for Millwall. So when Villa signed him in 1990, I figured we'd landed a guaranteed 20-goal a season man. When I actually saw him play in a Villa shirt, the truth dawned horribly. Cas looked slow, ponderous and utterly shorn of any belief in his own ability; rather than being the catalyst for pushing Villa over the line and winning the league title in 1990, the team's form seemed to go downhill. He took an unfair proportion of blame for that but it's fair to say that he never looked comfortable playing for club, and was soon on his way.

Stan Collymore
It's impossible, even now, to put a limit on the giddy excitement I felt when Stan signed for the Villa, in 1997. It was verging on childlike glee. Stan Collymore: the most exciting English striker on the scene (I thought); a Brummie; a boyhood Villa fan, who's school playground hero was Gary Shaw (same as me, Stan, same as me!); a player with his best years ahead of him. Everything was perfect. As a £7m signing coming to spearhead a talented Villa squad (Southgate, Ehiogu, Bosnich, Taylor, Draper, Yorke), which finished fourth in the league in 1996 and won the League Cup, Collymore should have been the final piece of the jigsaw. There were brief cameos of brilliance - two goals against Spurs, another double to beat Liverpool, an absolute stunner of a goal against Atletico Madrid in the UEFA Cup - but six league goals in his debut season was bitterly disappointing. Issues off the field were well documented, and a further two seasons at the club failed to ignite his best form. I remain heartbroken to this day.

Sasa Curcic
'Yes!' I exclaimed triumphantly to my flatmate when Curcic's 1996 move from Bolton was confirmed. 'This is the final piece in the jigsaw!' (this being the final piece in the jigsaw the year before I thought Stan Collymore was the final piece in the jigsaw: there have been a lot of final pieces in the Villa jigsaw.) He, a Sheffield Wednesday fan, wholeheartedly agreed. Curcic was a maverick, yes, but a talented one, a midfielder who could take players on, score goals, thread a pass through the eye of a needle. But that all seemed to disappear as soon as he pulled a claret and blue shirt on. His performances were anonymous, his behaviour became erratic. He fell out with manager Brian Little. And that was that.

Curtis Davies
Davies could have been the next Rio Ferdinand. Maybe he still might, but he's got some work to do. Following an initial season-long loan (a season during which he described his debut performance as being similar to that of a 'pub' player and later snapped his Achilles tendon) Villa made the deal permanent for around £10m. Big money, and bigger expectations. Yet what followed were spells in and out of the team, mixed form, and a further long-term injury, a dislocated shoulder. By 2010 he was on the transfer list and in January 2011 he'd joined Birmingham. A real shame.