Opening day highs and lows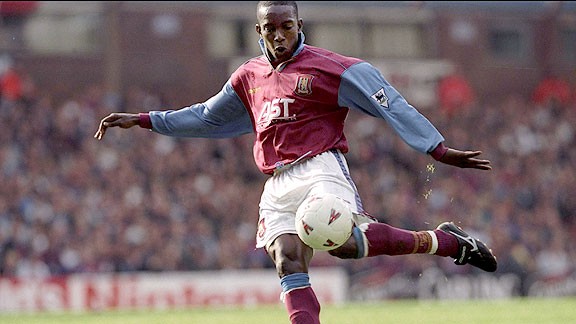 Ben Radford/Allsport/Getty ImagesDwight Yorke's goal helped power Aston Villa to a memorable 3-1 victory over Manchester United to open the 1996-97 season.
The first match of a new Premier League season. An almost magical time for fans -- the return of football to the weekend sporting calendar, new players, new strip, new enthusiasm and new hope. On the opening day of the season, it's a clean slate, a spotless record. Undefeated. Level pegging with the biggest and best clubs in the league -- until kickoff, at least.

As the opening day of the 2013-14 Premier League season draws ever closer, it's an ideal time to review some of Villa's first day performances and results. Over the years, it's been a mixed bag of famous victories, humbling defeats and games all too easily forgotten, matches of anti-climax that felt all the more dull following months of expectation.

- Benteke confident of avoiding form slump

Villa's most memorable opening day result? There's only one winner, of course. The match and result which spawned one of the most infamous football quotes of all time, the one which Alan Hansen must be eternally sick of having thrown back at him. 'You can't win anything with kids,' snorted Hansen, derisively, after reviewing Manchester United's 3-1 defeat at Villa Park on the opening day of the 1996-97 season, and referencing the fact that several young players were in the United team that afternoon.

Typical Villa, that. A notable victory on the first day of the season, against the best club in the country, and the post-match focus was more about how poor United were rather than how good Villa were. And Villa were good that day. Brian Little's team blew United away with three goals in 36 first-half minutes -- Ian Taylor, Mark Draper, Dwight Yorke. One of those 'kids', David Beckham, scored a late consolation for United. Villa fans probably didn't really take much notice of him -- it was a terrific win and will always rank highly among any review of opening day performances, if not the undisputed No.1.

There have been other big wins. A 4-1 win over QPR in August 1993, with a Dalian Atkinson double, and one apiece from Dean Saunders and Steve Staunton. In 2008, a 4-2 victory against Manchester City at home, a game which was evenly contested until a Gabriel Agbonlahor hat-trick in the space of seven second half minutes.

A couple of Villa wins were more notable for the story alongside the scoreline. In 1999, John Gregory's side defeated Newcastle 1-0 at St James' Park, a fairly mundane encounter enlivened by the sending off of Alan Shearer; Ian Taylor, the Villa midfielder, putting his hand across his mouth in disbelief (or stifling a laugh). More recently, Villa's 3-0 win against West Ham was a strangely muted affair, days after Martin O'Neill's sudden resignation and in the knowledge that James Milner would soon be leaving the club. Milner scored that afternoon, on his farewell appearance, and the whole thing felt like something very good coming to an end.

There have been poor starts, of course. In 2009, a fantastic volley from Hugo Rodallega sent Wigan on the way to a 2-0 win at Villa Park, which instantly unravelled all the high expectations for the season ahead, though the team went on to reach League Cup final, FA Cup semi and sixth place that season. A 1-0 defeat at Leicester in 1997 was not, in itself, a disaster, but what ensued was. Villa went to lose the next three games, starting with an awful 0-4 home defeat to Blackburn (Chris Sutton hat-trick), and were pointless four games in -- played four, lost four. Villa never really recovered, and manager Brian Little certainly didn't, leaving partway through the season.

The first game of the 2005-06 season was fun, with a crazy start against Bolton at home; 2-2 and all four goals scored inside the first nine minutes! Kevin Phillips put Villa ahead on four, Kevin Davies equalised on six, Ivan Campo put the Trotters in front two minutes later, and 60 seconds after that, Steve Davis tied it all up.

But for sheer drama, 1991-92, the season before the Premier League was born, takes some beating. Ron Atkinson's first match in charge of Villa, and by a cruel (or sickeningly funny) twist of fate, it was at Sheffield Wednesday, the club he left in bitter circumstances to take charge.

Atkinson put up with some abuse that day; I can still recall him, standing outside the dugout (outside, not hiding inside -- tough man), sunglasses on, chewing gum defiantly as boos rained down on him. By halftime, Villa were 2-0 down, and Owls fans were beside themselves. On the final whistle, Villa had turned it around and won 3-2, with an injury time winner from Staunton, galloping through from deep to blast home. Behind those famous sunglasses, Atkinson's eyes will have been gleaming.

So to Saturday and Arsenal. Villa have started at the Emirates before, the first ever league match at the new stadium, back in 2006. Honours were even then, a 1-1 draw, with Villa taking the lead with an Olof Mellberg header. What will the opening match of the 2013-14 season bring?