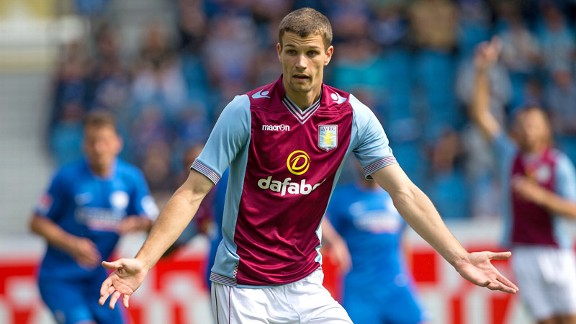 Neville Williams/Aston Villa FC/Getty ImagesNicklas Helenius takes the place of Darren Bent as the No.9 at Aston Villa.
For what is, essentially, a list of players' names alongside a list of numbers, the reveal of a Premier League club's squad list for the forthcoming season never fails to generate more coverage than it merits as an item of genuine news value.

Although it's not like the old days, when the only numbers on the back of shirts which really carried anything of worth were those between 1-11, meaning those were the 11 players picked to play from the start, nevertheless, the digits attributed to each particular squad member can carry some significance. At this stage of the year, with little over a month to go before the opening weekend of the 2013-14 Premier League campaign, who gets what can shed a little light on those players who are bona fide contenders for a regular role in the team, and those who are a million miles away.

Villa are no different, and the club's announcement of the squad's roster sparked interesting debate. Of course, Paul Lambert has made no secret of the players who are not part of his plans. So although the headlines may have been dominated by Darren Bent's loss of the treasured No.9 shirt, and his disappointed reaction on Twitter, it was hardly a surprise. You don't hand the No.9 jersey, the traditional number of the centre-forward, to a guy who, just days before, had sat behind the wheel of his car and told a supporter that he expected to be leaving the club 'soon'. Bent's shirt has gone to the player effectively replacing him in the Villa squad, Nicklas Helenius.

With his exit inevitable, Bent's been given the No.39 shirt -- not that he'll ever wear it. He's not alone. If anyone had been in any doubt as to Lambert's intentions for the other senior players reported to be surplus to requirements, the squad numbers should end all doubts. Stephen Ireland, Alan Hutton and Barry Bannan have been given 40, 41 and 42 respectively. Shay Given is 35. Enda Stevens -- who may well be wondering quite what he's done so wrong to be lumped with the out crowd, given that he's relatively young and must be one of the more modest wage earners in the squad -- is 37, and Nathan Delfouneso No.38. The message is loud and clear.

- Villa move Bent from No.9 to No.39

What perhaps might have come as a bit of an eye-opener was seeing Charles N'Zogbia given the No.36 shirt. Currently injured, N'Zogbia was No.10 last season and dropping down into the depths of the mid-thirties doesn't bode well for his future. It hardly suggests he's going to have a meaningful role to play at Villa Park over the coming months.

Those who like a certain balance to their numbers might be slightly perplexed to see Nathan Baker with No.2 -- two being traditionally worn by a right back. To see it given to a left-footed centre-back may offend sensibilities. Jores Okore, Villa's new central defender, who can play right-back, has No.5, while the team's first choice right-back, Matt Lowton, will wear No.34. That's no reflection of his future, it's the number he had last season and wishes to retain. So too with Christian Benteke, who chose to keep No.20. Gestures surely appreciated by supporters with last season's replica shirts who had the Belgian's surname printed on the back. Leandro Bacuna's impressive performances in pre-season earned him the No.7 shirt, and the Dutchman may be set for a more influential role in 2013-14 than many thought when he was signed.

There isn't a No.19 shirt for the coming campaign; that's been retired, for just the one season, as a mark of respect for former player Stiliyan Petrov, now a member of the coaching staff. Back-up goalkeeper Jed Steer will wear No.13, the so-called 'unlucky' number that many clubs completely ignore. Cover your eyes if superstitious.

Other than allowing fans and journalists to second-guess the manager's selection preferences, the squad number allocations serve another purpose. Confirmation of a player's number means the Villa fans can start buying the new shirt and get their favourite name on the back. The official club store reported that, since the numbers were unveiled, 'Weimann 10' accounted for 95% of all shirt sales -- overwhelming popularity for striker Andi. It's a reflection not only of the continued pulling power of the magical No.10 shirt -- always the preserve of exciting, attacking footballers -- the love affair Villa fans have for Weimann, but also the fact that this is a player expected to remain a key part of the club for years to come. It will be interesting to see how many take up 'Benteke 20' over the next few weeks.