The Benteke saga has a swift conclusion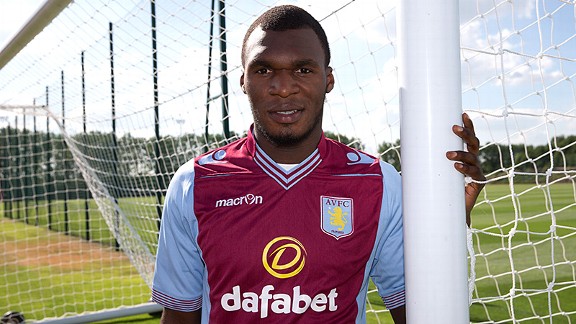 Neville Williams/Getty ImagesChristian Benteke's contract extension at Aston Villa runs through the 2016-17 season.
What a curious ten days or so in the recent history of Aston Villa Football Club.

Was it the persuasive powers of Paul Lambert that convinced Christian Benteke to agree to a new contract with the club? Maybe a genuine change of heart and mind from the striker? Perhaps a lack of firm interest from Tottenham? Or just the end result of a protracted negotiating gamble from player and agent, designed to engineer a more lucrative deal from Villa than was first offered?

- Benteke commits future to Villa

The truth is not known, outside of a chosen few. And perhaps it is better that way. Certainly for Villa's fans, who, having reacted with dismay when Benteke submitted his transfer request, and prepared themselves dejectedly for his departure, greeted the news of his U-turn, and subsequent affirmation of his commitment, with unmitigated glee. For supporters too used to seeing key players move on -- Gareth Barry, James Milner, Ashley Young, Stewart Downing -- this was long awaited, and much appreciated.

The whole episode has something of a surreal feel about it. In the space of just over a week, Benteke made public his desire to leave, was left out of the squad which toured Germany, and granted extended holiday leave. Spurs were reported as leading candidates for his signature, and the timing of his request suggested the London club would follow up quickly with a decisive bid. Tottenham, officially, made no comment but the world of social media buzzed (or tweeted) with 'insider knowledge' -- Benteke, it was claimed, had his heart set on Spurs. Spurs were ready to bid £18m for him. Or £20m. Or £23m, at the most, possibly with a player of their own as part of the transfer. There were even whispers that the deal was 'done'. No such deal materialised.

Instead, Benteke reported back for training on the designated date -- July 18. Again, rumour of him going on strike was nothing more than hysteria. He turned up, had a 'discussion' with Lambert, and trained with the rest of the first team. On leaving Bodymoor Heath, he apparently told a supporter he was staying. Later in the day, he posed for a photograph with teammate and friend Yacouba Sylla, and repeated the sentiment. It felt like a sea change in the situation. Some 24 hours later, Villa announced Benteke had agreed to extend his contract, until 2017.

It's still not clear whether Tottenham actually tendered a bid, or took matters any further than enquiring about Benteke. It always seemed doubtful that Spurs would meet Villa's valuation of £25m, and the major players in the Premier League have been preoccupied with other priorities: Chelsea courting Wayne Rooney, Manchester United and Cesc Fabregas, Manchester City with Alvaro Negredo and Stevan Jovetic, Arsenal chasing Gonzalo Higuain. Liverpool are totally focused on keeping Luiz Suarez first and foremost. With Spurs failing to show, Benteke's options would have looked rather limited.

This is the smart move from the Benteke camp. He has no rush to leave Villa, and therefore it makes sense to accept a contract which reportedly doubles his weekly wage. The new deal guarantees little, in terms of a long-term commitment, and no Villa fan is under any illusion about the security it brings. It doesn't. It simply means that the striker will definitely play for the club for a second season. Benteke's actions this summer make it likely that his radar remains receptive to his next move, and part of his motivation for the coming season will be with a view to keeping himself in the shop window. Another prolific Premier League campaign, and a decent showing in the 2014 World Cup, and Spurs won't be the only club considering an offer.

But that's in the future. Now is not the time to analyse what may happen in 12 months. For now, Villa can reflect on the enormous satisfaction that they have convinced their leading goal-scorer to stay at the club and that they won't have a Benteke-sized hole to fill in the squad. The Belgian would have taken a lot of replacing: Lambert has saved himself that potentially huge headache of a job, and Villa's prospects for the 2013-14 season suddenly look ten times brighter than they did last week.