Clark commits but faces serious competition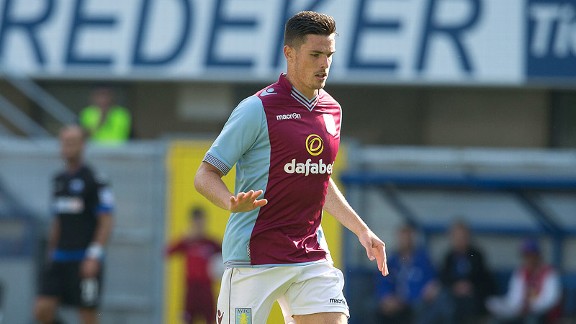 Neville Williams/Aston Villa FC/Getty ImagesCiaran Clark's new deal will see him stay at Villa Park through the 2015-16 season.
As if to emphasise that the plight of one restless striker will not define the summer, Villa have announced yet another player has agreed a contract extension. Ciaran Clark became the latest member of Paul Lambert's squad to commit his future to the club by extending his contract until the end of the 2015-16 season, an additional three years. The timing of the announcement is no coincidence, done so on the day Christian Benteke finally returned to training. There's plenty of positive news, is the message coming out of the club.

- New Villa deal for Clark

Clark is in good company. Andreas Weimann, Brad Guzan, Nathan Baker and Ashley Westwood have all signed contract extensions since the end of last season; Matt Lowton will do the same shortly. Villa are not hanging around in this regard, moving swiftly to ensure the core of the squad stays put. Performances and progress are being duly recognised and rewarded.

In the main, this Villa squad is one big happy family under Lambert, save for the sulky lad who wants to leave home (and let's not forget, Benteke was also offered a new contract recently), and those inherited from a previous relationship (manager), members who have been made by Lambert to train away from the first team. And even those are beginning to dwindle in number, with Darren Bent said to be close to moving to Newcastle and Alan Hutton negotiating terms with Real Mallorca.

In the nicest possible way, Clark feels part of the furniture at Villa Park. He's grown up, in more ways than one, at the club -- graduating from the Academy and youth set-up, breaking into the first team, and playing under four different managers for the senior side. He's also been required to mature and toughen up quickly. He dropped in at left-back when Gerard Houllier left Stephen Warnock out of the team, played for a spell as a defensive midfielder later in that same season, and played very well. Enough, in fact, for some to wonder whether such a midfield role is Clark's best position.

Then came challenges and tests of a different sort under Alex McLeish and Lambert -- leading the Villa defence at centre-back, in the absence of more experienced players: Richard Dunne and James Collins missing matches for McLeish, Ron Vlaar injured for chunks of last season. The responsibility fell on Clark's shoulders and fell heavily. Lambert made him captain for a time in 2012-13, but Clark's form -- like the rest of the team, in fairness -- was up and down, and with Villa's defence criticised, he was under intense scrutiny. As the season drew to a close, Clark, struggling with injury himself, was out of the starting XI, with Vlaar forming a solid-looking partnership with Baker.

There's no question Clark deserves his new contract. At 23 years old, he's squeezed a lot of football into the last three seasons, and he's had international appearances with the Republic of Ireland. He has faults in his game; when he's turned around, he's in trouble. He's prone to the occasional error, like any young Premier League defender -- his blunder to gift Manchester City a goal last season was particularly rash. But Clark has plenty going for him, too: a sweet left foot, an aerial presence, he can read the game and he plays with poise and control. He can actually play, which is why he hasn't looked out of place in midfield on occasion. In short, not the type of player you allow to leave for pennies with his contract running out.

Next season will be interesting. Competition for central defenders will be stern and at this stage, it's difficult to predict Lambert's first choice pairing. In Germany, the Villa manager rotated partnerships at the halfway point of games, but Vlaar and Baker tended to play together, reprising the understanding they shared at the tail end of 2012-13. Clark lined up with new signing Jores Okore in the tour's opening game, before the Dane departed injured. Thereafter, it was Clark and Chris Herd.

Vlaar had his sticky moments last season too, but he finished the campaign strongly, and he is Lambert's captain. Baker is not as technically gifted as Clark, but he is more robust and imposing and he's probably nipped ahead of him on account of his performances last March and April. And then there's Okore. He brings something to the Villa back four that none of the others have, and that's pace. He's expected to be the best of the lot, and he's come to the club to play. The hamstring injury means Lambert has had little time to assess him. Once fit, he may be the first centre-back on the team sheet. Logic suggests Lambert will go with a right-foot/left-foot combination for his central defenders, in which case it could be battle between Vlaar and Okore for one place, and Clark and Baker for the other.

It's a tough call and more will become clear in the next two or three weeks. Right now, Clark can reflect on a new contract well earned, but he'll know -- and he has said as much himself -- that next season a place in Villa's line-up is far from assured.