What a difference a miss makes...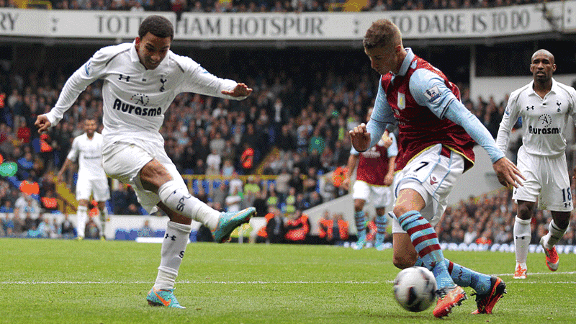 PA PhotosAaron Lennon did the damage against Villa
If Christian Benteke is anything like me, he'll have been replaying that moment against Tottenham over and over in his mind.

I certainly was. Awake at 2am, my fatigued brain went through the loop of action: Lloris throws the ball out, badly, Holman makes the interception, switches the ball to Albrighton, who spins and sends a swirling cross right on to the head of Benteke, who is practically standing on the penalty spot and connects sweetly enough, but directs his effort down and wide of the far post.

- Delaney: Spurs click into gear against Villa
- Tottenham Hotspur 2-0 Aston Villa

The score is 0-0, and a keenly contested encounter at White Hart Lane is hanging in the balance early in the second half. Benteke's miss would have given Villa a crucial lead. Holman's lay-off, Albrighton's cross, Benteke's header... wide. The chance has gone; Villa's best opportunity wasted.

Not long afterwards, Defoe's wayward shot hits Steven Caulker on the back of his legs, and diverts in. Spurs, not Villa, get the breakthrough goal, and go on to cruise to victory. The 2-0 win was Tottenham's fourth successive three-pointer in the Premier League. Villa have now lost four of seven league games this season. With international fixtures now pushing the Premier League aside until October 20, there is time to reflect on how Villa have performed. Or, if not to reflect, then to brood. Because the new Villa have yet to take off under Paul Lambert, and in England we stand on the cusp of winter.

Five points from seven games is not a good return, and though any coach attempting to lay the foundations for a permanent recovery needs time, the granting of time to put firm plans into place comes with a caveat - getting points on the board to keep things ticking over. Just look across at Anfield to see another case in point, with Brendan Rogers teaching Liverpool his coaching philosophy. Everyone's on side, but with just a solitary victory from seven league games - drawing parallels with Villa - Rogers will be keenly aware of more immediate requirements too. The future is key, but so is the present.

Back to Villa. There was plenty of good in the performance at Tottenham. Villa worked hard, to a game plan, keeping shape and discipline against a Spurs side which has pace and ability to burn. Lambert may have left Darren Bent on the sidelines, again, but his strategy had legs. He used Gabriel Agbonlahor wide to keep Kyle Walker busy and get inside when possible, and Benteke as the centre-forward who has enough strength and presence to get hold of the ball and keep Tottenham's centre-backs busy.

Bent can't play the role that Agbonhalor had, and he doesn't have the game to do what Benteke did. Nevertheless, a defeat with your star striker sitting down for most of the game doesn't look good, and it's the kind of decision which can get supporters wondering.

Given recent experience, Villa fans can be quick to experience doubt, and Lambert is having a mini sticky run. It may be, that in trying to rejuvenate Villa from top to bottom, he's doing too much too soon - he's signed mainly young, inexperienced players from outside the Premier League, which carries promise for the future but also a risk for the here and now. It's bold and can backfire, because there's a learning curve that needs to take place, and in the Premier League, that curve is steep.

While I've been impressed with Matthew Lowton and Joe Bennett, both modern, attacking full-backs and two of the players Lambert has brought to the club, it's still worth pondering what Richard Dunne could bring to Villa's back four. With a wealth of top flight experience, the Irishman shouldn't be easily overlooked - injury has made him unavailable to the manager so far, so it's hard to tell if he has a role a play.

But elsewhere, Lambert has chosen to leave out Shay Given, Bent, and also, increasingly from the starting line-up, Charles N'Zogbia. That's a trio of players, right there, who have been playing Premier League football for years and perhaps deserve to be featuring more substantially than they have recently. They may have to come back into contention just to give Villa that extra advantage of experience, and to give the team a bit of breathing space.

As the Premier League takes a pause, then, it's fair to say Villa have work to do. The fixtures resume later this month; Villa face Fulham, Norwich, Sunderland. By the time those three games have been completed, we'll be a quarter of the way through the campaign and Villa need to have secured at least another victory just to keep those whispering fears at bay.