Benteke disappointment for Villa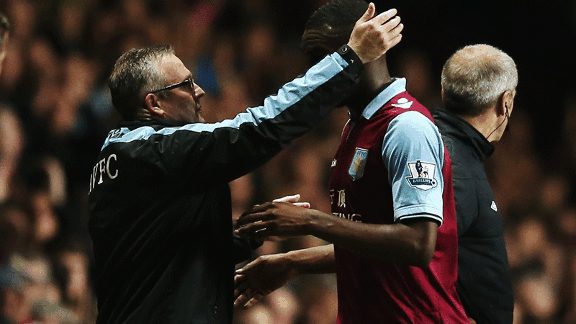 GettyImagesPaul Lambert was largely responsible for Benteke's rise and should find a new remedy in the striker's absence
"Hugely disappointed" was Villa manager Paul Lambert's brutally honest reaction to the news that Christian Benteke had handed in an official transfer request. It was no understatement.

At a little after 10.30pm on Monday, July 8, Benteke's request was made public. It confirmed Villa's worst fears. That Benteke, the striker whom they had signed from Genk little more than a year ago, and who had scored 19 goals in a remarkable debut season in the Premier League, has decided his future - and his immediate future at that - lies away from Villa Park, and the club which gave him his big chance. Benteke's decision is a bitter pill to swallow for the manager who recruited him, the fans who worshipped him as a hero last season, and who believed, right up until the minute his transfer request was announced, that he'd be staying at the club, and the players who supported him. There will be feelings of anger and betrayal. Not least because there is something depressingly familiar about this turn of events.

- The harsh lessons of Benteke's request

There have been almost daily rumours surrounding Benteke since the final whistle blew on the 2012-13 season, but Villa must have thought they were winning the battle to keep him, with a new and improved contract on the table, and the player poised to return to training ahead of the tour to Germany. Earlier on Monday, the first rumbles of concern, with doubts over whether the Belgian had flown with the rest of the squad. It was thought not; he'd stayed at home because of a 'cold'. Then that became stories of Benteke travelling separately, so he could visit his family, presumably based in Belgium, en route. It all sounded very unconvincing, and with Villa not disclosing a definitive list of the squad for the tour, it didn't bode well. Comfort was sought in a photo, taken by a Villa fan, of Benteke leaving Bodymoor Heath on Sunday. After being asked, he had apparently told the fan he would be staying at the club. False hope.

The shock will linger for a time yet, the frustration and hurt may take a while longer to fade. What happens next is intriguing. Villa are clear in their position - Benteke is contracted for a further three years, and he will still be at the club next season unless a rival meets their valuation for the striker. That is likely to be a minimum of £20m, more likely close to £30m. That will rule out most bidders. Chelsea, linked via a report quickly dismissed as groundless by Benteke's agent, could be leading contenders, as could Manchester City, of course. Wild cards may even be Arsenal, if the Gunners do indeed have £30m available for Real Madrid's Gonzalo Higuain, and want a back-up plan. Or maybe Higuain was the back-up plan.

Interested parties could well come from outside England, too. Yet, despite talk of an auction for Benteke, I wouldn't be so sure. For the player to actually submit a transfer request suggests, to me, that there is already one club in pole position, a club which has made its desire clear. It's naïve to think that some form of contact has not already been made, even if solely agent to agent at this stage. It's a rare footballer indeed to take the step of doing what Benteke has done merely to trigger an offer. It's usually the final act that paves the way for the move to proceed. This may all wrap up rather quickly.

Where does this leave Villa? Hard to believe, as this news soaks in, but in a very good position, potentially. Yes, Benteke will be badly missed but there is the prospect of turning a large profit on a player who, when all is said and done, has one Premier League season to his name, albeit a very good one. Villa, and Lambert, could do an awful lot with £30m, and it would not be a total surprise if this most resourceful of managers already has a handful of names to consider, second-guessing Benteke's push for a move. Villa have already signed the highly-rated Dane, Nicklas Helenius, but when Benteke does leave, there will surely be another attacking player brought in to fill the gap.

It is a difficult time for Villa fans, and the next few days will be painful still. But if the last 12 months under Lambert have taught the supporters anything, it's to keep the faith. There's always a way forward. Always.