Defining year for Gardner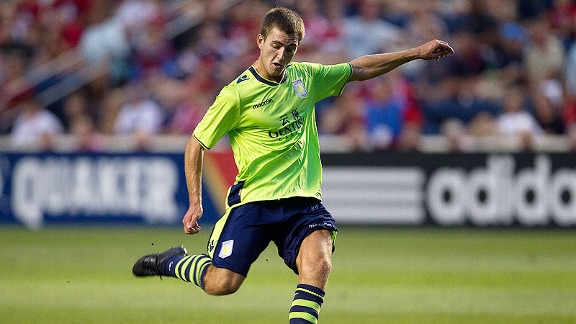 Neville Williams/Aston Villa FC via Getty Images2013-14 will be a pivotal season for Villa's Gary Gardner after missing almost all of 2012-13 with a ruptured ACL.
Amid the continued transfer speculation involving players in and out of Villa Park, the return to training for the majority of the squad, and the sheer admiration for Antonio Luna's majestic beard, several items of interest regarding a certain Gary Gardner may have slipped quietly under the radar.

Firstly, that Gardner was part of the group that reported back from a six-week break to commence pre-season training at Bodymoor Heath this Monday. Secondly, that it is believed Championship side Watford made an enquiry regarding the possibility of taking the midfielder on loan for the 2013-14, an enquiry that Villa declined in order to keep Gardner within the first team fold. And finally, and perhaps most crucially, that the player has apparently entered the final year of his contract at the club.

- Guzan commits to new Villa deal

All of these developments are significant, as they serve to emphasise that the coming season will be a defining time in Gardner's career at Villa. Heralded for years as perhaps the finest talent to emerge from the club's Academy, while elder brother Craig enjoyed brief success in spells under Martin O'Neill before being sold across the city to Birmingham, Gary was considered a cut above his sibling. A little bit special. It was always assumed that Gardner's rise to first team regular would be a case of when, not if. It is most definitely a case of the latter now.

Gardner has suffered from the most cruellest of injury setbacks, the kind that can wreck a player's career. Not once, but twice, has the anterior cruciate ligament in his right knee ruptured. First as a 17-year-old, in December 2009, and again little over a year ago; a particularly vindictive twist of fate, having started last season firmly in Paul Lambert's plans and featuring as a substitute in Villa's opener at West Ham.

Given Lambert's policy of giving priority to young players, it's safe to presume Gardner would have had opportunities a-plenty. His recovery took eight months, the player taking to the field again on the last day of the season in the 2-2 draw at Wigan. He played in the first and last matches of the campaign and missed the other 36.

In between these two most crushing of setbacks, Gardner did demonstrate glimpses of why he is so highly regarded at Villa. Though his exposure at a senior level was limited, in essence, to a series of appearances under Alex McLeish in 2011-12, he showed up promisingly as a box-to-box attacking midfielder. His inclination to make late runs into the opposition penalty area was reminiscent of the way David Platt operated so superbly for Villa in the early 1990s, similarly Ian Taylor. It was Gardner's fizzing snap shot that Fulham goalkeeper Mark Schwarzer spilled, allowing Andreas Weimann to bundle in that crucial late winner in March 2012.

Earlier that season, Gardner had emphasised the goal-scoring side of his game in the NextGen tournament (which Villa won last season, of course), hitting six goals as the club reached the quarter-finals of the competition; that total included an eye-catching hat-trick against the Dutch side, Ajax. His form around that time, the autumn and winter of 2011, was good. Gardner also scored on his debut for Coventry, during his short loan spell there, and twice for the England Under-21s, against Iceland, in November. Little wonder McLeish called him back from Coventry and hastily introduced him to the senior squad.

Goals from midfield are a priceless commodity, and something which has been missing from Villa's game for too long. One of Lambert's new signings, Leandro Bacuna, has that ability, but Gardner will be eager to state a case for a run in the side, too. There aren't many players in the current squad who can do what Gardner can, break from deep and get beyond the striker. And with Brett Holman gone, Charles N'Zogbia injured, Stephen Ireland out of the picture and a question mark over Barry Bannan, he can quickly jump the midfield queue.

The reality of his situation is that this year will require something of a breakthrough from a player who, having turned 21 on June 29, can perhaps no longer be considered a raw young prospect. Gardner is of an age now where he'll be required to justify a new deal and a continued stay at the club. Contracts are hard earned at Villa these days, not just handed out generously. Time is not exactly running out, for Villa will be loath to let go of such potential, but it is time for the Solihull-born midfielder to make an impact.

One suspects that, as long as he can stay fit, Gardner will get his chance, and that is all he will be wishing for -- an injury-free campaign, and an opportunity to try and establish himself. He'll no doubt be overlooked by the likes of Christian Benteke, Luna and the rest of the Villa new boys, but it's worth keeping a low-key watching brief on him throughout the next few weeks. Villa fans will be holding collective breaths and crossing fingers, toes and everything else every time Gardner steps out onto the pitch, for this is one home-grown player they are rooting for. He is long overdue some good luck and a decent crack at fulfilling his potential.