Bitter end to Bent's Villa career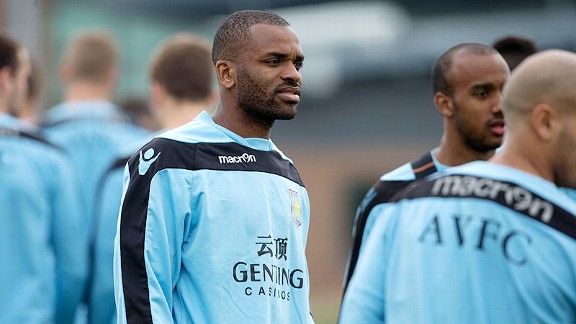 Neville Williams/Aston Villa FC via Getty ImagesDarren Bent is no longer training with Aston Villa's first team, though a sale does not appear to be imminent.
Villa may have moved on from their dependency on Darren Bent to such an extent that he is no longer required at the club, but there should be little satisfaction in the manner of his almost-certain departure.

What began in January 2011 as the most exciting of alliances will end with a parting of player and club. That much has been an open secret for months. But instead of an amicable solution, this is in danger of becoming a bitter divorce. From record signing, and relegation-avoiding saviour, to present day: 18 million pounds worth of footballer reportedly training, and even changing, away from the first team. Excluded from working with his peers, removed from the preseason friendly schedule. This is in danger of turning ugly, unless a transfer away from Villa is swift and smoothly negotiated.

How did it come to this? To witness Bent's time at Villa expire in such a fashion really is regrettable. He was a hero for the Villans during those first few months. A signing with the kind of profile Villa fans thought was beyond their reach and means, lured from Sunderland to answer an SOS call with Gerard Houllier's team descending into freefall. Bent's arrival gave everyone a huge boost; not only because he was a top=class striker in the prime of his career, but because it provided reassurance that Villa, even with fortunes declining on the pitch, still carried an appeal.

-Outcast Bent fears Villa price too high

His contribution was instant, and significant. A Villa Park debut goal against Manchester City, the first of nine in the league for the club. Without his introduction and intervention, Villa could easily have been relegated. He was the perfect centre-forward to finish the fine approach work of Ashley Young and Stewart Downing, and a double at Arsenal in the penultimate match of the season emphasised his form.

Looking back now, that afternoon was the high point of Bent's Villa career. He was never quite as sharp in 2011-12, though he again managed nine Premier League goals before an ankle injury ended his campaign in February.

Few could have predicted Paul Lambert, the third manager Bent played under at Villa, to build a team without the club's most expensive player in it; indeed, Lambert made him captain at the beginning of the season. But Lambert's vision did not include the England striker, and the team evolved without him. There can be no argument that Lambert got it right, and it is to his credit that, even though results were poor for the first two-thirds of last season, the Villa manager stuck to his guns.

It was more than stubbornness, it was unerring faith in his game plan, and he resisted the temptation to play safe and bring Bent back into the fold. Bent kept his feelings mainly private during the season, and so did Lambert, who refrained from publicly criticising his player in the same way that Harry Redknapp, the striker's manager at former club Spurs, once famously did. Whatever may have 'gone down' between manager and player did so behind closed doors. Dignity intact from both men.

Lambert has maintained his hard-line stance this summer. There is no prospect of Bent playing his way back into the manager's plans. For footballing reasons, Lambert is absolutely right to keep Bent away from the senior squad. If he will not be involved next season, it is pointless including him in his preparations, even more so to take him to the tour of Germany, or the warmup matches ahead of the new campaign's kickoff Aug. 17 at Arsenal. The Villa manager has enough new players to integrate into his plans without being encumbered by those he inherited from predecessors. Stephen Ireland and Alan Hutton are in the same position, but neither ever attained the same status Bent once enjoyed at Villa.

Yet from a human point of view, it's easy to feel sympathy for Bent and his demise. He has, by and large, delivered exactly what he was brought for at Villa, and even his harshest critics would struggle to dispute his record at the club -- 54 league games (45 tarts) and 21 goals, along with a handful of cup goals. Better than decent. He hasn't done much wrong, although he has shown a propensity for injury in the last 18 months. It is simply that the team has moved on without him, can thrive without him. He is surplus to requirements, but not worthy of being frozen out and banished to train like an outsider, which must feel like a punishment.

Villa have made their position 100 percent clear. Bent is for sale. But there is a desperation about the desire to sell, which weakens the negotiating stance. The figure Villa are reportedly intent on receiving for the player is £8m; easier to hold out for that when said player is scoring, in form, and in demand. Bent is unwanted, and Villa need to offload. Newcastle and Fulham, both said to be monitoring the situation and prepared to pay around £5m, may just sit tight and play a waiting game until late into August, knowing Villa will be pushed into a corner. And the longer the standoff goes on, the more likely the prospect of an unhappy ending, unsavoury headlines and a slanging match played out in the media.

Villa's dream signing is heading for a nightmare of a farewell. A bitter end to a transfer that started so spectacularly. And there is something very sad about that.