Luckless N'Zogbia facing new setback
Of all the Villa players to pick up a significant injury while on holiday, it had to be Charles N'Zogbia.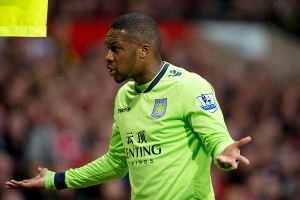 Neville Williams/Aston Villa FC/Getty ImagesCharles N'Zogbia's run of bad luck at Villa continued this week with what appears to be a serious Achilles tendon injury.
The course of N'Zogbia's Villa career has never run smoothly since his transfer from Wigan two years ago, and this latest setback is typical of the Frenchman's poor fortune. He hasn't managed to fully settle in the Villa squad, hasn't been able to find a level of consistency to match his undeniable talent, hasn't yet justified the investment the club made in him. N'Zogbia's progress has been stop-start, hindered by managerial tactics, managerial change, niggling injuries.

Now it has stalled once more, as the player begins his recovery from Achilles tendon surgery, and contemplates recuperation, rehabilitation, and the long road back to fitness.

The exact details of N'Zogbia's injury are still unknown publicly. What is known is he reportedly sustained the injury while 'keeping fit' on holiday in Miami, that he underwent surgery in the U.S., and that Roddy MacDonald, the club's head of sport and exercise medicine, flew to the states to support N'Zogbia and accompany him back to the UK.

Those brief snippets of information suggest a serious injury; Achilles tendinopathy can be treated by stretching and rest, and wouldn't require an urgent operation. Rupturing or tearing an Achilles tendon would. If this is what has happened to N'Zogbia, he'll do more than miss the start of the season.

Whatever N'Zogbia was doing at the time -- jogging, sprinting, jumping, or really not keeping fit at all -- is largely irrelevant. Achilles tendons can be ruptured through the most innocuous of reasons. David Beckham did it by doing barely more than taking a stride forward while playing for Milan. Former defender Curtis Davies did it simply walking during Villa's match at Arsenal years ago. Not a player near him. I knew of a guy who did it taking a practice golf swing. I myself ruptured my right tendon playing squash four years ago.

N'Zogbia likely will spend two months in a mixture of cast and 'airboot', then months of physiotherapy and treatment, rebuilding his wasted calf muscles up again, getting the strength and flexibility back, rediscovering the mental strength and belief he may already be questioning. Length of absence -- if the injury is as major as I assume it to be -- is six months at the absolute minimum.

Newcastle defender Steven Taylor ruptured his Achilles in December 2011 and was told to expect nine months out; he was back in seven, playing again at the end of July 2012. And that was considered a fast recovery.

Horribly tough for N'Zogbia, who finished the 2012-13 season with a question mark against his name and Villa future following another mixed personal campaign. His debut season in claret and blue was a big disappointment. Expectation was high, and N'Zogbia perhaps felt the weight of that expectation -- at £10m, he was Alex McLeish's marquee signing and a one-man replacement for outgoing wingers Ashley Young and Stewart Downing.

None of Villa's creative players flourished under McLeish's watch, but it was perplexing that the manager who signed him, and who had attempted to sign him during his time in charge at Birmingham City, seemed unable to find the best role for N'Zogbia, or willing to allow him the freedom to concentrate his game exclusively in attacking areas of the field.

N'Zogbia was expected to put in a defensive shift, along with everyone else, whereas if any single player should have been afforded the luxury of supporting Darren Bent and staying in the opposition half, it was he. N'Zogbia was a player on a leash. That first season was a huge anti-climax.

Under Paul Lambert last season, N'Zogbia faced a different challenge, convincing a manager who preferred an offensive set-up that he was worth a regular place. Villa's fluctuating formation allowed him opportunities in a front three, or, on occasion, as the lead man at the tip of a midfield triangle, but his statistics tell a revealing story -- 21 league appearances, little over half of the 38 fixtures. Of those 21, only 11 were starts. And of those 11, he was substituted in eight. He was unable to build any rhythm or momentum, was susceptible to injury, and, more often than not, Lambert preferred to place his faith in his other attacking players.

The overall emotion regarding N'Zogbia was one of frustration. In sporadic patches, his class was undeniable. He essentially won the game for Villa against West Ham in February, drawing the foul which won a penalty for Christian Benteke, scoring a wonderful second, direct from a free-kick, and generally opened up the Hammers defence in the second half simply by running at players. His second league goal of the season was a composed finish at home to Fulham, almost caressed into the net with the side of his left foot.

But moments like this were seen all too rarely. N'Zogbia's meaningful contribution to Villa's season was two league goals and four assists. Below average from a £10m player, it is fair to say, although in the interest of balance, it should be pointed out that only Ashley Westwood was credited with more assists (six) while Benteke also had four.

It is a reasonable assumption that N'Zogbia finished the season at a crossroads in his Villa career, and certainly, he would have occupied much of Lambert's thinking. The dilemma for the Villa manager is this: can he afford to persevere with a player who is unquestionably gifted, but yet to show his best form, or is the evidence of the past two seasons irrefutable?

Given Villa's prudent new approach to transfers, it is hardly sustainable to retain a £10m player if he cannot command a regular starting place in the team. That's a lot of money for a cameo role.

Any sensible transfer interest, and Villa would probably have been prepared to entertain the thought of selling N'Zogbia. Instead, Lambert doesn't need to think about him at all for some time. Fate has again frowned upon a player who, not for the first time since arriving at Villa Park, must be cursing his luck.