Sell, sell, sell - bargains to be had at Villa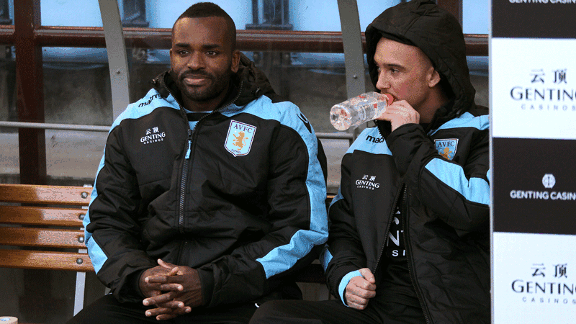 PA PhotosDarren Bent and Stephen Ireland are unlikely to be plying their trade at Aston Villa in the 2013-14 season
'For sale: one proven Premier League goalscorer, still with plenty of instinct and sharpness; one of the all-time goalkeeping greats, heading towards the twilight of his career but with reactions and enthusiasm intact; one established international right-back, often unfairly criticised, with experience of playing in La Liga; and one gifted but inconsistent midfield player in dire need of a fresh challenge and change of scene. Offers also considered for one talented, yet diminutive playmaker who may find opportunities at his current club scarce. Prices on application. Generous packages available.'

And so, after bringing five new players in already this summer, Villa manager Paul Lambert turns his attention to players moving out, immediate priority being those who clearly have no place in his plans for 2013-14. The 'cut' list at the end of the season saw out-of-contract players such as Richard Dunne leave and now Lambert must tackle the task of finding buyers for Darren Bent, Shay Given, Alan Hutton, Stephen Ireland and, quite possibly, Barry Bannan. They may not prove easy to shift.

There has already been movement in the shape of the Villa squad in the past few days. One of the fringe players has gone. Brett Holman was never likely to gamble on staying at Villa for a second season, struggling to get a game - which he did during the second half of 2012-13 - especially with a World Cup campaign with Australia next summer, and his place in the Socceroos squad at stake. Holman completed a rapid move to Dubai club Al Nasr at the end of last week; something, perhaps, of a surprise switch for a 29-year-old so used to European football. Something of a surprise, too, that there was no fee involved for Villa. Holman arrived on a free transfer but had two years remaining on his contract and would surely have carried a value of £2 million or so. That Villa were prepared to cancel his contract demonstrates the club's willingness to cut their losses on players they no longer need.

It was a fast exit, with little public knowledge of an agreement until Al Nasr announced it. Others may not seal such swift departures, even if Villa are prepared to swallow financial loss, as they surely must. Bent is the most sellable asset, and the most likely to still bring Villa a reasonable amount of transfer revenue in. Early summer links have been with Newcastle and Hull, with offers of £5m reported. Not enough, not nearly enough; Villa should stand firm for £8m, and I think they will get it. There will be a Premier League club who cannot resist an available, proven goalscorer and Bent would still provide good value. Compare and contrast with Andy Carroll, who cost West Ham £15m recently. Carroll is five years younger than 29-year-old Bent, but I'm convinced Bent would outscore the younger man next season, given the same playing time. Hull, linked with Charlie Austin, may pass. Newcastle, or Fulham, may not.

Given, Hutton and Ireland are all, potentially, in line for the same treatment as Holman. If Villa waived a fee for the Australian, they could do the same for this trio. Given's salary is high, Ireland's the same, so that is the major issue for potential bidders. Settlements may be in order. Hutton, at 28, would be a solid option for the right club and there has been interest in him recently, with Nottingham Forest taking him on loan for the first half of last season, and Real Mallorca for the second. He may have stayed in Spain had the club not been relegated from La Liga.

Which leaves, maybe, the fate of Bannan. Technically delightful to watch at times but ultimately frustrating, he hasn't made the most of the chances afforded him and with further competition for midfield places since the summer arrivals of Aleksandar Tonev and Leandro Bacuna, he wouldn't be blamed for seeking a fresh start. Villa would expect a fee for him.

There is another player Villa have waved goodbye to, and this departure is cause for regret. At least, if not felt now, then maybe later. Derrick Williams made the decision to decline the offer of a new contract and move to League One Bristol City - a pity, because the Irish defender was considered one of the club's brightest young prospects, but was simply faced with too much competition to break into the first team. He was clearly part of Lambert's plans - to be offered a new deal in the first place - but was ambitious enough to want senior football sooner than he could have expected at Villa. Just too many defenders standing in his way.

A player exodus has been expected all summer at Villa. Who'll be the next big name to walk out of Villa Park?