Helenius: Have Villa unearthed another diamond?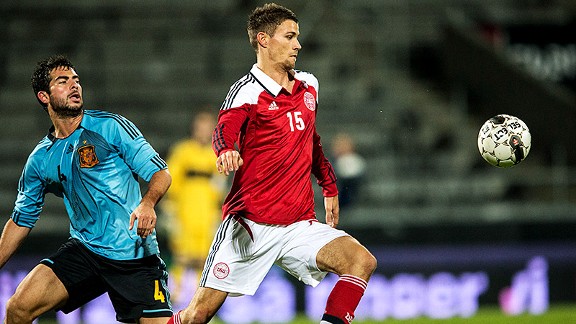 Andreas Hillergren/Getty ImagesNew Aston Villa man Nicklas Helenius had 16 goals last season for Aalborg in the Danish SuperLiga.
Named the Danish Superliga's Player of the Season by UEFA for the 2012-13 Danish Superliga campaign, Nicklas Helenius could hardly be considered the best-kept secret in Scandinavian football. Through the process of scoring 16 goals in 33 league games for Aalborg, and breaking into the full Denmark squad, Helenius popped up on the radar of many an admiring club.

- Lambert: Helenius can emulate Benteke

But while Ajax and PSV Eindhoven were said to be among those taking an interest in Helenius and tracking his progress, Villa moved swiftly this summer to engage with Aalborg, negotiate a fee, discuss personal terms with the player and finalise the transfer.

In very much the same manner that Villa took a calculated risk on Christian Benteke a year ago, the club have done so again with Helenius: moving ahead of the pack to capture a European striker with real promise. Displaying a decisive hand when other interested clubs may have preferred to play it more cautiously and chew over another year of scouting reports.

In financial terms, Villa's investment in Helenius is pocket money compared to the £7m that was spent on Benteke; the fee for the Dane has been reported as between £1.5 and £2m. The relative modesty of that amount -- to put it into perspective, Villa paid Chesterfield around £1m for Jordan Bowery -- should mean that the weight of expectation on the shoulders of Helenius is light. The fact that the 22-year-old will compliment a forward line led by Benteke, and supported by Andreas Weimann and Gabby Agbonlahor, will also lessen the burden on him. He will not need to find his feet and form immediately, for he won't be Villa's solitary goal-scoring source. Helenius isn't a direct replacement for a top-scoring striker, he's an additional supplier of goals, and a player to widen Villa's attacking options.

All of the above is true, but to talk of patience, and development, and adjustment to English football, does something of an injustice to Helenius. He is extremely highly thought of within Denmark, and there is a lot to suggest Villa have signed a rising star: 40 goals in 102 games during his time at Aalborg, and already two full caps for the Danish senior side.

On video evidence, Helenius is a blossoming talent. It is simple enough to manipulate footage -- we've all seen the craftily-edited highlight package which shows three or four goals replayed at various different angles, stretching out thin material to promote the player in a misleading and flattering light -- but some things cannot be faked. While some of the defending leaves a lot to be desired, and there is no doubt that Premier League centre-backs (or some of them) won't be so easily beaten as the players Helenius has been used to facing, watching a selection of his goals, it is difficult not to be impressed.

A 'good touch for a big man' has long been used as a throwaway and amusing line of describing a tall centre-forward who is not completely devoid of ability on the deck. Well, Helenius is a big man -- he's 6ft 5in -- who looks to have an exquisite touch. Some of his goals are entirely his own work, the result of close control and fierce long-range shooting. Others show an ability to twist, and spin, and turn, in the tightest of areas, concluding with a tidy finish. He has balance and quick feet, and, of course, the physical presence which makes him a threat in the air. Upon signing for Villa, Helenius commented that there was only one defender in the Danish Superliga last season who was superior to him challenging for a high ball. And that was Jores Okore, one of his new Villa team-mates.

Comparisons with Swedish icon Zlatan Ibrahimovic are premature and generous, but still valid; in terms of playing style, there are similarities with Ibra, a strikingly tall Scandinavian who is physically strong and sublimely gifted on the ball. Villa could never hope to sign a player of Ibrahimovic's class in his prime -- the next best thing is to identify and recruit footballers who are available and affordable and who may, one day, develop to something near that level.

Helenius could well fit into that category, and Villa may have discovered another diamond of a prospect -- raw and uncut, but with an undeniable sparkling quality, ready to be polished until transformed into something valuable and coveted.