His full first name is Andreas, but to Villa fans he is, and always will be, Andi. There is more than casual Anglicisation behind this re-naming, for there is genuine affection for the striker and the announcement that he has agreed a new three-year deal is cause for delight.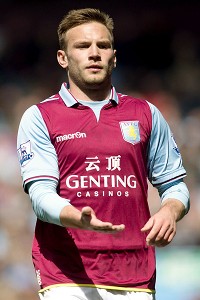 Neville Williams/Getty Images'Andi' Weimann will remain part of the Villa family.
Andi Weimann has grown up as a part of the Villa family, and the club could simply not let him either drift away on a free transfer in 12 months' time, or lose him to via a cut-price to Arsenal, or Liverpool, or Norwich, or Sunderland, or any other of the clubs reportedly eyeing a move for him.

It would have been particularly galling to see Weimann leave after the one full season he had in the first team, a breakthrough campaign which capped his rise from the Villa Academy he joined in 2006.

The 2012-13 season was a big one for Weimann. With Christian Benteke arriving and joining Darren Bent and Gabriel Agbonlahor, both established Premier League strikers, Weimann could have been marginalised. Instead, the Austrian found a niche for himself in Paul Lambert's team, adapting to a position on the right side of Villa's attacking trident.

As Lambert put it, Weimann was effective at coming in 'off the lines' -- much like Agbonlahor on the left, he was able to support Benteke by moving from the wider areas and pushing into goalscoring positions. Although his final tally in the league was just seven, many were exquisite, decisive finishes. He scored twice against Manchester United in November; at Liverpool in December; at Arsenal in February. Another five goals came in the League Cup. Although his impact tailed off toward the end of the season, his overall contribution was significant.

Villa fans were pleased for him, and pleased too that Weimann had been given an extended run in the team and the chance to establish himself. Those who have tracked his progress through the ranks of the Academy upwards knew of what he was capable; both he and fellow striker Nathan Delfouneso were seen as promising prospects. But while Delfouneso has failed to crack it at Villa -- he spent last season on loan with Blackpool -- Weimann has made the grade. Delfouneso was, and perhaps still is, the more technically gifted footballer, but Weimann has a hunger and drive about him which is irresistible.

It hasn't always been progress all the way for Weimann. He'll recall, with some pain, the chastening experience of being stretchered off the field during a European tie at former club Rapid Vienna in August 2010, having only been on the field a matter of minutes before succumbing to a nasty ankle injury. Maybe the memory of being jeered by home fans as he was carried away hardened his resolve. The injury kept him on the sidelines for half that season and delayed his progress, and it was only Bent's injury in the last quarter of the 2011-12 campaign that opened the door for Weimann.

Alex McLeish turned to the young striker, and Weimann scored his first league goals for the club -- the infamous injury-time hands-on-knees scrambled effort which defeated Fulham 1-0, and an altogether more spectacular strike against Stoke in a 1-1 draw. Those two goals, which earned Villa four points, were decisive come the end of the season.

Weimann has worked hard to get to where he is today at Villa, and his improved and extended contract reflects that. It also reflects the club's expectation of him, and acts as a little reminder that his work is not over, not by a long way. The three-year deal only takes him to the summer of 2016, meaning the likelihood is that, in two years' time, club and player will have to do this all over again.

Villa could again run the risk of losing Weimann for nothing, or cheaply. At the end of the 2015-16 season, he'll be a couple of months shy of his 25th birthday and still, hopefully, with his prime years to come. But the contract works to Villa's advantage too by keeping Weimann sharp and motivated -- when all is said and done, he is a 21-year-old with 31 league starts to his name. The incentive is there for him to maintain his progress, push on with Villa, and win a new deal. And Villa fans would love nothing more than to witness his continued success of a player who is considered one of their own.