Tonev a solid start to summer transfer plans
The first week in June, and Villa's first new signing of the season is through the door. Aleksandar Tonev is signed, sealed and 99 percent delivered, with the final administration elements of the deal expected to be covered off in the next couple of days.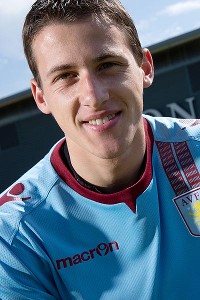 Neville Williams/Aston Villa FC/Getty ImagesAleksandar Tonev comes to Villa with the blessing of fellow Bulgarian Stilian Petrov.
Nevertheless, Villa felt sufficiently comfortable with proceedings to announce the new signing on its official club website before the weekend, and included a first interview with Tonev, and images of the Bulgarian resplendent in training gear. Tonev has passed a medical and agreed to terms, and it appears that there is only some final paperwork to complete. For all intents and purposes, he is now an Aston Villa player.

This is good work from Villa, and good work by manager Paul Lambert. An early incoming transfer is always exciting news for all associated with the football club, not only to maintain the interest of supporters, but also to send out the right positive signals to existing players -- not least any who may be considering new contract offers, and could be influenced by the buzz of a fresh recruit --Andreas Weimann, said to be close to a three-year extension, being a case in point.

Harking back to the Martin O'Neill era, a source of ongoing fan frustration with the then-Villa manager was as a result of a perceived tendency to conclude his summer transfer activity right at the very end of the window. It was often felt that little of substance would occur until well into the preseason friendly programme, and many players would only arrive in the final days of August. For example, a trio of defenders -- Richard Dunne, James Collins and Stephen Warnock -- all pitched up just ahead of the deadline in 2009; three-quarters of a new back four joining when the season had already started. They had to hit the ground running, and, as befitted three seasoned Premier League pros, they did, but there was a feeling of haste about it all.

Late deals cannot always be avoided, and there is a certain rush of adrenaline which comes with a club making a last-gasp raid with hours or less to spare. But in terms of team-building, it makes logical sense to bring the majority of new faces in earlier. Certainly, early enough to take an active part in preseason training, and also ahead of preseason tours, or at the very least, ready to play a handful of warm-up matches. And definitely in time for the start of the season, rather than three or four matches in.

Villa have moved swiftly for Tonev, which is especially important given he'll be required to step up from playing his domestic football for Poznan in Poland to the English Premier League -- a genuinely new level in quality. He'll need the next couple of months to adapt to what will be a more challenging environment, and to integrate with the rest of the squad, and by the time the new season kicks off, should be starting to settle.

As with most of Lambert's signings for Villa, Tonev joins with an element of the unknown about him. He has some experience at international level, but not extensively so, having played 11 times for Bulgaria, and only those who have watched him regularly playing in Poland can really make a considered judgement on his ability. His reputation, however, is promising.

Former club captain Stilian Petrov, now involved as a development coach at Villa following his retirement as a player, spoke highly enough of his fellow Bulgarian during Tonev's unveiling at Bodymoor Heath, the club's training complex. He's a fast, exciting, attacking winger, comfortable with either foot.

That much was evident from a couple of video clips I've seen of Tonev; scoring long-range goals with right and left foot. Although he's not a prolific scorer, he's obviously capable of the spectacular. For one goal, the ambition is impressive, as he takes the ball swiftly into his stride, advances a step or two, and drives in a left-footed effort which hits the top corner. That's the manner of midfield goalscoring which Villa have lacked of late, last season and beyond.

Tonev is not guaranteed to succeed, but a £2.5m investment in a 23-year-old is a moderate risk, and not really a risk at all. Getting him into the squad this early gives him every chance of making an impact next season, and it's encouraging to see Lambert secure one of his targets at this stage.