Is Belhanda a realistic option for Aston Villa?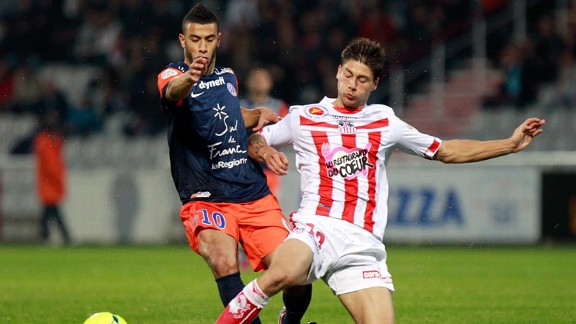 GettyImagesMontpellier's Moroccan midfielder Younes Belhanda vies with Ajaccio's French midfielder Paul Lasne
How to digest the news emanating from France that Villa are contenders to sign Montpellier's talented forward Younes Belhanda?

What appeared 48 hours ago to be an example of transfer rumour silly season, has developed into a story with substance and encouragement for Villa. Following comments from Montpellier chairman Louis Nicollin that the Midlanders are one of five clubs to have made an offer for Belhanda, the player himself has spoken. Reportedly allowed the luxury of choosing his destination, quotes from Belhanda will inflate Villa hopes of winning the race for his signature.

"I have told everyone that England will be my first choice," the Moroccan said. "Aston Villa is a great club with a big history playing in the best league in the world, so let's see what will happen."

-Race hots up for Belhanda
-Villa deny Benteke-Defoe swap talk
-Dunne, Lichaj among four departures

Let's see what will happen, indeed. This is not the calibre of player Villa were expected to be bidding for this summer.

The first transfer link to surface since the end of the season was a 2.5 million-pound move for Aleksandar Tonev, the Bulgarian winger currently with Lech Poznan; a young (23) footballer, available for relatively little, almost certainly with salary expectations that won't break Villa's wage structure apart, the kind of sensible, promising, investment that continues the strategy introduced by Paul Lambert.

Tonev may still sign, but Belhanda is something else entirely. Nothing under the radar about him. He's one of the brightest talents in France's Ligue 1. Nothing particularly cheap about him, either -- the price that Montpellier are reputedly happy to accept is around the 12 million pounds. This should put him way out of Villa's league.

In January, Lambert insisted the days of Villa spending 'big money' were over, and he re-iterated the stance just weeks ago. So, £12m? Villa are more likely to sign four or five players for that amount.

Or so we thought.

And yet... let's not forget Villa's interest in Philippe Coutinho, the Brazilian midfielder who instead left Inter for Liverpool for around £9m halfway through the Premier League season. Or the late transfer deadline day move for Fulham's Clint Dempsey in August.

Villa's offer was £6m, and Dempsey's wages would not have been cheap. And Dempsey was not an alternative to Christian Benteke, for the Belgian's £7m move from Genk was well-advanced by then, if not already sealed. Dempsey would have been as well as Benteke, so there's a possibility that Lambert has a more significant transfer budget than first thought.

There is clearly room in Lambert's squad for a midfield playmaker, which explains the interest firstly in Dempsey, then in Coutinho and now possibly in Belhanda. Goals from midfield were sorely lacking last season, and Belhanda could certainly deliver that. Deployed chiefly in an attacking central midfield role last season by Montpellier, he scored 10 goals in 30 league appearances. He loves to run with the ball, has an eye for a pass, draws the foul from opposing defenders, and can obviously finish a chance. It's not difficult to imagine how he could not only fit into, but flourish in, Villa's 4-3-3.

But that's getting ahead of schedule. Villa may not get anywhere near Belhanda. There are some big-hitting rivals also making their interest known: AC Milan, Inter, Atletico Madrid, Galatasaray -- some of European's finest. Villa aren't in the same class, though what they do have in their favour is Belhanda's preference of playing in the Premier League -- and let's hope, for Villa's sake, that the player's comments weren't designed to draw out interest from other English clubs -- and the likelihood that he'd be a regular in Lambert's team.

The same couldn't be said at either Milan club, certainly. Coutinho didn't get much of a chance at Inter, and Belhanda could be similarly stifled there too.

Belhanda would be a fantastic addition to Villa's squad. But is this transfer link a work of fantasy, or a genuine opportunity for the club to sign a player who would make a real statement of intent going into the new season?