Manager report: Lambert's first year
Jose Mourinho, Sir Alex Ferguson, David Moyes, Rafael Benitez, Roberto Mancini, Tony Pulis, Mark Hughes. The 2012-13 Premier League season ended but a few weeks ago, and already all these coaches have either departed their clubs or taken over new ones.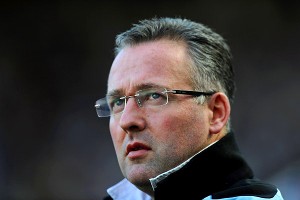 no_source / Laurence Griffiths/Getty ImagesVilla season ticket holders saw a different, more-relaxed side of the normally taciturn Paul Lambert this week.
There may be further changes at other clubs throughout the summer. For the sake of stability, and progression, it is to be hoped that there will be no managerial vacancy at Aston Villa during the close season, that for the first time since 2009 the coach who concludes one season is still in place as the new one begins, and beyond.

Martin O'Neill, Gerard Houllier, Alex McLeish have all been in, and then out, in that time. Current boss Paul Lambert is already speaking of the future and contemplating a longer stay.

-Weimann's Villa future unclear

Lambert has already outlasted his two most recent predecessors, Houllier and McLeish. In fact, he has just chalked up his first year in charge, reaching his anniversary Sunday, 12 months since being confirmed as Villa manager.

But how has the man tasked with resurrecting Villa to former glories fared in his first year?

TRANSFER MARKET MOVES

Lambert took the Villa job fully aware he would have funds available to overhaul the squad he inherited from McLeish, but not an extensive amount, and he knew he needed to spread that money widely and wisely.

His single biggest signing, Christian Benteke (seven million pounds), was an overwhelming success and his judgement was pretty sound across the board --Matt Lowton, Ron Vlaar, Ashley Westwood, Yacouba Sylla, the recall of Brad Guzan. Karim El Ahmadi and Joe Bennett did not completely convince but showed enough to suggest they have futures at the club; Jordan Bowery still raw but has promise. Overall, Lambert's recruits repaid their manager's faith.

Rating: 8/10

MAN MANAGEMENT

It will always be the players out of the team who have cause to complain about the manager, and though none have publicly stepped out of line to criticise Lambert, one has to wonder how he has handled the out-of-favour group. We can only speculate and pick up on the odd vibe here and there, and Lambert seems the type that if you're out, you're out; no explanation required.

The way Darren Bent was left out of the team, with no advance warning, the manner in which a confused Brett Holman found himself on the fringes, suggests Lambert loses no sleep in making difficult decisions. It shows strong and decisive management, but Lambert may not always be able to be so blunt. It's a fine line between being the boss and ruffling too many feathers and disrupting squad harmony.

Rating: 6/10

POPULARITY

Lambert was well received by fans when he was appointed, though some preferred the thought of a fresh-thinking continental coach and were left disappointed when an approach to Ole Gunnar Solskjaer came to nothing. Still, Lambert started in credit -- in contrast to McLeish, who was on the back foot from day one -- and fan support was with him through a difficult first-half season, until the miserable Christmas and New Year period.

At the time of Villa's League Cup exit to Bradford, some would have gladly seen him sacked but as the season wound on and form improved, support returned. In the final weeks, Lambert clearly had the whole club behind him as he celebrated every goal as if he had scored it himself. Tellingly, even during the worst of times last season, Villa fans never vocally called for him to go.

Rating: 7/10

TACTICS

Lambert's tactical acumen was always understated when, in actual fact, he demonstrated flexibility with his selections during his season with Norwich in the Premier League. He continued the same way with Villa, but overdid it at times: as he switched systems and assessed players, it was rare to see an unchanged X1. Some of that was forced upon Lambert by injuries. The switch to a three-man defence was down to Vlaar's absence -- though it originally worked, it later fell apart disastrously.

After that, Lambert alternated between 4-2-3-1 and variations of 4-3-3. Sometimes, he made a poor choice --- going to Old Trafford too attacking backfired -- but eventually he settled on a setup that clicked, with Sylla just ahead of two deeper midfielders and Benteke flanked by Gabby Agbonlahor and Andreas Weimann. The model worked. Next season, though, a little less tinkering and a bit more consistency would be advisable.

Rating: 6.5/10

UNDER PRESSURE

A real strength of Lambert's. While all around him seemed to descend into panic as the team lurched in the bottom three, the manager refused to do so, resisting calls to abandon his principles and turn to senior players -- either those unused within his squad or those available in the transfer market. 'We go again,- was his predictable and often irritating post-match refrain following a defeat or disappointing performance, but go again Villa did, and things turned in the team's favour.

Lambert's unwavering belief in his young squad cultivated a confidence that translated to results.

Rating: 8/10

OVERALL

A real mixed bag of a first season for Lambert as Villa manager. He won't forget his first year in charge. At times, his team's performance was little short of embarrassing, and, at times, some of his player selection decisions were baffling. But Villa's owner backed him, and Lambert backed himself, sticking to his guns and his strategy.

He can clearly spot a player, and possesses a vital quality in a football manager -- self-belief. His second season will be crucial. Villa cannot go through another relegation battle; Lambert must keep the team moving forward in 2013-14. Year One ended on a high. Year Two could use a faster start.

Rating: 7/10