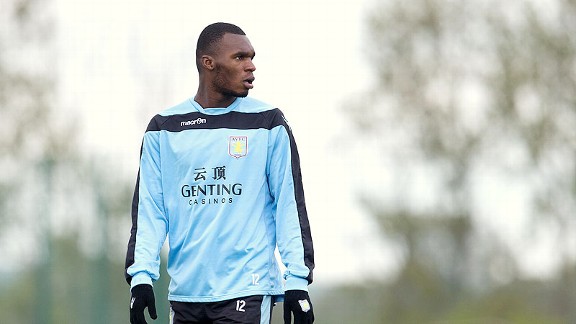 Neville Williams/Aston Villa FC via Getty ImagesIt's not even June and already the transfer rumors surrounding Christian Benteke are spiraling out of control.
If the events of the last couple of days are anything to go by, it could be a long and wearying summer for Villa fans.

In the space of the last 48 hours or so, some Christian Benteke developments: he wants to leave, to join Arsenal; he's happy at Villa, at least for another season, in preparation for the 2014 World Cup; he's so happy at Villa, in fact, he's plotting a secret plan to convince international teammate Romelu Lukaku to come and join him in the claret and blue.

- Benteke 'disgusted' by Arsenal reports

Is anything of this actually true? No idea. The source of this speculation and conjecture comes from an interview he gave while currently away with the Belgian national team, an interview given in French and then picked up -- with a certain amount of glee, it seems -- by the UK media. It's a well-worn story, this: international footballer gives interview in native tongue, elements of which (usually the juiciest bits) are then translated into news, headlines are created and distributed post haste. Little wonder that Benteke's agent, Eris Kismet, who seems an eminently sensible representative, was quoted as saying of his player: "This always happens when he goes away with the national team. I'd prefer he didn't speak to journalists but the Belgian team insists he does a press conference."

With Kismet also adding that his man is happy at Villa, and a section of that interview revealing Benteke to state that, "I'd have no problem staying at Villa for another season. I'm really enjoying myself there, and they have tremendous faith in me," there should be enough reassurance for fans. And yet, there appears to be a certain momentum to the situation, and a real drive to push Benteke way from Villa -- as if certain sections of the media simply cannot accept that he won't push for a transfer away. This attitude rankles, but also emphasises the widely-held perception of Villa in these modern times; like 90% of the Premier League, they will sell when the big clubs come calling.

Villa manager Paul Lambert has been involved in some media duties this week, mainly because, as a former Borussia Dortmund player, he has some insight into the club ahead of its Champions League final against Bayern Munich. Of course, he's been asked about Benteke, and a reasonable summation of his thoughts would be twofold.

One, that it needs to be remembered that Benteke is far from the finished article, having been in English football for a mere ten months; and secondly, that no player is bigger than the club. That could either be a little reminder to a 22-year-old that he'd be wise to remember his place, and where he was 12 months ago, or the first signal to supporters to prepare themselves for a departure.

There may not be a swift solution to this. Benteke will play for Belgium, head off for a well-deserved post-season holiday, and, in the meantime, his new and improved Villa contract will be waiting for him on his return. Signing that contract wouldn't dramatically improve his chances of a lengthy Villa stay, however, it would just make him a better paid employee while he's at the club. He already has three years remaining on his current deal. His future isn't exactly hanging in the balance.

From that point of view, all the talk, the gossip and the quotes taken out of context mean very little. There's only one thing that will see Christian Benteke leave Aston Villa this summer, and that's a bid of £30m or so from a rival club. Because of that, Villa can afford to adopt a relaxed attitude. It is not down to the club to convince Benteke to stay, it is the job of one of his admirers to convince him to leave, and commit a sizeable amount of money to do so.