Dunne departure the first of many at Villa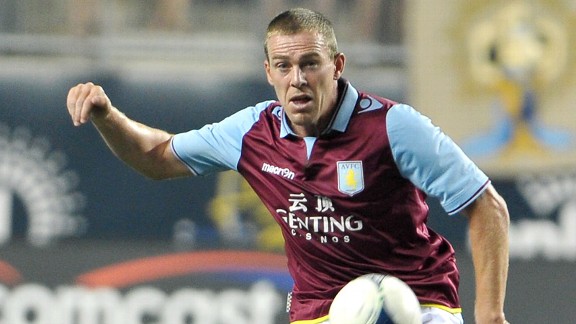 Drew Hallowell/Getty ImagesRichard Dunne did not play a single minute for Aston Villa during the 2012-13 season.
In one of the least surprising items of Villa news in the past year, Richard Dunne has left the club. He will surely be followed by other senior members of the squad, as Villa's mission statement of overhauling the playing staff continues into the close season period.

A decision on Dunne was straightforward, and entirely expected. The final 12 months of the four-year contract he signed in August 2009 passed by rather uneventfully, in terms of actually playing football, at least: Dunne failed to make a single appearance for the senior side or any other team at the club throughout the whole season.

- Villa overhaul starts with Dunne exit

Once or twice, it was reported his recovery from groin and hernia problems was such that he was able to take an active part in training -- there was an image, taken in the winter snow, of a slim-looking Dunne sprinting with other members of the squad -- but another setback was never far away. He wasn't named in the match day squad once nor was ever really in the running to make the bench.

Updates on his situation were brief, and a little lacking in any depth of insight, given that the original injury was reported to require only a relatively short absence. Perhaps there was more to the story than is yet known, or perhaps it was just a case of the 33-year-old's body catching up with him. Dunne is at an age and stage in his career when injuries can become problematic and lead to further complications.

Manager Paul Lambert usually played any questions about the defender's future with a straight bat: we'll see at the end of the season. But having reached the end of the season and with Dunne out of contract, an extension was always improbable. Tasked with trimming the squad and removing the bigger salary earners, Lambert was never going to retain the services of a player coming to the end of his top-flight career, who had not played for the club for over a year and who would have been among the most handsomely paid.

Dunne won't be the first leading player to leave Villa this summer. Lambert has a high-profile group, all of whom have found their roles within the club either extinguished or significantly marginalised since he took charge of team affairs, who will surely be pushing for answers, either directly or via agents.

The queue to the manager's office door could be a long one: Darren Bent, Shay Given, Stephen Ireland and Alan Hutton, at the very least. Behind these, however, there could be several more. Eric Lichaj is out of contract. Barry Bannan and Brett Holman have both seen their stock drop in recent weeks. Marc Albrighton, too, though injury was the prevailing reason for his disrupted season. Charles N'Zogbia is another who may be considering his options, as he was often overlooked by Lambert. A link with Monaco has emerged this week. There are several players who cannot feel comfortable or confident about being at the club come August.

Lambert's immediate attention -- in terms of moving players out -- will be on the quartet of Bent, Given, Ireland and Hutton. Like Dunne, established footballers at Premier League level, and like Dunne, players signed by previous managers.
This foursome are, rather obviously, not in Lambert's plans, but unlike Dunne, the outcome might not be quite so clear.

Of that quartet, Bent and Given still have the ability to offer something to the team. Despite the best part of half a season of inactivity, Bent showed his sharpness in front of goal has been blunted with his strike at Wigan last Sunday; a smart run, quick take and the instinct to steer his shot inside the post. He has been, and still can be, one of the most prolific strikers in the Premier League and deserves better than a permanent spot on the substitutes' bench. He won't accept that, and from Villa's point of view, he is one of the few fringe players who still commands a decent market value. The club won't get their £18m back, but they should push for £8-10m.

Given was demoted to deputy goalkeeper last season with, to his credit, barely a murmur of complaint. He would, to be fair, be the ideal No.2 for Villa -- an experienced, still talented and reliable guy to have on the bench; whether Brad Guzan pulled up with a hamstring strain the day before a game or limped off during one, Given would step in and no one would have any concerns. But Given is 37, has at least a couple of good seasons left in him, and won't want to spend those seasons playing second fiddle. The prospect of a reasonable transfer fee for him is remote -- maybe something nominal, like £500,000 -- and the likelihood is Villa may have to settle on the remaining years of his contract and let him go.

Hutton spent his season on-loan, first with Nottingham Forest and latterly with Real Mallorca. He seems to have enjoyed his time in La Liga, and has spoken positively about staying in Spain. The issue for Mallorca is whether they can find the fee to make his move permanent. The asking price is around £1m -- again, much less than the £4m Villa paid Spurs for him in 2011, but the club will have to reach a compromise to move on a player who Lambert took no time in removing from the squad.

Ireland, of the four, has played the most football under Lambert. He's actually had a chance to establish himself but failed to make the most of that chance. Still in his mid-20s, there may be one or two interested clubs. The stumbling block could be his wages, as well as the fact that his struggles at the club over the last three seasons are well known. He is entering the final year of his contract and Villa are hardly in a strong bargaining position.

The likelihood is that Villa will have to make compromises on all four of these players, whether it be accepting lower offers than they would choose or settling deals. It largely depends on how keen Lambert is to move them on -- if all of them do leave over the summer, it would just about complete the changing of the old guard and allow the manager to press on with the next phase of his squad rebuilding plans.