Villa praying Benteke absence is temporary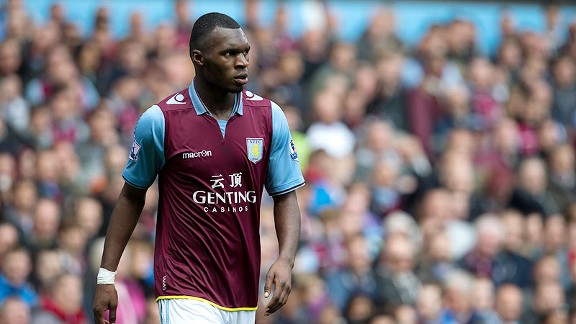 Neville Williams/Aston Villa FC via Getty ImagesWas last Saturday's Chelsea match Christian Benteke's final time in an Aston Villa uniform?
A genuinely new selection dilemma to occupy Paul Lambert's thoughts ahead of the final match of the Premier League season, away to Wigan. Suspension will deprive the Villa manager of the services of Christian Benteke, making the big striker unavailable for the first time this season.

- Lambert to hold critical Benteke talks

Benteke has played every league match -- starting 32, appearing as a substitute twice -- since making his debut against Swansea in September, Villa's fourth game of the campaign: 34 out of 34. Being without Benteke is not a situation Lambert has worked with, so it will be interesting to see how the manager tweaks a starting line-up which has settled into a measure of consistency, both in terms of personnel and formation, in recent weeks. Much to the benefit of performance, it should be said.

The straightforward option is for a recall for Darren Bent, who has not been on from the start since the defeat to Newcastle on January 29. But Lambert doesn't do straightforward a lot of the time, and given that Bent has been almost totally removed from his first team plans over the course of the season, and is surely going to leave the club in the summer, little would be gained by going with him, other than the gesture of a farewell appearance.

A significant part of Lambert's thinking throughout this season has focused on seeing the bigger picture, the long-term vision over short-term requirements, and he may take the opportunity to try something else. That may be pushing Gabby Agbonlahor into the centre forward role usually filled by Benteke, and recalling Charles N'Zogbia to the wide left berth, or even giving another start to Jordan Bowery. Perhaps even as the central striker, rather than wide on the right, where he has been used occasionally so far. Bowery is a strong lad himself, not quite in the 'monster' category of Benteke, but not a million miles away. It's a possibility I'm sure Lambert has contemplated.

In any case, Lambert will be less concerned about the immediate loss of Benteke than the future of his top scorer. With safety assured, thoughts have already turned to Villa's preparations for the 2013-14 season, and this week there has been a sense of optimism, a belief that the team has been confronted with the worst, fought past it, and can now emerge with renewed strength and confidence. That mood, however, would evaporate in an instant should Benteke even give off the slightest vibe that he'd be receptive to a transfer away from Villa Park.

There is a nagging worry gnawing away, deep and distant, that Villa could have seen Benteke in the claret and blue for the final time. That the latest goal of his, that marvellous solo effort against Chelsea, where he brushed past Gary Cahill with almost disdainful ease, before exposing Petr Cech with a simple finish, could be last. Such is the impact that the Belgian has made in his debut Premier League season that his reported 'admirers' have grown with every goal.

Champions League finalists Borussia Dortmund are said to be the latest. AC Milan, too. There is likely to be some interest from the top end of the Premier League as well, though it's difficult to see one of those clubs who have been linked, Arsenal, with a strict transfer policy, finding the £30m that Villa have already suggested would be Benteke's revised value. In any case, noises from within Villa are that £30m would be declined.

But there is sure to be one club willing to invest that in a 22-year-old who appears to have few limitations to his game, and has another decade of top-class football ahead of him. You could make a case for any of the PL's top five wanting and needing him; his ability is an obvious attraction, but over and above the pace, power, mobility, aerial prowess and striking technique on the ball -- with both feet -- that Benteke possesses is one major factor: he excels as the lone forward. And in the modern game, when most successful teams no longer play two side-by-side forwards but one front man flanked by a supporting cast, that makes him perfect to fit into just about any club's template.

Put it this way, would he be more effective than Edin Dzeko has been for Manchester City? Olivier Giroud at Arsenal? Emmanuel Adebayor at Spurs? Fernando Torres at Chelsea? Manchester United are well covered in the attacking department but given Wayne Rooney's restless nature, Danny Welbeck's relative ineffectiveness and Javier Hernandez's continued part-time deployment, it would be understandable if new manager David Moyes deliberated reshuffling his pack to make room for Benteke. Villa have reason to be fearful.

A swift and definitive conclusion to the purported new contract talks for Benteke would be ideal, and the best possible way to sign off for the summer. The striker deserves an increased salary, and Villa deserve commitment, repaying the loyalty invested in him last August when spending £7m to sign him from Genk. If Benteke and his agent are genuinely evaluating what is best for his career, they will rightly place value on the fact that he is with a club where he will play regularly, which could be vital with the 2014 World Cup approaching.

It's naive to expect Benteke, if he continues his development, to remain at Villa for the length of his career, but departing after a single season would be hasty and potentially something to regret. Villa will manage without him for the season finale at Wigan, as long as it is not the beginning of a permanent separation.