Nothing lucky about Villa survival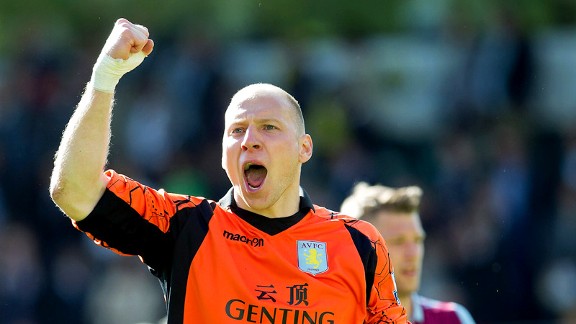 Neville Williams/Aston Villa FC/Getty ImagesThe play of Brad Guzan was one of the many reasons why Aston Villa maintained their Premier League status.
Villa players learned their Premier League status was secured for another season without even kicking a ball, no doubt watching Wigan's 4-1 defeat to Arsenal from the comfort of their own homes.

After seeing Wigan draw level through former Villan Shaun Maloney right on halftime, there was understandable relief when the Gunners coasted clear with three second half goals. The way the game petered out almost casually was in stark contrast to the heightened sense of anxiety the Villa contingent would have been feeling during both the build-up to the game, and throughout the first half.

- Benteke agent confirms Dortmund interest

But while it took an Arsenal win to finally see off any hope of Wigan leapfrogging Villa to safety, don't be misguided into believing Paul Lambert's team have been fortunate to avoid relegation. Not a bit of it. This was all Villa's work.

Wigan's relegation appeared to open an outpouring of regret among many football neutrals, pondering the unfortunate fate of the Latics and how the outcome was ultimately cruel on them, but let that not detract from what has been a determined and spirited response over the last few months from a young Villa squad widely derided at the turn of the year.

Let's remind, again, to the end of January and establish the situation: Villa on 20 points and 19th in the table; 18th-placed Wigan, having beaten Villa 3-0 in December 2012, level on points but ahead on goal difference. Since then, Villa's form has simply been too hot for Wigan to live with -- taking 20 points in contrast to 15.

That's a 25% better return than the club famed for their late-season revivals and springtime bursts in form. Wigan won one of their last seven league games, picking up five points from a possible 21. Villa were victorious in three of their last seven, taking ten points from their 21 -- double Wigan's haul. But not only have Villa overtaken the Latics since the end of January, they've also overhauled Reading and Sunderland.

Heading into the last game of the season, the trip to Wigan now holds none of the demons it would have had Arsenal been defeated at the Emirates. Villa are now closer to 11th place than 18th -- a point off 11th, five from the last relegation spot. Should Villa win at the DW Stadium, and other results go in their favour, Lambert could be looking at a final position of 11th. Unthinkable three months ago.

Should Villa celebrate escaping relegation? Of course. In the context of the season, it is a goal achieved. Nothing to be proud of, but in reaction to some of the comments I have read over the last 24 hours -- made by those, including a well-known media pundit, sneering at a club who once won the European Cup now 'reduced' to cheering Premier League survival -- I would say that's a big a case of missing the point as I've known in a long time.

Villa is a great club, and these are not great times. But being the best team in Europe 31 years ago has no relevance to the modern day. There is no reason to think that Villa, with a young, inexperienced squad of footballers and at stage 1 of a new rebuilding phase, should not embrace beating the odds, and all expectations, to remain in the top flight. This is a squad which has taken the verbal punches, dished out with relish during an appalling period through the winter; a squad which looked incapable of winning another game of football after the humiliation of defeat to a League Two side.

The flip side of that particular coin is laughable. Villa, relegated, excusing it by saying 'we were champions of Europe three decades ago'. Imagine trying to front that one out. Just doesn't wash.

There is sympathy for Wigan, and it is understandable. Roberto Martinez is a bright coach, a sharp tactician and an eloquent speaker, and under him Wigan have always played neat football. What he hasn't been able to do, in his three seasons in charge to date, is arrest the club's defensive deficiencies, which suggest a shortcoming of sorts in his approach, or the players he has sourced, and relegation has always been part of the agenda. Nevertheless, given the benefit of choice, I admit I would have preferred Wigan to stay and one of the other strugglers to go. In the end, they just didn't do enough. To call it a hard luck story would be inaccurate.

I would like to think, once the sadness for Wigan has subsided, and Martinez has decided his future, a little credit comes Villa's way. The team has played some bold, attacking football, stuck to its principles, and eschewed the temptation to stray from Paul Lambert's game plan by turning to short-term fix footballers, even in the midst of crisis.

Lambert has placed his faith in rookie talent and promise, much of it English: Matt Lowton, Ashley Westwood, Nathan Baker, Joseph Bennett, Fabian Delph, Jordan Bowery -- and there will be more to come over the summer, for sure. That's got to be worth due recognition, hasn't it?