Villa's remarkable recovery - and how they did it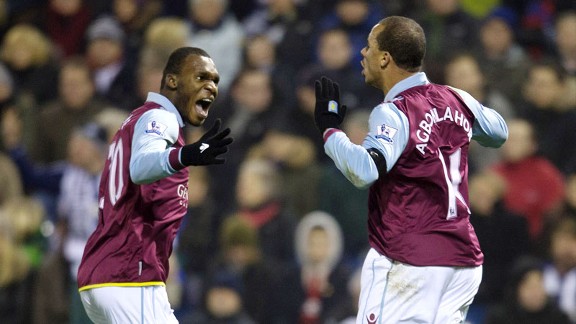 Neville Williams/Aston Villa FC via Getty ImagesChristian Benteke, left, and Gabriel Agbonlahor have led Aston Villa's second-half resurgence. They have moved to 13th place after sitting 19th at the end of January.
Wigan are widely acknowledged as masters of the great escape, on account of their relegation-defying performances in recent seasons. It's a well-deserved label, given the sticky situations Latics have wriggled clear of. But while Roberto Martinez's men have two more league games standing between them and Premier League survival, they may already have been usurped as escapologists.

Villa's recovery from a miserable first half of the season has been little short of remarkable, and somewhat overlooked. Though not officially and mathematically safe just yet, only an unlikely sequence of results over the remaining two matches would condemn Villa to the drop.

-Petrov retires; Lambert offers role

Currently standing 13th (with 40 points) for the first time in several months, there is a sense of calm around Villa Park. That should not, however, detract from the gravity of the situation the club found itself in at the end of January.

A home defeat against Newcastle on January 29 saw Villa conclude the opening month of 2013 with a mere 20 points from 24 games, a tally which placed them 19th in the table -- and with the worst goal difference in the league.

Coupled with modest business in the transfer window -- Villa adding just Yacouba Sylla and Simon Dawkins -- it was little surprise that the mood among supporters was sombre, and almost resigned. Relegation seemed likely, rather than just a possibility.

Certainly, only the most optimistic of Villans could have predicted the team's improvement since then. To put it concisely: it took Paul Lambert's team 23 games to gain its first 20 points, but just 12 matches to pull in the second 20. Of those 12, six were wins, with two draws and four defeats. And the defeats? Manchester City, Liverpool and Arsenal (all by a single goal), and Manchester United.

Where has this progress come from, and why the reasons for the upgrade in not only performances, but results? This is how Lambert and Villa have turned it around:

REFUSING TO PANIC

Experience, experience, experience -- that's what Villa needed in the transfer window, and many an envious glance was levelled at QPR when they signed Chris Samba to bring strength to their defence. Lambert stuck to his longer-term vision for the team, kept faith in his young players, even though they looked hopelessly out of their depth at the time, and refused to panic.

As a result, those players responded by maturing together and repaying their boss.

THE PREMIER LEAGUE'S HOTTEST STRIKER(S)

Christian Benteke has been a revelation this season, and especially in 2013: he's scored 10 goals in those last 12 games. He hasn't been quite the lone star, however -- Gabriel Agbonlahor has seven in the 10 games he's played since that Newcastle defeat, and six in his last seven. Consider too, this revealing statistic courtesy of the excellent website whoscored.com - Villa's chance conversion rate in 2013 is 14.6 percent, the most clinical in the league. The Villans have been deadly in front of goal.

THAT FIGHTING SPIRIT

From a team that seemingly had zero fight, to one which has found bags of it, pulling victories from games they may previously have accepted as draws. Villa were behind at Reading, and won; trailed at home to QPR, and won; and conceded late equalisers at Stoke and Norwich but bounced back to score themselves even later and take all three points. The desire has been wonderful to watch.

VLAAR AND DEFENDING THE DEFENCE

Ron Vlaar may not look back on his first season in the Premier League with a massive measure of pride, with injuries interrupting his campaign and his own performances not always as commanding as perhaps expected. But what is beyond dispute is that his long absence pre-Christmas coincided with the worst run of Villa's season, and his return to regular action in early March allowed Lambert to field -- finally -- a settled defence.

Matthew Lowton, Vlaar, Nathan Baker and Joseph Bennett has been the starting Villa back four for the last five games. Clean sheets continue to elude the team, but defensive solidity has improved, in the main. And definitely from set pieces.

LAMBERT'S STRONGEST TEAM

It takes time for a new manager to find his stride, make decisions and judgements on players and settle on his preferred starting XI. Or, if not exactly that, the core of players he believes will serve him best. Lambert got there somewhere in March, moving decisively away from giving starting opportunities to Stephen Ireland, Darren Bent (whose last league start was against Newcastle), Brett Holman, Karim El Ahmadi and Chris Herd, and focusing instead on subtle variations of 4-3-3.

The midfield has been led mainly by Ashley Westwood, Fabian Delph and Sylla, a front three dominated by Benteke, Agbonlahor and Andreas Weimann (when all are fit), with the occasional cameo from Charles N'Zogbia and Jordan Bowery. Lambert has found a combination that works, and Villa have prospered.

The job is still not yet totally done. But should Villa beat Chelsea on Saturday (7:45 a.m. ET ESPN2/ESPN Deportes/ESPN3/Watch ESPN) or other results go their way, or Wigan fail to win at Arsenal next Tuesday, the club will be safe. And it would be worth applauding what has been a superb comeback from a team which looked close to down and out just a few short months ago.