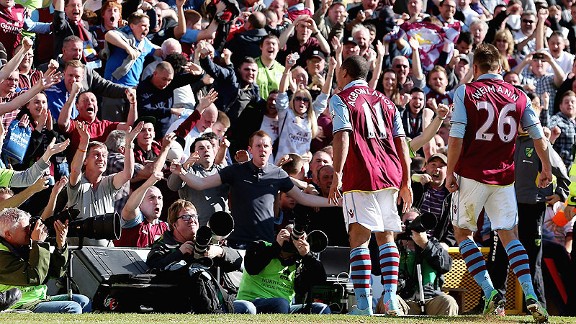 Mark Thompson/Getty ImagesGabriel Agbonlahor's brace versus Norwich lifted Aston Villa to the much-coveted 40 point level.
So far, so good. It's been a productive week for Villa. Successive fixtures against Sunderland and Norwich always had the look of holding the key to Premier League survival, with six valuable points at stake.

Studiously crunching the numbers, and calculating the odds, four would have been a decent return, verging on safety -- six, a result of winning both, would surely have clinched top-flight football again next season. Villa have done exactly that. Successive victories, eight goals scored and two against.

- Brown: Dream alive as Wigan edge Hawthorns thriller
- Wigan show survival spirit at WBA

There should be a celebratory mood in the air, and yet there is not; not yet. Caution is the watchword. As Paul Lambert put it, after seeing his team defeat his former club at Carrow Road -- Villa have reached the 'magical' 40-point mark, the total perceived by many to be safe, but that does not mean safety is assured. Even now, on the evening of Saturday, May 4, with Villa sitting in 13th position in the Premier League table, there is a degree of concern. With Wigan coming from behind -- twice -- to beat West Brom at the Hawthorns, Villa can still be dragged into the bottom three. The advantage remains five points, and the Latics have three games to play, a maximum of nine points available.

The job isn't done quite yet. But Villa are not the only ones who cannot yet relax. They're in fine, and plentiful, company: Sunderland, Newcastle, Norwich and Southampton are all nearer the drop zone than the Midlanders. Actually, Villa are only three points from ninth place. What a crazy, competitive, unpredictable, season this has been.

After the spectacular thrills of Monday night's win over Sunderland, Villa were a shade off colour against Norwich. Not entirely unexpected, but again, as this team has shown in recent weeks, Villa found a way to win a crucial game. The players have gelled superbly in the last third of the season, and had they clicked even a month earlier, one suspects Villa would be coasting happily in the top half of the table. From February onwards, in fact, ever since the humiliation of that League Cup exit to Bradford, Villa's form has been pretty sound.

Lambert went with an unchanged Villa team against Norwich -- perhaps the easiest decision-making selection process, given the 6-1 win of a few days before- - but before the half hour mark he was forced to contemplate a new situation for the season as Matt Lowton made way through injury. The right back, the architect of so much of Villa's best work in recent matches, had played every single minute of the Premier League season until the 27th of this one. Eric Lichaj replaced him.

Scoreless at halftime, Villa took the lead ten minutes into the second half thanks to Gabriel Agbonlahor. It was only recently that I wrote about Gabby's penchant for scoring important goals -- a scorer of great goals, rather than a great goalscorer -- and his opener at Carrow Road typified this. It was largely his own work, collecting the ball almost on halfway, and driving right through the heart of the Norwich defence before planting a right-foot shot past Mark Bunn for a fantastic individual strike.

The afternoon took a turn for the worst for Villa late on, in more ways than one. Grant Holt equalised from the penalty spot, while at the Hawthorns Callum McManaman put Wigan into the lead. But even later on -- 89 minutes, Agbonlahor reprised his lucky talisman role with the winner, benefiting from a wonderful pass by Ashley Westwood: three points, bringing Villa to the 40-point mark.

While 40 points doesn't bring a cast-iron guarantee of safety -- more's the pity -- Villa have reached their target by winning the two games that carried huge significance. The champagne remains on ice, and the cork will stay in place until the club are officially, and mathematically, assured of survival, but that day is within sight. Surely Villa have done enough. It would take one final, surreal, cruel twist of fate to see them go down now.