Lambert's date with destiny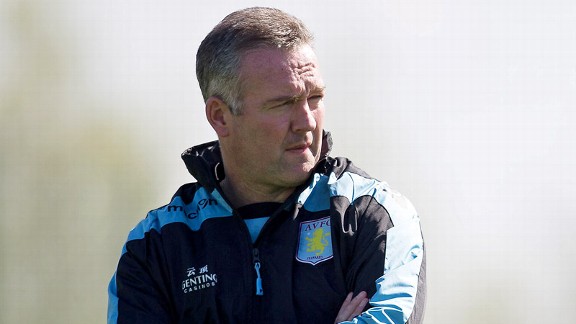 Neville Williams/Aston Villa FC/Getty ImagesPaul Lambert returns to his old stomping grounds of Carrow Road this weekend.
Norwich City versus Aston Villa at Carrow Road in the Premier League: It was this exact fixture, almost precisely 12 months ago to the day, that set in motion the chain of events which culminated in Paul Lambert swapping Norfolk for Birmingham.

- Benteke backed to score more

May 13, 2012: a sunny afternoon, and the final day of the league season. There was nothing at stake for either club, but no mistaking the contrasting spirits of the two teams which took the field. Norwich were bright and busy, eager to conclude an encouraging return to the top flight on a high note. Villa were flat and uninspired, weary and worn by a season which had got progressively worse, saved from relegation, in all honesty, by the poor form of teams below them in the table, rather than their impetus.

Villa were 2-0 down a shade over 20 minutes in, and almost completely bossed by a Norwich side which had almost 60% possession of the ball across the 90 minutes. And, with nothing to see on the pitch, the travelling Villa support amused themselves from their seats -- by chanting Lambert's name. It was a mixture of envy, black humour and wishful thinking: under Lambert, Norwich were unquestionably on the up, while Villa were on the wane.

The message was loud and clear, and got through to the decision-makers at Villa, though Lambert would have been on their radar in any case. Just 24 hours after the Norwich defeat, Alex McLeish left Villa Park. On June 2, Villa announced Lambert as his successor. The Villa fans got exactly who they wished (or sang) for.

That is the background story. Zip forward almost a year from Sunday May 13, 2012 at Carrow Road, and we reach Saturday May 4, 2013 at Carrow Road. Not the last game of the season this time around, and not a dead rubber -- anything but. Lambert's return to his former club has a whiff of destiny about it; following Monday night's 6-1 thrashing of Sunderland, should Villa beat Norwich, it would put the team on 40 points with two games to play, leapfrogging the Canaries in the process. Lose, and much of the fine work achieved against Sunderland would be undone.

Is this a pressure situation for Lambert? I'm not convinced, for several reasons. For one, it's nigh on impossible to detect any sign of nerves or tension beneath those spectacles of his. And throughout the season the Scot has seemed to take every setback in his stride, stridently refusing to panic or look panicked.

Also, confidence and belief should be sky-high -- or season-high at least -- among Lambert's squad. The trick will be balancing confidence against complacency, but days have passed since beating Sunderland, and so have the feelings of euphoria. The focus of the last couple of days will have been firmly on this next hurdle.

Moreover, this is not Lambert's first return to Norwich. Villa won here, and won well, back in December in the League Cup. A 4-1 success which, although slightly flattering with three goals in the final dozen minutes, means the squad only has happy memories of Carrow Road. Nothing to fear and the mental fight is half the battle in football.

Then there is Norwich's form. Not good at all -- just two league wins in 2013, a poor run which has drawn the Canaries into the fringes of the relegation battle. A win would see them safely clear, but a defeat lands them right in it. The spreading unease won't be helped if first choice centre-backs Sebastien Bassong and Michael Turner, both of whom have exited matches injured in recent weeks, don't make it. No team wants to be facing Villa's vibrant forward with an under-strength defence.

It's a rare feeling, indeed, to be confident about a match involving Villa this season but all caution aside, Saturday's game is winnable, and in many ways, the perfect fixture for them. There is a hunger about Villa's youngsters now, and their manager won't allow standards to drop. Not back at his former home. And while the nerves will be fluttering ahead of kickoff -- as they have been for months this season -- it's good to be heading for Carrow Road with a sense of optimism. In stark comparison to 12 months ago, when the mood was one of resignation and, truth be told, boredom.