Villa, Di Canio resume their rivalry
So Paolo Di Canio, we meet again.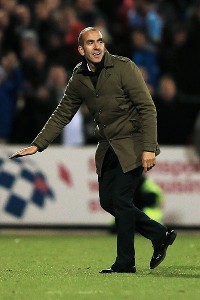 Richard Heathcote/Getty ImagesPaolo Di Canio let Aston Villa supporters know he believed relegation was in their future with this gesture following Villa's League Cup win at Swindon in October. That act adds spice to his visit to Villa Park Monday as Sunderland manager.
Villa have previous with Sunderland's new manager, having overcome a testing night at Swindon at the end of October 2012, a pulsating League Cup tie which was won 3-2 with a 90th-minute goal from Christian Benteke. Villa had been 2-0 up in that game -- two goals up at half-time -- and coasting to a routine victory until Swindon's Miles Storey scored twice to remind the Premier League club that the job hadn't been completed. Benteke duly did exactly that in the closing minutes, but the dramatic finale did not end at the final whistle.

As Villa fans celebrated, Di Canio pointed to the travelling support, and then to the floor. It wasn't difficult to interpret the meaning -- 'you're going down', a clear reference to the possibility of Villa's relegation battle, and in-your-face mocking taunt. Di Canio played it down afterwards, claiming he merely meant to indicate that Swindon had been in charge of the match.

Whatever the truth, it was a disrespectful act, and behaviour unbefitting a professional coach.

Little did Di Canio realise at the time, but the Italian now has a definite opportunity to influence Villa's Premier League future. By way of another of football's delicious twists of fate, Di Canio's Sunderland are at Villa Park on Monday night; three points for the Black Cats would more or less make them safe, and maintain Villa's status, alongside Wigan, as the team most at risk of that third relegation place.

This fixture always stood out for Villa fans, especially since Christmas, as a game which would have seen former manager Martin O'Neill return to the stadium that was his home for four mostly enjoyable seasons. As little as a month ago, the game represented a chance for Villa to inflict further damage to O'Neill and his struggling Wearsiders - that would have been something for the Holte End to relish. Instead, the Sunderland squad that travels to Birmingham does so in a very different mood. Di Canio has restored belief.

Three games, two wins, and movement up the table. Sunderland have an edge that was lacking in the final weeks of O'Neill's tenure. Given the urgency of his appointment, Di Canio has been unable to make substantial changes but he's pressed home the need for work, work, work. Sunderland are not a team transformed, they are a team that has improved by slender margins. And even small improvements can win football matches.

At James' Park, a crucial decision in their favour, the benefit of an offside call to deny Newcastle an equaliser. Against Everton, some uncharacteristic sloppy play by the visitors on the stroke of half-time, carelessly conceding possession to Stephane Sessegnon, whose low drive evaded Tim Howard. The Everton keeper was likely disappointed not have to saved the shot.

Little breaks of good fortune that have aided Sunderland's recovery, but also the reward for renewed focus. Di Canio's team are organised, determined and difficult to break down, as back-to-back clean sheets suggest. Villa will have to work hard, and be patient, on Monday night.

Though desperate for the win that would increase their lead over Wigan to five points, Villa may be advised to step off the gas a little during what could be a frenetic opening period. Sunderland are a counter-attacking outfit, and the best way to combat that strategy is to force opponents to have plenty of the ball.

Di Canio will be expecting Villa to go on the offensive and may well be hoping to stifle, frustrate and then break, getting the ball to Sessegnon and Adam Johnson. But if Villa play a cagier game, and let Sunderland come out with the ball, it may pay off. In effect, this is how Manchester United played Villa at Old Trafford last Monday -- allowed the visitors plenty of possession, and simply picked them off on the counter.

A fascinating encounter awaits. Villa's key to Premier League survival is now clear following Wigan's 2-2 draw with Spurs on Saturday -- equal the Latics' results over the course of the remaining four games and they will be safe. Victory over Sunderland would be a sizable step in the right direction.