Demise of the goal-scoring midfielder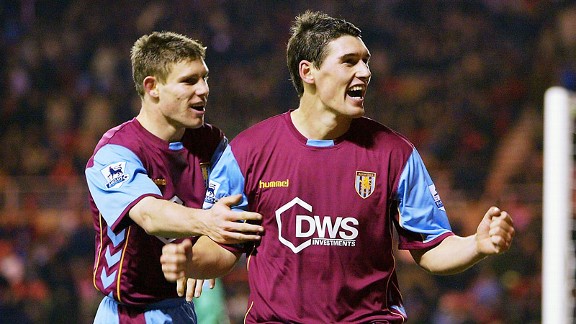 Matthew Lewis/Getty ImagesAston Villa have been lacking for productive midfielders since James Milner, left, and Gareth Barry took their talents elsewhere.
The reappearance of Karim El Ahmadi as a half-time substitute at Old Trafford, his first in a Villa shirt since his 13 minutes against Liverpool on the last day of March, was a mild surprise on Monday.

Given the circumstances of the game, with Villa 3-0 down to a rampant Manchester United, El Ahmadi, very much a holding midfielder whose natural position sees him maintain a presence in and around the centre circle, would be one of the last players one would have imagined manager Paul Lambert to turn to. Especially not with Darren Bent as an option.

-Lambert: Sunderland not safe yet

But here's the thing: El Ahmadi remains the only central midfield player in the Villa squad to have scored a league goal this season. Way back against Everton in August, Villa's first home game of the campaign. A damning statistic which provides one possible answer to the ongoing question of why Villa have struggled.

The goals have not exactly been spread around this team -- 29 have been recorded by the four main strikers; Christian Benteke (15), Gabby Agbonlahor (6), Andreas Weimann (6) and Bent (2). Charles N'Zogbia, used as a winger or in the classic No.10 role, has two. Matt Lowton, the right back with a fierce shot, also has two. Central defender Ciaran Clark has one, from Villa's early season draw at Newcastle, while Brett Holman also has one.

It wouldn't be accurate to class the Australian as a central midfielder; Holman has mainly been used as a winger, or farther forward, like N'Zogbia.

Ashley Westwood, Fabian Delph, Barry Bannan, Stephen Ireland, Yacouba Sylla and El Ahmadi have been Villa's primary central midfield players this season. This group have made 110 Premier League appearances between them, including substitutions, and registered just that solitary strike. Granted, Sylla is a newcomer, with three starts since his January transfer from Clermont.

The collective input pales in comparison to previous seasons. In 2011-12, Stilian Petrov managed four goals on 26 starts. Not a huge haul, but crucial goals nevertheless -- one in a 3-1 win at Chelsea, one in a 2-1 win at Bolton. The other two were each superb long-range strikes, helping Villa earn away points at Everton and Sunderland.

Teams rarely rely on midfielders to hit the big numbers when it comes to goals (unless you are Chelsea, who have benefited from Frank Lampard's remarkable ratio) but they are there to chip in and lend support -- not leave the burden to the forward players.

It's been a long time since Villa had a midfielder to even get close to the kind of goal return Lampard has achieved -- perhaps we have to go as far back as David Platt in the early 1990s. In the 2009-10 season, James Milner scored seven from 36 starts from central midfield. The season before, Gareth Barry managed five -- a year before that, 2007-08, he scored nine in 37 games. Such contributions can give a team an extra dimension.

Of course, midfield players vary in style, ability, quality and team function. Both Barry and Milner took penalties. Christian Benteke has those duties this season. And both Barry and Milner were (and still are) a step above Villa's current crop in class, most of whom are still finding their feet at Premier League level.

In terms of style, Westwood is never likely to score goals. That's not what he's there for; he's a midfielder very much in the Michael Carrick mould. Neither is El Ahmadi. Bannan and Ireland, however, are creative, attack-minded midfielders, yet neither have made a discernible impact on the opposition.

Ireland has had 11 shots, three on target, and one assist, from nine starts and three sub appearances. Bannan, despite impressions of a disjointed season, has started 18 games, plus another six as sub, but recorded just four shots on target and a single assist. It's little surprise that neither of this pair have been key figures in the second half of the season.

In defence of the Villa midfield players, the evolution of football tactics haven't helped. The formation often favoured by modern coaches has been a regular choice of Lambert's -- a 4-2-3-1 set-up which requires the two central midfielders to operate 10 to 15 yards either side of the halfway line, and mainly leave the attacking duties to the trio in advance of them, and, of course, the centre-forward.

It leaves scant opportunity for either of the two to get ahead of the forward players and drive towards the penalty area.

Delph is a good example of a midfielder who has had to curb his attacking instincts. A feature of his fledgling season at Leeds was his goalscoring ability, but at Villa he's used most regularly as one of the deeper two, usually alongside Westwood. Occasionally he can scamper forward, and he has the energy to that, but all too rarely does he get into a position where a goal seems likely.

His penalty-area charge against Fulham recently was one example. The poor finish, rushed and blazed wide, suggested a player who has not been used to a sight of the opposition goal too often.

My opinion is that Delph would be a good choice for that slot in the middle of the '3', but N'Zogbia, or Weimann, have got Lambert's nod in the main. In Lambert's team, the goalscoring responsibilities rest heavily with the strikers, but I can't help lamenting the lack of, and the loss of, the goalscoring midfielder.