Villa the fall guys at Man United's title party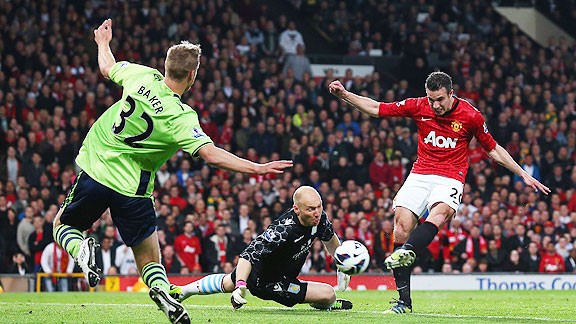 Alex Livesey/Getty ImagesAston Villa goalkeeper Brad Guzan and defender Nathan Baker could do nothing to stop United's Robin van Persie.
There was a party at Old Trafford on Monday night; a packed house, a stadium decked out in red and white, the destination of the Premier League trophy all but a formality. With a victory enough to finally confirm Manchester United would reclaim the title, there was only one truly likely outcome. Pity the opponents on this occasion. Villa were like young lambs to the slaughter, up against the home juggernaut. Beaten 3-0 and beaten within half an hour.

- Match report: Man United 3-0 Aston Villa

Villa's role in all this could have been gatecrashers to the house party. Instead, they turned up looking like the uncool kids who knocked on the door by mistake, wandered in, wrong clothes, bad hair, no sense of style, uncoordinated dancing -- out of place and totally peripheral to proceedings. The whole thing going down regardless of their presence. And that was Villa, against United.

From a Villa perspective, the pre-match chat had not been if Paul Lambert would field an attacking lineup, but how attacking he'd go. The answer was two or three notches on the gung-ho chart, recalling Gabby Agbonlahor but retaining Charles N'Zogbia -- along with Andreas Weimann and Christian Benteke, a dazzling front four that have the spark to unlock any defence. Would they have troubled United? No one will ever know, for the match was over as a contest within a dozen or so devastating minutes.

With Robin van Persie rediscovering his goal touch spectacularly, Villa were blown away before they'd even got going. The Dutchman had two inside the opening 15 minutes -- Rafael hit a post in between -- and rounded off his hat trick on 30, with Villa utterly incapable of doing anything to stop him. This is a striker, remember, who had gone 10 matches without scoring from open day until this one. Ending his barren streak emphasized that nothing went Villa's way at Old Trafford.

Which would include refereeing decisions, naturally. Amid the stadium-wide jubilation, the van Persie celebrations, the trumpeting of a 20th championship title, the full-on "Theatre of Dreams" experience, excuse me for being a stickler for the rules of the game; more than a whiff of offside about all three of United's first-half goals. Perhaps on another day or another occasion or definitely at a different venue, decisions might have been made. But experience tells you not to rely on the assistant referee's flag at Old Trafford.

The second half was a chastening, thankless experience for Villa, coming out after the break 3-0 down and stuck in that no-man's-land between trying to get back into the game, at least to score once or twice, and practising damage limitation. Replacing N'Zogbia with Karim El Ahmadi was Lambert's move, removing a quick-footed winger for a conservative midfielder.

Villa were better in the second half, at least. Better with the ball, tighter, more incisive going forward, though the damage was obviously done by then. Weimann's effort was headed off line (by van Persie), and David De Gea made good saves from Benteke and El Ahmadi. A consolation goal, and a reduction in a negative goal difference, eluded the visitors.

The travelling support remained in good spirits, singing wholeheartedly right to the final whistle and rather oddly overshadowing the home fans, for whom the league title might seem like a slightly empty achievement. At least the vocal backing of the claret and blue faithful is something Villa can be sure of over the last four, critically important, matches.

For Villa's players, best not to dwell on this night. Little was expected, points-wise, and at least it's done and out of the way, and the scoreline stayed at 3-0. It could have been worse. Now the focus switches to two games of huge importance -- next Monday, against Sunderland, and at Norwich. These are the matches that will determine Villa's Premier League future, not celebratory victory parades at Old Trafford.