Stick or twist -- how should Villa play vs. Manchester United?
The very last fixture Villa would have wanted, at this stage of the season and with so much at stake, is Monday night's visit to Manchester United (2:55 ET, ESPN2, ESPN3/WatchESPN).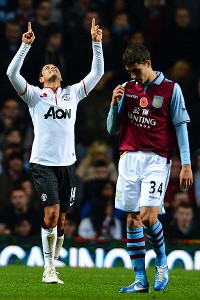 Andrew Yates/AFP/Getty ImagesMatthew Lowton, right, and Villa lost a 3-2 heartbreaker to United in November, as Javier Hernandez, left, scored twice.
After the benefit of a weekend's results to motivate, the opportunity to extend a lead over Wigan is this -- to Old Trafford, where the home support awaits in anticipation, and expectation, of three points which would confirm a 20th league title after Manchester City's loss at Spurs Sunday. Dangling such a carrot before red shirts only makes United a more dangerous beast.

Nevertheless, Villa can't afford to write off any match, and in the team's precarious position, a point would represent a great result. The intriguing question is, how will Villa approach this stern test of character and ability? Despite frequent poor results and performances throughout the season, Paul Lambert has stuck to his principles resolutely -- naming attacking line-ups, picking teams to win matches, adopting a positive attitude. It nearly paid off in November's 3-2 home loss to United.

For Villa, attack has been the best policy of defence many a time; it's been four months since this side kept a clean sheet, and it's nigh on unthinkable Lambert will send his players out at Old Trafford to stifle, frustrate and contain United. That's a risky game to play, in any case, as United traditionally always find a way to break through even the most organised of visiting defences.

United manager Alex Ferguson made reference to Villa's strategy last week, and he certainly seems to expect an adventurous approach from Lambert's team. "I expect they'll have a go at it," he said. "When I saw the structure of those teams (Villa's against Stoke and Fulham), they looked really positive selections. A lot of teams in that situation may pick a team to get something out of the game. Paul Lambert picked a team to win. There is a distinction."

Lambert's selections for the win at Stoke and home draw with Fulham were overwhelmingly positive, effectively using four strikers in front of two holding midfield players: Christian Benteke as centre-forward, with Jordan Bowery, Andreas Weimann and Gabby Agbonlahor in support. Charles N'Zogbia stepped in when Agbonlahor was unfit to face Fulham, and was bright, taking his goal expertly and unfortunate not to score earlier in the game, when his volley was beaten out by Mark Schwarzer.

With Agbonlahor expected to be fit, he'll be back into the team, leaving Lambert with a dilemma. Does he persevere with Bowery, retain N'Zogbia, or leave both out and bring in a third midfielder, just to give Villa a steadier base? Bowery has been okay in his recent appearances, though he looks exactly what he is -- a young striker, plucked from lower-league football, and having to adjust quickly not only to the demands of the Premier League but also to a relatively unfamiliar position, wide on the right.

On the plus side, he brings a strength to that area and his physicality may give Patrice Evra something to think about.

N'Zogbia remains a talent who can win a game. He has that quality. Lambert has tended to use him in fits and starts; starting with him, Agbonlahor and Weimann may leave Villa a little too open.

The other options available to Lambert would be too recall Yacouba Sylla to the side, or even Brett Holman. The Villa manager has spoken of the need for his 'fringe' players to be ready when called upon, and Holman has certainly seen his status reduced to that of an onlooker since the New Year.

The Australian is a willing worker, though, and could fit easily into an advanced central midfield role, or wide on the right (or left, actually). If Lambert wants the extra security of another midfield player, Holman might be the fringe player he turns to.

Sylla is another contender. What he's shown so far in a Villa shirt is mobility, power, and stamina. He could play slightly further ahead the two midfielders who are sure to start -- Fabian Delph and Ashley Westwood -- and using him to unsettle Michael Carrick, United's string-pulling playmaker, might be a shrewd tactic.

Villa's strengths all season have been their forward players, and Lambert is unlikely to stray far from his game plan, even against the best team in the country. Expect Villa to go into the game going for victory -- let's just hope Lambert has struck the right balance and his team don't get completely caught out. Attack with discipline, and organisation, and a positive attitude could bring reward. As West Ham demonstrated last week, if you take the game to United, they are not beyond making mistakes themselves.