Tackling the relegation riddle
A couple of days' break, but it starts up all over again Wednesday -- with Wigan making the short trip to take on Manchester City, more than two sets of supporters are guaranteed for a nervous 90 minutes. The focus is now no longer just on Villa, but on the five closest teams around them and their results.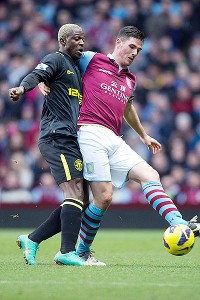 Neville Williams/Aston Villa FC/Getty ImagesVilla hope their Premier League place is safe by the time they visit Wigan May 19. The Latics and Arouna Kone, left, defeated Villa and Ciaran Clark 3-0 Dec. 29.
It's no fun being part of the relegation riddle and attempting to predict or second guess the outcome of over 30 football matches, but there's no way of avoiding it. Being in the midst of a battle for Premier League survival is like a form of mental torture, obsessively studying the league table, calculating what is likely to happen after the latest round of games, totting up points gained and lost, adjusting goal difference and re-assessing form for the next challenges.

Predictions are fragile at this stage of the season and this end of the league. There's often a sting in the tail -- last weekend, results were kind to Villa until Sunderland put the cat (Black Cats) among the pigeons by winning at Newcastle. What appeared to have been a sequence of games safely negotiated for Villa was ruined, late on.

Five games left, seven for Wigan. Futile though it may be, it's almost a required part of the process to study each club's remaining fixtures and figure out who will drop. One of the six will, assuming QPR and Reading won't stage remarkable recoveries. Here's a team-by-team analysis, starting with 18th-placed Wigan and moving up:

WIGAN
Position: 17th Points: 31
Games remaining: Manchester City A, West Ham A, Spurs H, West Brom A, Swansea H, Villa H, Arsenal A

Latics have the comfort of two games in hand, but their run-in looks tough, and crowded. Reaching the FA Cup final has given them a boost, though it may complicate their survival hopes -- Wigan play Swansea just a few days before their Wembley trip and the Arsenal game is still to be rescheduled. Games against West Brom and Swansea seem winnable; all others see them face opposition with something to play for.

VILLA
Position: 17th Points: 34
Games remaining: Manchester United A, Sunderland H, Norwich A, Chelsea A, Wigan A.

Villa don't play Manchester United until next Monday, by which time they could be back in the bottom three. Can't expect to get much at Old Trafford, so the back-to-back games against Sunderland and Norwich are huger then huge. Winning both would surely clinch survival -- four points would push it close. Facing Chelsea again triggers feelings of dread, but it's worth noting the Blues play Spurs just three days before. Villa will be keen to secure safety before going to Wigan -- who beat them 3-0 Dec. 29 -- on the final day.

STOKE
Position: 16th Points: 34
Games remaining: QPR A, Norwich H, Sunderland A, Spurs H, Southampton A

Woeful form has put Stoke in real danger. First up are QPR, who must know this will almost be their last shot at staging a late rally. Next are Norwich and Sunderland -- good news for Villa is that both games mean at least one of their relegation rivals will come out short-changed. Spurs, at home, could be tough as the Londoners may well still be in the Champions League mix.

SUNDERLAND
Position: 15th Points: 34
Games remaining: Everton H, Villa A, Stoke H, Southampton H, Spurs A

Like Stoke, currently above Villa purely on goal difference. Sunderland have a spring in their step after beating Newcastle and fresh impetus with the introduction of Paolo Di Canio. This doesn't mean their form will dramatically improve, but Sunderland will rate their chances of winning their last two home games, which would keep them up.

NORWICH
Position: 14th Points: 35
Games remaining: Reading H, Stoke A, Villa H, West Brom H, Man City A

The Canaries have slumped into mediocrity, but their last five games aren't too frightening -- certainly Chris Hughton will look at those three home ties and see potential wins. They'll get enough to cross the line. Beating a West Brom side in end-of=season cruise mode should confirm safety.

NEWCASTLE
Position: 13th Points: 36
Games remaining: West Brom A, Liverpool H, West Ham A, QPR H, Arsenal H

Suffering a Europa League exit hangover and looking fatigued, Newcastle will be relieved to already be on 36 points. Having looked safe a few weeks ago, they've been dragged back into the fringes, but will surely get the four or so points they need over the next five. Expect them to be clear by the end of the match at West Ham.

So, who's going? The tribulations of the season mean it's hard to back Villa with supreme confidence, but Paul Lambert's boys have been in decent form. Sunderland have found a spark from somewhere, just in time, and Norwich and Newcastle have slight breathing space.

I'd call it between Wigan and Stoke. Wigan have an unrivalled pedigree when it comes to great escapes, but their remaining games are tough and they have three more matches than their rivals, including the FA Cup final, to fit in. Stoke, on the other hand, are in freefall, and seem uninspired, short on belief, quality and fighting spirit.

But it's ridiculously tight -- just two points separating the five teams directly above the bottom three -- and the relegation riddle could shift and re-shape significantly by the time Villa line up against United.