Aston Villa must just keep calm and carry on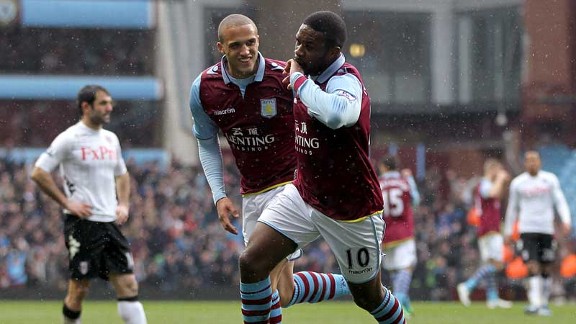 PA PhotosCharles N'Zogbia celebrates after giving Aston Villa the lead
How best to view Saturday's 1-1 home draw against Fulham? An opportunity wasted to pull further clear of the relegation pack, sure, and frustration at conceding a soft equaliser, definitely. Leaving Villa Park at the final whistle was not without a sense of deflation.

But a disastrous result that leaves Villa deep in trouble, as some of the post-match reaction seems to be suggesting? Not quite as dramatic as that, in my opinion. While Villa will be cursing the fact that the three points were half in the bag before being yanked out, it's advisable to look at the bigger picture.

- Lambert happy with Villa draw

Keep calm and carry on, Villa: the team's recovery from a dire-looking situation a month or so ago remains on course. The point gained with a 1-1 draw against Fulham was Villa's 10th from the past 15 available - won three, drawn one and lost one over the last five games. Among the bottom six teams in the Premier League, it's the club in claret and blue showing the brightest form.

Staying on the right side of positive, elsewhere on Saturday, results went Villa's way. Reading's point against Liverpool was a well-earned one but not enough - the Royals are just about done. As are QPR, beaten at Everton.

And Norwich, who looked on for a shock win at the Emirates until three late Arsenal goals, are now just a point in front of Villa. The focus now switches to games of huge interest for Villa on Sunday; Stoke host Manchester United, while Sunderland face derby rivals Newcastle. Difficult tasks for two sides whose form has tailed off badly of late.

So, a point for Villa is not the end of the world, particularly after a game in which the team didn't look as sharp and fluid as previous weeks. There was an edge missing to Villa's play, perhaps down to the key front three having a collective off day.

One of them wasn't there at all, with Gabby Agbonlahor ruled out with a thigh injury, and his absence was keenly felt. His replacement, Charles N'Zogbia, did well enough, culminating in him putting Villa ahead ten minutes into the second half. But N'Zogbia, talented individual though he is, still infuriates when he dribbles into a dead end, and Villa certainly missed Agbonlahor, who prefers to be direct in his play.

But it's true that neither Andreas Weimann nor Christian Benteke were at their best. Both missed good first-half chances, Weimann another early in the second half, and Benteke wasted Villa's last presentable opportunity of the match when he shot into the side netting. It was, admittedly, from a tight angle, but with a bit of awareness, he may have seen Darren Bent lurking in a better position. Still, Benteke has been nothing short of a revelation for Villa this season, and he can be forgiven for a rare underwhelming shift. As can Weimann.

Fulham looked menacing whenever Dimitar Berbatov and Bryan Ruiz got on the ball, but once they had equalised - a rather fortuitous goal when Fabian Delph flicked a corner off his head and into his own net - the visitors seemed happy with their lot. A seventh away draw of the season was secured without too much trouble, and Villa simply ran out of steam. No wonder goal this weekend.

In conclusion, obvious disappointment at failing to secure all three points - that would have left Villa highly unlikely to go down. As it stands, relegation is still a danger, but Villa remain in a happier place than all of their immediate rivals.