Agbonlahor: Villa's man for all seasons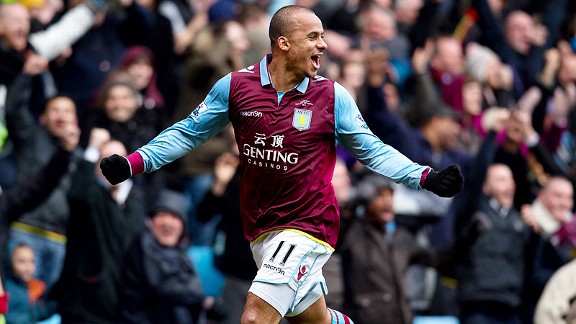 Neville Williams/Aston Villa FC/Getty ImagesGabriel Agbonlahor's hard work and consistency throughout the years has endeared him to the Aston Villa faithful.
Christian Benteke is deservedly receiving the lion's share of attention and praise as he continues to make a remarkable impact in his Premier League debut season, but alongside him there is a very worthy contribution from a player who finds himself in a familiar situation. As a support act, however, Gabriel Agbonlahor takes some beating.

- Agbonlahor poised for record

Agbonlahor's strike against Stoke last weekend moved him level with a certified Villa legend, Dwight Yorke, in terms of the number of Premier League goals scored for the club. Sixty in total. Barring injury, or a transfer out of the club in the summer, it's nailed on that Agbonlahor will surpass Yorke and create a little bit of history for himself.

And there's no question that it will be a well-deserved accolade for a player whose commitment to Aston Villa, both on and off the field of play, has been proven beyond doubt, and whose continued versatility and adaptability ensures he has always remained uppermost in first team plans. Regardless of which coach has been in the Villa hot seat. O'Leary, O'Neill, Houllier, McLeish, and now Lambert -- all have found room for Agbonlahor, and for good reason. The striker has one overall quality that many of his peers have lacked: staying power.

As tactical formations have been tweaked over the seasons and playing personnel have been upgraded and refreshed, Agbonlahor has remained in the mix. Why? Because he has been prepared to adapt to different roles within the team. The Agbonlahor who broke into the Villa first team six months shy of his 20th birthday hasn't transformed his style dramatically in the eight seasons since; he's always been quick, a willing runner, and an instinctive finisher.

But he has developed from playing alongside a forward partner, to ploughing along as a lone centre-forward, to popping up wide on the left, wide on the right. Whatever the team needs, whatever the coach wants. If he took the selfish stance, dug his heels in, and insisted on being Villa's centre-forward and nothing else, he'd have left the club years ago. He's been happy to compromise and, as the season has wound on, made more and more of a crucial impact.

He's come a long way with Villa, has Agbonlahor. His debut was on an otherwise grim day: March 18, 2006, a 4-1 defeat at Goodison Park, but the teenager came away from Everton with his first Premier League goal. Alongside him that afternoon was another young striker who had progressed through the ranks. Much was expected of Luke Moore -- perhaps more naturally gifted than Agbonlahor -- but he didn't have the durability of his colleague, and the clock was already ticking on his Villa career.

While Moore fizzled out at Villa, proving that youthful promise doesn't always mature, Agbonlahor pushed on. The following season, 2006-07, the first under Martin O'Neill, he played the full campaign and, other than injuries, he's more or less been a fixture ever since.

Over the seasons, Agbonlahor has been asked to step out of the primetime role, that of the centre-forward position, the focal point of the Villa attack, to cater for new arrivals -- John Carew, Darren Bent, and currently Benteke. It would partially explain why his season-on-season goal tally has always been steady rather than spectacular. His most prolific campaign, in terms of league goals only, saw him reach 13. Hardly head-turning, but valuable, nonetheless; particularly from a player who contributes from other areas of the pitch, and increasingly so now.

Instead of the number of his goals, Agbonlahor should be judged on the importance of them. The big goal, the vital goal, has become his specialty, and over the years he's been responsible for some massive ones:

An 87th-minute winner against Birmingham in November 2007; an opening day hat-trick versus Manchester City in August 2008; the winner at West Brom a month later; a late match-clincher at Arsenal in November 2008; an 85th-minute winner against Birmingham (again) in September 2009; the only goal of the game at Manchester United in December 2009; a 90th-minute winner at West Ham in April 2011, which ended any lingering relegation fears that season.

All goals of huge significance for Villa. That magic, timely, touch has not deserted Agbonlahor either. During this season, with his team in a desperate situation, the 26-year-old has stepped up again when needed most: The winner at Sunderland in November, goals in away draws at West Brom and Everton. And, most recently, a run of three goals in Villa's last four league games, each of those three coming in matches that needed to won, and were. Reading, QPR, Stoke. He's Villa's lucky talisman; his six league goals have helped to deliver 14 points.

Even Agbonlahor's biggest fan would have to admit that the player has flaws in his game. His final ball could be more consistent, his awareness a little sharper, and his finishing can blow hot and cold. In truth, he is a level just below top class, which may explain why his international career has stalled. It wouldn't be a surprise if he fails to add to his total of three England caps.

Yet if Agbonlahor lacks a little subtlety to his game, it's understandable. By nature, he's not a wide midfield player or a winger, and does not quite have that technical edge. He is, at heart, a striker now re-modelling his game as a winger, which requires a different kind of discipline. He's as much a provider as a goal-scorer now, although the role still allows him the freedom to roam and go wherever dangerous. Witness his goal at Stoke, where he drifted into the six-yard box, created a bit of space, and made himself a target for Matt Lowton's cross. The goal-scorer's instinct is intact, as is the searing pace that no defender enjoys facing.

Villa fans may have a new hero in Benteke, but there will always be a place in the hearts of the Holte End for Agbonlahor, and his role in the club's recent revival deserves acknowledgment.