Swashbuckling Villa refuse to do it the easy way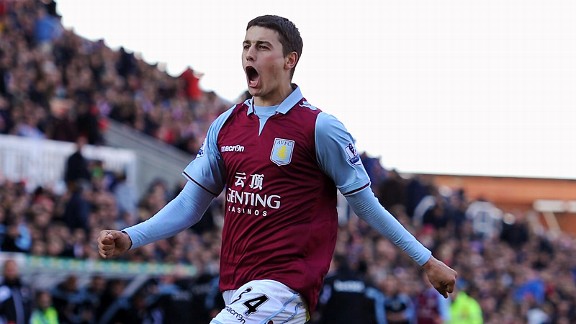 Chris Brunskill/Getty ImagesMatthew Lowton had plenty of reason to shout as his wonder-goal lifted Aston Villa to victory over Stoke.
A memorable afternoon for Villa, beating Stoke 3-1 at the Britannia Stadium.

Memorable for Gabby Agbonlahor, who became the club's joint leading Premier League goalscorer, alongside Dwight Yorke; memorable for Matt Lowton, who scored a stunning goal the like of which he will surely never better in his career; and memorable for the travelling claret and blue support, who witnessed a victory that was thrillingly secured.

- Whittaker: Car crash football
- Lambert hails Lowton wonder strike

This is a Villa team which seem incapable of winning a game in a straightforward manner. Once again, Paul Lambert's men passed up the opportunity to get the points wrapped up good and early, preferring, instead, to inflict optimum stress on not only their manager but also those who made the short journey across the Midlands. It's exhausting following Villa these days. I'm writing this lying down in a darkened room.

The atmosphere was raucous at the Britannia -- the home crowd acutely aware of Stoke's slump in form which had precipitated a distant flirtation with relegation. It was easy to detect Stoke's unease and impatience for the victory which would all but end any worries. But, having survived an opening minute penalty appeal when Jonathan Walters' attempted cross clipped Nathan Baker's hand, Villa assumed control.

Agbonlahor's goal, inside the first ten minutes, settled the visitors and totally unsettled the hosts to the extent that the first half passed by at an almost serene pace for Villa. Brad Guzan was never called on to make anything approaching a save, Stoke were restricted to set pieces, and there were opportunities at the other end. But Villa's clinical touch was missing and the lead was never extended.

Agbonlahor had a fine second chance, but went down after a challenge from Stoke 'keeper Amir Begovic. The Villa striker was booked; the decision wasn't conclusive either way and it will probably be one of those is interpreted depending on the colour of your shirt or tint of your glasses.

Villa should have put this one to bed by the halftime break and the longer the second dragged on, the more Stoke crept into it. Lambert cannot buy a clean sheet from his defence for love nor money, and Villa have rarely looked like closing a game out this season.

Heading into the latter stages, the collective mounting nerves were almost physically visible, and when Michael Kightly equalised, that familiar feeling arose again: advantage surrendered, three points downgraded to one.

And then came Lowton's moment of sheer brilliance. As befits Villa's cavalier approach this season, the former Sheffield United defender is a right back who loves to rampage forward. His driving runs down the right have been a feature of Villa's improvement in recent weeks.

But this was something else, and more than just a lucky lash at goal. As the ball dropped to him, his chest control was exemplary, as was the right foot volley which ripped past Begovic. 'World class', his manager described afterwards. Perhaps world class doesn't quite do it justice.

A goal of that quality is worthy of winning any game, and Lowton's effectively did, even though Christian Benteke's injury time third was appreciated -- both to calm soaring Villa heart rates and also to further improve that awful, awful goal difference, which could be worth an extra point at the season's end.

Speaking of the season's end, it's starting to feel as if it may have a happier conclusion for Villa. This fist-clencher of a win was a third in four games, and, despite the harem-scarem nature of their performances, Lambert's team are gelling and peaking exactly when required.

Saturday evening brings a certain amount of satisfaction, viewing the scene in the bottom half of the Premier League table. Villa are up to 16th, and though that could all change by the end of the weekend, the challenge has again been thrown down to Wigan, who again trail by three points, to Sunderland, now below the Midlanders by two points and also to Norwich, just two points above Villa. And, of course, to Stoke, just a single point in front and in rapidly declining form.

Villa are doing all they can to escape relegation - but taking the rollercoaster ride route all the way.