Villa stoked for Potteries clash
Villa might be currently sweating it out in the bottom three of the Premier League, but this week's buildup to Saturday's trip to Stoke City has focused around one strategy: putting the pressure onto their opponents -- both immediate and on those clubs also in danger of relegation.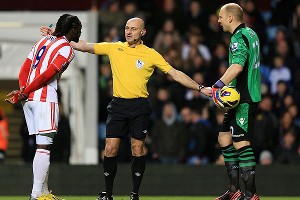 Richard Heathcote/Getty ImagesVilla keeper Brad Guzan, right, got his last clean sheet against Stoke (and Kenwyne Jones) Dec. 8.
So it is that Paul Lambert is taking his team to the Britannia Stadium and doggedly insisting the pressure is not on his young squad, but upon Tony Pulis and his rather more seasoned players. Stoke are one of the half-dozen sides above Villa who, if not right in the middle of the relegation battle, are still within touching distance. And that has been all the motivation Lambert needs to ratchet up the tension a touch or two.

-- Pulis not feeling pressure

"When you look at the table, from 11th place down only four points separate the teams down to us," Lambert said. "That's nothing. It's basically one game."

He's right, and it's a clever (if not-so-subtle) psychological take on the setting of this Midlands clash. While there isn't a Villa fan on this planet who wouldn't gladly see their club swap places with Stoke -- in terms of points and position in the table only, being four points superior at this stage of the season is not to be scoffed at -- this is the message and the method Lambert must drive forward with over the coming weeks.

Just as goalkeeper Brad Guzan stated earlier this week that he was not even contemplating the prospect of relegation, so must the manager do the same. There is nothing to be gained in Lambert and his team obsessing with the bottom three, or even focusing simply on overtaking 17th-placed Wigan. Not when so many other clubs are there to be dragged into the equation.

Stoke are certainly one of those. With just a single league victory so far in 2013 (against Reading Feb. 9) Stoke have lost that winning habit but more recently lost their usual dependable ability to avoid defeat. Their last five matches have yielded four losses (2-1 at Everton and Newcastle, 1-0 at home to West Ham, and 1-0 at Fulham), with a solitary point gained via a 0-0 draw with West Brom.

Those results provide a clue as to Stoke's struggles in this latter half of the season. Any victory against them is always hard-fought -- they have lost none of those four games by more than one goal -- but their problem remains scoring. Their leading PL scorer is the ever-present Jonathan Walters, who's on six for the season; he's started all 31 of the team's matches. Next one down is Peter Crouch, with five from 23 starts. Cameron Jerome and Kenwyne Jones have three apiece, which is reasonably respectable given a paucity of starting opportunities: Jones has been in the starting XI eight times and Jerome five. Michael Owen's impact has been negligible.

To put that into context ahead of Villa's visit, Stoke's first-choice strike partnership, Walters and Crouch, have 11 league goals between them -- three less than Christian Benteke has managed on his own. Pulis, however, strikes me as a coach who likes to tinker with his tried and tested as little as possible (Walters continues to appear undroppable, for example) and this Stoke side looks badly in need of some freshening up.

As only a casual observer of Stoke's football this season, it seems that most of the new players Pulis brought to the club in the summer have failed to make a significant impact -- Owen, Charlie Adam, Michael Kightly -- with really only Steven N'Zonzi forcing his authority on the team. There won't be any great deviation to Stoke's approach on Saturday, you feel. Pulis will stick to what and who he knows best, and those regulars with pull Stoke out of any danger.

The earlier meeting between Villa and Stoke was unremarkable save for one thing -- it was the last time Lambert's team kept a clean sheet: 0-0 at Villa Park Dec. 8.

That stalemate had as much to do with Stoke's goal-shy forward line as Villa's well-drilled defence, but it's a timely reminder of the area Lambert's team need to drastically tighten up.

Villa simply have to be harder to score against, and though Stoke may lack penetration currently, they don't lack persistence. Walters against Villa captain Ron Vlaar is sure to be a physical encounter on Saturday.

Lambert may well have little option but to go with the defenders who faced Liverpool on Easter Sunday; expect no changes to that quartet unless Ciaran Clark is passed fit enough to possibly displace Nathan Baker and push him across to left-back.

The Villa manager's decisions will revolve around his midfield. Fabian Delph was sparky enough on his return from suspension last weekend and Lambert might feel his drive and appetite for a tackle is more suited to a trip to Stoke than Barry Bannan.

Darren Bent, who has almost totally completed the transition from hero to forgotten man, is fit again and could be a very useful option from the bench.