Scramble for safety intensifies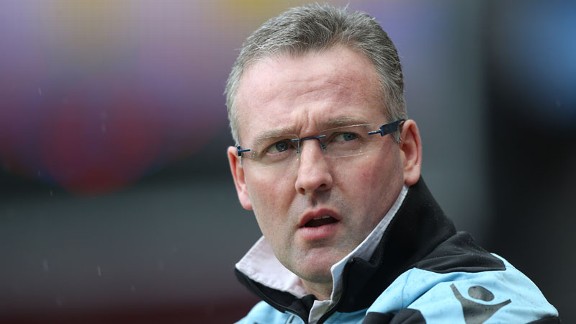 PA PhotosPaul Lambert
"A talented coach, yes; but a Premier League novice, an enigmatic character, an inflammable personality. Throwing him into a relegation battle would be fun, but a massive gamble. Potential to backfire spectacularly."

So I wrote exactly one week ago, March 27, discussing Reading's decision to appoint Nigel Adkins. The passage above was not my description of Adkins, however, but Paolo Di Canio - briefly linked with The Royals and now, of course, installed as the new manager of Sunderland.

Oh, yes: it's been a fun few days down at the bottom end of the Premier League table as yet another of Villa's fellow strugglers and relegation battlers made a hasty, and perhaps ill-judged change of coach. Sunderland clearly felt form and momentum slipping away from them.

In removing Martin O'Neill, the former Villa manager, last Saturday evening, and replacing him with Di Canio, the club have taken a huge risk. The threat of relegation can trigger that kind of reaction. Reading went conservative. Sunderland went all out.

Following last weekend's round of fixtures, the relegation picture has crystallized. Adkins, and QPR manager Harry Redknapp, are required by their job descriptions not to publicly admit their Premier League gooses are cooked. But the pair must privately acknowledge the game is up. Reading's predictable defeat at Arsenal and QPR's 3-2 loss at Fulham leaves both clubs seven points adrift of safety.

It doesn't sound insurmountable - yet in context, it is.

If 38 points is the perceived 'safe' total (and who knows, it may well end up being one or two points more), each team needs to win five of its remaining seven fixtures to get there. Too big a hurdle to climb, in my opinion.

Which means, if two clubs are effectively down, what remains is a mad scramble to avoid the final relegation slot, 18th position. It is the position Villa currently occupy, just behind Wigan, level on 30 points but below them because of a worse goal difference.

But it is wrong to look at the finale to the season as a battle between just Villa and Wigan; in fact, Villa will want to avoid a straight head-to-head fight with the Latics, as Roberto Martinez and his team revel in this situation. They sneer in the face of relegation, and toy with the jaws of the drop almost season-on-season, before nipping to safety every time. Experts at beating the odds and the relegation trapdoor.

The thought of Villa going to Wigan on the last day of the season, and needing a positive result, is not a pleasant one. So Villa need to get the job done before then, and the team's mission over the next three or four games is to get as many points on the board as possible, while reeling in one or two of the clubs that, a month ago, may have felt reasonably comfortable but have since been sucked into trouble.

Di Canio and Sunderland are one of these clubs, now just a mere point above Villa and Wigan, and with mounting pressure due to not only poor form but also the controversial appointment of a coach who has upset a large section of the fan base before even taking charge of his first match.

Norwich, with one win in 14 league games, are within reach and so, too, are Newcastle, somewhat surprisingly. Their resurgence in form has stalled, injuries are piling up, and the Magpies are only three points from the bottom three. Stoke, Villa's opponents on Saturday, are on 34 points. And even Southampton, pushing away from danger after two impressive wins against Liverpool and Chelsea, are not completely clear. The Saints are also on 34 points.

Villa have work of their own to do, of course, but manager Paul Lambert will be reminding his players that there are as many as six other clubs with reason to be nervous in the next crucial few weeks.