Defensive lapses stall Villa progress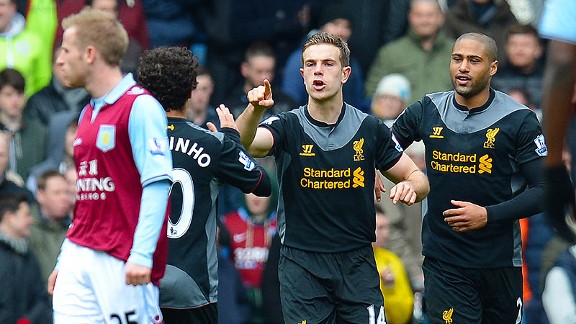 Andrew Yates/AFP/Getty ImagesBarry Bannan, left, and Villa were caught flatfooted at the start of the second half, and Liverpool and Jordan Henderson (second from right) capitalized.
When Paul Lambert picks over the bones of Easter Sunday's 2-1 home defeat to Liverpool, he will no doubt find the continued defensive frailties of his team hardest to digest.

After working hard to put themselves in a winning position against the Reds, Villa carelessly gave the game away inside 15 second-half minutes. Scoring once is rarely enough for this team to win, such is the defensive generosity that has seen them concede almost an average of two goals in every Premier League match.

- Walsh: Liverpool's win brings new whiff of hope
- Raynor: Coutinho quality too much for Villa
- Jolly: Gerrard rolls back years

Losing to Liverpool confirms little more than most observers at Villa Park have known for months - defensive mistakes are undermining a lot of very effective football elsewhere.

It would be wrong to lump all blame on Villa's back four. There is a responsibility throughout the team to work harder defensively. Certainly, the finger should be pointed at Villa's midfield for Liverpool's equaliser, which, coming in the 46th minute, dragged the visitors right back into the game and changed the nature of the contest.

Villa were left totally exposed by a swift Liverpool move, with Jordan Henderson given the wide-open freedom of the park to gallop forwards and beat Brad Guzan with a chipped finish. It was the kind of goal teams concede in the final minutes of a game they are chasing, when they are throwing numbers forward and desperately gambling. To be caught out in such a manner just a minute or so into the second half is naive in the extreme. No one in a claret and blue shirt tracked Henderson as he made his run.

As befits Villa after conceding a goal, the team almost immediately looked rattled. In the minutes that followed, Philippe Coutinho was blessed with more time and space than he would usually expect around a Premier League penalty area, but poked his shot wide. Glen Johnson hit a post with a beautifully-hit strike from 20-odd yards. Seconds before the hour mark, however, Liverpool were in front, and it was another goal that owed everything to a Villa error.

The presence of Luis Suarez in the penalty area is enough to induce panic in any defender, but Villa's Nathan Baker completely lost his head by jumping into a rash challenge when merely standing tall and holding the Liverpool striker up would have been the wiser choice. It was a penalty not worthy of even the quietest murmur of dissent and Steven Gerrard tucked it away: his 11th career goal against Villa.

There were still 30 minutes to go; Liverpool, however, demonstrated how to hold on to a lead by seeing out the last half-hour relatively untroubled. Villa went close a couple of times -- Andreas Weimann scooped a great chance over the bar and Gerrard's diving header off the line denied Christian Benteke, but the visitors were otherwise pretty comfortable. Charles N'Zogbia, thrown on as a substitute, was unable to make any real impact.

Liverpool's backline dropped deeper than it would have had they been behind, allowing Jamie Carragher to protect his lack of pace and use every ounce of his experience. The difference a player such as Carragher -- or an equivalent 30-something Premier League centre-back -- could make to this Villa team cannot be underestimated.

The end result was disappointing, naturally, particularly as much of Villa's play in the first half was verging on the impressive. It's impossible not to draw the conclusion this team has improved significantly in the last six weeks. For long periods of the first half, Villa knocked the ball around confidently, with the midfield three of Ashley Westwood, Barry Bannan and Yacouba Sylla exerting a measure of control over Liverpool.

One delightful move saw Matt Lowton's piercing low cross from the right met firmly by Gabby Agbonlahor, but the striker's first-time effort went straight at Pepe Reina. A foot either side, and the Liverpool keeper wouldn't have reacted. Villa's goal, though more direct, was also well worked. Westwood's ball forward was touched back to Benteke by Agbonlahor, and the Belgian drilled home from 18 yards.

Slick, fast, decisive football. In the first half, at least, Villa looked far from a team who started the day back in the bottom three. Though Liverpool threatened twice just before the break, when Guzan denied both Suarez and Gerrard, there was a spring in Villa steps at the break.

The fact that it all unravelled in the second half does not mean this Villa side is not making progress -- but it does mean relegation remains a very real possibility. And if Villa keep presenting chances to teams, as they did against Liverpool, they won't be safe for several weeks yet.