Stopping Suarez is Villa's challenge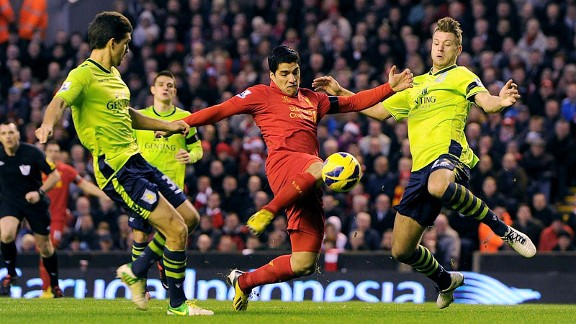 John Powell/Liverpool FC/Getty ImagesAston Villa will need to clamp down on the dangerous Luis Suarez should they want to collect another win over Liverpool.
No prizes for guessing the name which will have dominated Villa's pre-match preparations for Easter Sunday's showdown with Liverpool.

- Lambert buoyed by momentum

Luis Suarez. He will have been the player uppermost in Villa manager Paul Lambert's tactical thinking, and the player causing his defenders restless nights. Villa should make the striker the point of their focus, for Suarez is undeniably the hottest goal-scorer in the Premier League this season, and especially right now.

Let's leave the darker side of Suarez for another article and another day; his reputation as a player who makes the most, perhaps, of a challenge is one that he will never shake off easily. Nor will he quickly lose the controversy that continues to cling to him. His behaviour has come under scrutiny again this week after punching out at Chilean defender Gonzalo Jara while on international duty for Uruguay. Not endearing, and not befitting a player of such class.

But as a footballer, a goal-scorer, Suarez has had no equal in the league this season. His quality has never been in doubt, but this is the season when everything has clicked into place. Whereas once the Uruguayan could be seen as too wasteful in front of goal, sometimes failing to add the finishing touch to exquisite approach play, he has become clinical and ruthless over the last few months.

So much of what Suarez does is down to his ability to create for himself. His movement is swift and darting; his change of direction instant and fluid. Liverpool need to do little more than simply pop the ball into his feet and he's away -- feinting inside and out, jinking one way and then the other. He can almost turn back in on himself to find the space he needs to get an effort on goal. Reading what he's going to do in and around the penalty is an absolute nightmare for even the sharpest central defender.

The 26-year-old has scored 22 league goals this season -- three more than Manchester United's Robin van Persie who started the campaign like an express train but has since been reeled in, and overtaken, by the Liverpool man. Suarez's form has gone through the roof in 2013 particularly. He's only failed to score in four league games so far this calendar year: Against both Manchester clubs, West Brom and in Liverpool's last outing against Southampton.

That blank against the Saints ended a streak of goals in four successive matches. He had actually scored seven goals in those four: one against Spurs, three versus Wigan, two in the Europa League against Zenit and one against Swansea. In the Premier League he has scored 12 goals in the 13 games he has played since Villa beat Liverpool at Anfield in December.

The comprehensive statistical website EPL Index has a superb breakdown of Suarez's work this season, which measures him against other leading strikers and best illustrates why he's ahead of the best of the rest. Suarez has managed 118 shots this season, comfortably ahead of van Persie (86) and Michu (69) but also Gareth Bale (103). He goes just under 118 minutes per goal, the shortest time compared to his peers, shoots every 21.99 minutes (again the shortest) and puts a shot on target every 46.34 minutes.

And if you're wondering if Suarez is merely the busiest, or most selfish striker in the group, rattling off shots for fun, you'd be wrong. EPL Index use a category called 'clear cut chance conversion', and Suarez is on 58% for the season. That's a better percentage than Michu and Bale, and well ahead of van Persie, who is on 36%. Prolific and productive.

Don't think, either, that Suarez has sacrificed any of his willingness to run with the ball to attain his improved goal conversion. With 249 dribbles, no player in the Premier League loves to take opponents on more than Suarez.

If Suarez is anywhere near the top of his game on Sunday, Villa are in for a tough time. Lambert's defenders have shut him out before, of course, keeping him quiet earlier in the season and winning the match 3-1. The difference this time around may be as much to do with the players around Suarez as Suarez himself. At Anfield, he was supported by Raheem Sterling and Jonjo Shelvey. More recently, it's been Daniel Sturridge and Philippe Coutinho.

So Villa have their work cut out. On the plus side, the hosts have won two on the spin, and Lambert has a 100% record against his opposite number, Brendan Rodgers, in the Premier League, having won all three previous encounters (both Norwich v Swansea matches last season). But recent history will have no bearing on the outcome of Sunday's match, whereas Villa's handling of the Premier League's best striker undoubtedly will.