Reading, Adkins, and the impact on Villa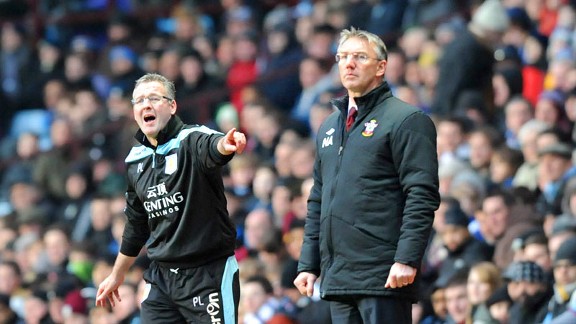 Olly Greenwood/Getty ImagesThe quest of Paul Lambert, left, to keep Villa from relegation has been made more difficult by Nigel Adkins' appointment at Reading.
This is the problem with being embroiled in a relegation battle. Barring an exemplary run of results -- such as Wigan's extraordinary sequence last season, which included an unlikely victory over Manchester United -- you can never rest, never feel truly safe, until the end of the season confirms survival and delivers relief.

And so it is that, despite not kicking a competitive ball since the crucial 3-2 victory against QPR on March 16, it feels very much that the claret-and-blue euphoria which followed that pulse-racing win has dissipated.

The situation looked rosy for Villa after beating QPR, moving six points above the relegation pack. Barely 24 hours later, however, and the first twinges of apprehension began to set in following Wigan's last-minute win over Newcastle, a result largely overlooked due to one massively misdirected tackle. Gap closed to just three points, with Wigan within range and still with a game in hand. Given Villa's goal difference, the poorest in the Premier League, and a Wigan win that game in hand, aul Lambert's team are back in the drop zone.

Now, something further to occupy fretful Villa minds. A new managerial appointment at Reading, and a sound one. In recent weeks, while Villa have been doing an awful lot to help themselves, I've felt some rivals have been doing the opposite, making decisions that, from where I sit, would seem to be counter-productive.

First, there was Southampton's action of replacing their manager, Nigel Adkins, precisely at the point at which Saints were climbing out of trouble and looking toward the middle of the table. Assisted, by the way, with a 1-0 victory at Villa Park, completing a Southampton 'double' for the season, an away success to go with the 4-1 win earlier in the campaign.

While I could see the appeal of installing Mauricio Pochettino as successor to Adkins -- so beginning the process of evolving playing style and moving Saints forward -- the timing was needlessly reckless. Southampton have stalled in recent weeks. Were it not for an impressive victory last time out, 3-1 against Liverpool, the clear daylight that once existed between Villa and Saints would have eroded, with Villa overtaking them in the table.

As it is, Lambert's team are just a point behind, and Southampton have been hauled back into the mix. Pochettino, a gifted coach, may become an inspired recruitment in the long term. Short-term, there is an obvious period of adjustment, and points have been hard to come by.

To Reading, then. The Royals were in feisty mood at the turn of the year, which put them right in contention for a shot at survival. More recently, results have been tough, and Villa's 2-1 at the Madejski on March 9 triggered decisive action by the club - manager Brian McDermott was sacked.

From a Villa point of view, a double whammy. A panicked decision to go with a significant win, Reading parting company with a coach who had delivered them promotion and who had defiantly denied his team would go down. There was a confidence about McDermott and a belief in his team. Though he departed at the end of a tough run, six weeks or so previously his players had shown comeback properties and a willingness to keep going until the final whistle, taking points from matches when all seemed lost. When a coach can inspire that in his men, it's never over until it's mathematically over.

A managerial change with less than 10 games to go is not advisable.
I recall what happened at Wolves last year, when Mick McCarthy was moved on and, unable to settle on an ideal replacement, the board installed Terry Connor as caretaker. He seemed out of his depth as the main man, unsure and short on confidence having been appointed amid a difficult environment. It turned out badly; Wolves plummeted.

For Reading, the right decision was vitally important. Links with Paolo Di Canio would have encouraged the Villa contingent. A talented coach, yes; but a Premier League novice, an enigmatic character, an inflammable personality. Throw him into a relegation battle would be fun, but a massive gamble. Potential to backfire spectacularly.

Instead, Reading have made their choice, and it's not such good news for Villa, or any of the other clubs in and around the bottom few places. Adkins arrives at Reading a driven man, and a manager on a mission; eight games to keep his new club in the Premier League. His team are seven points from safety, but there are 24 available still, and the opportunity to grab three come, poetically enough, against aghis former club a week on Saturday, April 6. That match will be Adkins' home debut.

Adkins is bullish about his chances of keeping Reading up. There's no doubt it's going to be a difficult task, and the odds are against him, but his arrival will almost certainly have a galvanising affect: fresh impetus and direction. Of course, there is always an alternative viewpoint -- that if Adkins was deemed unworthy of continued employment with one Premier League club, why would he be suitable for another? But that would be ignore the job he did, and was doing, for Southampton. He was good enough for them. He is good enough for Reading.

All of which should give Villa a timely reminder that the season is not yet over. Reading and Adkins are still kicking, and so Villa must kick on. If there is a reaction from one of the clubs below them, Villa need to match that reaction, and not consider successive victories enough to have secured their safety. Lambert's players need to remain focused, and hungry, and every bit as concentrated as they have in recent weeks, for the slog for survival won't be concluded, you feel, until the very last day of the season.

'Dare to dream' was one headline-friendly soundbite to come out of Adkins' first press conference as Reading manager. And while Reading still can dream, that should prove all the motivation Villa require to maintain momentum in the right direction.