Holman fighting Villa frustration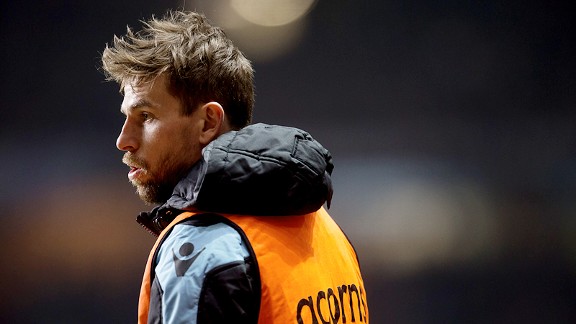 Neville Williams/Getty ImagesMinutes have been hard to come by lately for Aston Villa's Aussie midfielder Brett Holman.
It perhaps should not be a total surprise that the only newcomer to the Villa squad this season not signed by manager Paul Lambert now finds himself outside the first team picture.

As such, the upcoming World Cup qualifying fixtures provide a welcome opportunity for Brett Holman to get some much-needed game time under his belt. Holman is in the Australian squad for the Socceroos' match against Oman next Tuesday (March 26), an important tie with things in Group B of Asia qualifying fairly delicately balanced. Australia lie second, some way off leaders Japan, and level on points with Oman as well as Iraq.

- Lambert: Bannan must maintain form

A big game, then, for the Aussies and also for Holman; a chance to stretch his legs and get out onto a football pitch. Something he's been denied of late at Villa as he appears to have fallen out of favour. The player has spoken this week of his frustration and confusion at barely getting a game at Villa. After a promising first half of the season, Holman has struggled.

Holman was Alex McLeish's parting gift to Villa before departing as manager almost immediately at the end of last season, and McLeish's judgment seemed sound enough. The deal was announced last March, agreed with Holman playing out the last months of his contract at AZ Alkmaar. As luck would have it, I managed to catch an early sighting of Villa's new man when I watched AZ play Valencia in the Europa League later that month. Holman scored a beauty and later created the winner for the Dutch club. Shrewd business, and due praise (rare praise) for McLeish.

Holman started the season in the Villa side and though Lambert tinkered and toyed with his preferred personnel and formation several times, the Australian was often included. Wide left, wide right, the midfielder in 'the hole' -- Holman's versatility and industry made him a useful option. His first goal for the club came against QPR at Loftus Road in December, and he scored again in the League Cup win at Norwich a week or so later. He started Villa's next game, that 3-1 win against Liverpool at Anfield.

Crucially, perhaps, given the way his fortunes have now dipped, Holman also started the next three -- the Christmas horror show performances during which Villa conceded 15 goals and scored not one. The midfielder was left out of the New Year's Day draw at Swansea, and from that point onwards, he's been almost exclusively confined to the substitute's bench. Holman's last start was against Southampton, on January 12. He was withdrawn at halftime.

It is cruel to say but Villa's revival has occurred since that Southampton game. The performance was better in the second half, more spirited, certainly, and results have improved since then: Draws at West Brom and Everton, wins over West Ham, Reading and QPR.

It would be unfair and inaccurate to even suggest Holman was a problem, but Villa appear to have found a solution and he's not a part of it; not a central part of it, in any case. He has continued to play a supporting role from the bench, entering a game in the second half and contributing to the cause. He's very much a team player, Holman, and he'll admit the needs of the team come first.

What has happened is that Lambert has, at last, found a balance he is happy with. And simply, for the positions that Holman can do a job in, someone is doing that job better. Ashley Westwood and Fabian Delph have developed into the preferred central midfield combination (Barry Bannan the change player for Delph) so there is one midfield role up for grabs, and latterly, Yacouba Sylla has filled it. Behind him is Charles N'Zogbia, who is less disciplined than Holman but packs a more creative punch. When Delph returns from suspension, he may pick up where he left off, with Bannan, Sylla and N'Zogbia all fighting for that one slot. That doesn't bode well for Holman.

Holman's other shot at getting in is on either wing (arguably he's best on the left of midfield), but Gabby Agbonlahor and Andreas Weimann have these sewn up. Both have scored big goals in recent weeks and they won't be dislodged any time soon.

There will be those who sympathise with Holman. At least he's still involved on match days. Stephen Ireland and Darren Bent are two other senior members of the squad who have totally dropped out of contention. These two may still be scratching their heads and wondering exactly what they did to upset Lambert; they may never find out. The Villa manager doesn't strike me as the kind of coach who willingly partakes in lengthy dialogue.

If Holman is in need of encouragement, he could do worse than consider the position of Bannan. It looked as if his days in the first team were done until he was recalled to start against Reading and QPR -- two victories and two decent individual performances later, Lambert is praising Bannan's form.

It's a reminder of how quickly things can change in football. Holman has the attitude required to stick at it, to keep training hard until his chance comes, but he'll be mindful that the end of the season is looming, and not long, therefore, to convince the manager that he should be a part of his future plans.